Playing basketball well in November is essential for LFB survival

The two teams playing basketball with the most composure at the moment are leading the LFB regular season standing with a perfect record after six rounds of games.

Veuillez trouver des informations en français en bas de la page sur la sixième journée de la ligue féminine de basket 2013-14.
Tango Bourges Basket and Villeneuve d'Ascq have both won eight games since the start of this season four weeks ago: six wins apiece in the LFB and two victories in the French Cup.
Both teams will continue to be playing basketball twice a week all through the month of November and December with them participating in the EuroLeague Women and EuroCup Women competitions.
Charleville-Mézières, Lattes-Montpellier and Lyon BF share third place with just one game behind the leaders.
At the bottom end of the table, four teams have just one victory to their name. They now need to start playing basketball at another level if they want to finish in the top 4 at the end of the regular season.

Playing basketball is tough when struggling

Olayinka Sanni (above right in picture) battles for everything in the paint. She is penalised a lot by the officials for her style but this has not stopped her in leading Villeneuve d'Ascq to new heights this season.
She scored the last 4 points for Villeneuve d'Ascq as her side held on to defeat Charleville-Mézières (69-66).
In an exciting match that had 7 lead changes and 8 ties, Villeneuve d'Ascq once again demonstrated their coolness down the stretch to maintain their perfect record while ending Charleville-Mézières'.
Djéné Diawarra who played for just 14 minutes hurt her former team-mates with 13 points while Elin Eldebrink (4 assists) also scored 13 points for the winners.
For Charleville-Mézières Ambrosia Anderson knocked down 23 points while Amel Bouderra dished out 10 assists in defeat.

Tango Bourges Basket are playing basketball in the old tradition of the club which is: hard defending, balanced scoring and technical basketball.
They beat USO Mondeville (68-54) with nobody playing more than 27 minutes and nine players scoring between 4 and 12 points. Australian international Marianna Tolo had the honour of leading the team with 12 points.
Bourges led by 28 points before stepping off the gas with 13 minutes left to play.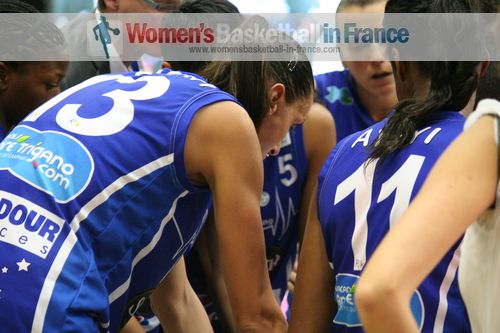 Nantes Rezé are most likely the biggest losers of the weekend. Playing at home in front of the cameras of LFB-TV, they were beaten by Basket Landes (70-59).

This is their sixth defeat in a row in all competitions and the third on their home court.

Basket Landes dominated the rebounds (45-29) and were led offensively by Danielle Page (13 rebounds) and Olivia Epoupa who scored 18 points each. For Nantes Rezé Claire Stievenard had her best game ever in the LFB with 21 points and 3 steals.
Tarbes needed overtime to beat Cavigal Nice (76-73). Tarbes had two chances on the buzzer to claim victory at the end of the 4th quarter but the ball refused to drop.
Alex Montgomery followed up from her French Cup mid-week winning performance with 25 points for Tarbes while Margaux Galliou-Loko knocked down 21 points for Cavigal Nice.
Toulouse Métropole failed for the second time making home court advantage count in their defeat against Arras (51-62). Miranda Ayim on her début for Toulouse scored 20 points while the unstoppable Dawn Evans scored 18 points and dished out 4 assists.
Hainaut Basket were ran out of their own court by Lattes-Montpellier (55-92).
In the final game of the weekend Lyon BF handed Angers their sixth consecutive defeat in the LFB (77-63). Mélanie Plust marked her return with a sizzling display of three-point shooting to lead the Lyon attack with 18 points.

Four other French teams will also be playing basketball twice a week until the Christmas break: Lattes-Montpellier are the second French club in the EuroLeague Women, while Basket Landes, Nantes Rezé and Tarbes join Villeneuve d'Ascq in the EuroCup.

Nantes Rezé vs. Basket Landes

La sixième journée de la LFB :
   Techniques, tactiques, talents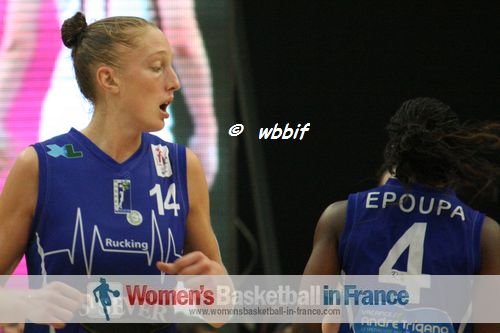 USO Mondeville perd logiquement contre l'équipe huilée de Tango Bourges Basket (54-68) pendant que Villeneuve d'Ascq ne se laisse pas détrôner non plus avec une victoire arrachée aux dernières possessions contre Charleville-Mézières (69-66).
L'avantage de jouer à domicile, les 10 passes décisives de Amel Bouderra et les 23 points de Ambrosia Anderson et l'agnac de toute l'équipe n'ont pas suffit contre l'adversaire le plus zen de cette saison. Olayinka Sanni donne la victoire avec les dernières 4 points de son équipe (69-66), épaulée par Elin Eldebrink et Djéné Diawarra avec 13 points chacune.

(70-59) était le score final pour Basket Landes contre Nantes-Rezé. Les Nantaises semblent se trouver dans un cauchemar et n'arrivent pas à se réveiller pourtant secoué par Claire Stievenard avec 21 points. Pour Basket Landes Danielle Page et Olivia Epoupa (dans l'image) excellent avec 18 points chacune.
Pourtant vainceur, Tarbes a eu chaud contre des Niss'Angels accrocheuses et gagnent la partie dans le cinquième quart (76-73). A nouveau pour Nice Margaux Galliou-Loko marque 21 points, en vain contre une Alex Montgomery qui continue son show de mi-semaine avec 25 points.
Quoique la nouvelle joueuse de Toulouse, Miranda Ayim, fait un remarquable début avec 20 points, c'est Dawn Evans (18 points, 4 passes décisives) qui jubilie pour Arras remportant la rencontre (62-51).
La rencontre entre Angers et Lyon, renforcé par Mélanie Plust (18 points), est remporté par les Lyonnaises (77-63).

Et finalement, Lattes Montpellier gagne facilement contre Hainaut Basket (92-55).

---
Picture credits:
womensbasketball-in-france.com
Date created: 2 November 2013
Like this page / Aimez cette page