Basket Landes win
Open LFB South derby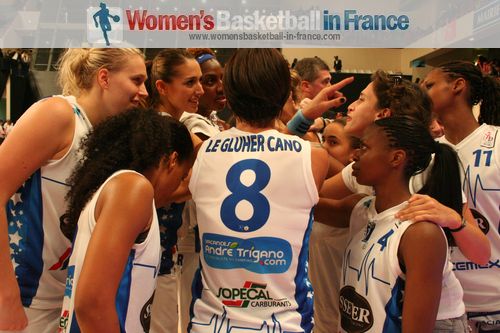 Basket Landes won only their second match at the Open LFB after seeing off Tarbes (68-64) in a typical French derby match.
Veuillez trouver en bas du page un résumé en français du match Basket Landes contre Tarbes.
Basket Landes' second-quarter effort gave them the match

Tarbes had the best start possible with a (15-2) run at the start of the game. However they failed in blowing away Basket Landes despite leading (21-12).
In a match that neither team defended well, Basket Landes turned things around in the second quarter with the exuberance of Valériane Ayayi and a 10-0 run to go into the locker room ahead (39-32).
Both sides continued to play yo-yo all through the third quarter. Tarbes had the first run and reduced their deficit to a single point (41-42) halfway through the quarter.
Then Basket Landes picked themselves up with Kamila Stepanova, beforehand invisible offensively, throwing her weight around to finish the quarter leading (54-47).
The final quarter turned into a real derby match. Yet it showed how much more Basket Landes wanted to win the match.
Tamara Abalde had nowhere to go but managed to force some space and delivered a tear-drop lay-up to score and get the foul.
This is only the second victory of Basket Landes in an Open LFB.

Basket Landes se reprend pour
une victoire à l'Open LFB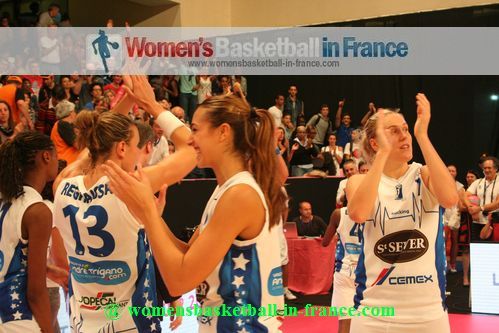 Quoique l'équipe de Tarbes démarre avec une bonne allure pour mener (21-12) au premier quart avec une Paoline Salagnac inscrivant 8 points d'affilés, c'est Anaïs le Gluher Cano qui permet aux Landaises de revenir.
Sabrina Reghaissïa, secondée par les jeunes de Basket Landes, Olivia Epoupa et Valériane Ayayi permet à son équipe de revenir.
Tarbes perd ses moyens et son adversaire prend le dessus en prenant un avantage à la mi-temps (39-32).
Au troisième quart, les deux formations s'équivalent avec Basket Landes restant devant. Quant au dernier quart, c'est grace à Gabriella Ocete et Salagnac que Tarbes grignote à son déficit mais finalement ce sont les Landaises qui s'y imposent (68-64).

Picture Gallery and match video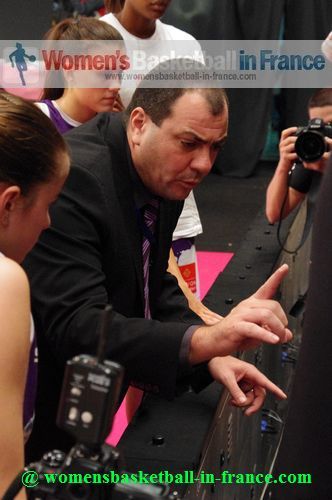 Move your mouse on the small pictures to view
---
Visit our home page
Visit our "What's New" page
picture credits:
womensbasketball-in-france.com

Date created: 22 September 2012
Like this page / Aimez cette page