Three-point shooting got Basket Landes a win at the Open LFB
---
---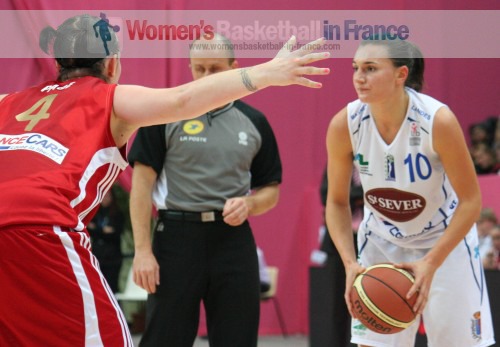 Move your mouse on the Open LFB thumbnails to view
---
---
Basket Landes and Villeneuve d'Ascq appeared in a hurry to play at the Open LFB as they did not waste time in getting down to business.
Villeneuve shot on average every 40 seconds as they raced to lead (9-2) with less than three minutes on the game clock.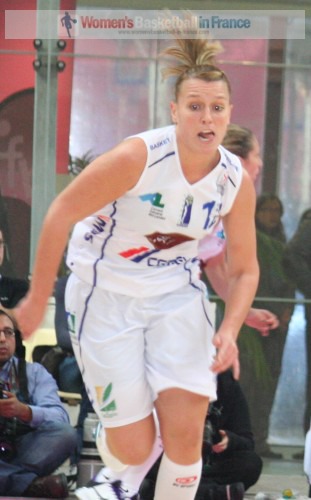 Finally Basket Landes woke up. For the rest of the quarter it was a festival of attacking basketball with Villeneuve leading (22-16).
The two teams continued attacking the basket in the second quarter.
However Villeneuve were not scoring. Basket Landes went in front (26-24) for the first time in the game at the 14-minute mark from the free-throw line with French international Marion Leborde (left in picture).
Jennifer Humphrey was also enjoying herself with 10 points and 7 rebounds as Basket Landes stretched their advantage (32-24) with three minutes remaining before the interval.
Carla Thomas finally ended the barren spell for Villeneuve with a trey. Yet her team just managed 7 points in the second quarter and went into the break trailing (29-39).
Basket Landes kept Villeneuve scoreless for almost five minutes going into the third quarter and led by as many as 14 points (43-29).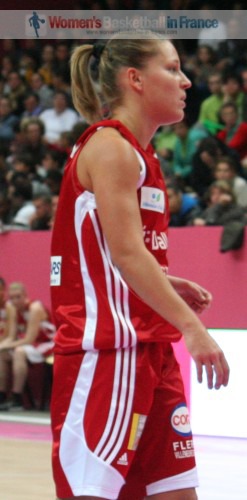 The MVP of the match Ingrid Tanqueray (right) then sounded the revolt for Villeneuve as she took on Basket Landes on her own to score 7 consecutive points.
Her energy sparked Thomas and Elodie Bertal into action as they reduced the deficit to 3 points by the end of the quarter (43-46).
At last the game opened up in the final quarter keeping the crowd on the edge of their seats.
Villeneuve were without Laurie Datchy for most of the final quarter after she collied with the basketball stands.
The two teams traded a total of 7 three-pointers in a dramatic closing with perhaps the three-pointer from Julie Barennes as the deciding factor as Basket Landes held on to win (68-65).
However the shot of the the match belonged to Carine Paul from Villeneuve who was knocked flying when she somehow connected with the aid of the backboard.
Basket Landes: Aminata Konate 0, Katarina Manic 6, Bineta Diouf 5, Anaïs Le Gluher 2, Julie Barennes 18, Amélie Pochet 9, Julia Borde 0, Marion Laborde 13, Laurie Lapeyre DNP, Jennifer Humphrey 15
Villeneuve d'Ascq: Julie Page 8, Carine Paul 6, Onayssa Sbahi 0, Ingrid Tanqueray 17, Laurie Datchy 4, Fanny Ploegaerts DNP, Carla Thomas 5, Olayinka Sanni 6, Elodie Bertal 15, Bridgette Mitchell 4
Go back to the top of page
---
Open LFB picture credits:
womensbasketball-in-france.com

Date created: 17 October 2010

---