Charleville-Mézières taste victory
at the Open LFB


The first 10 minutes of the final game of the 2012 edition of the Open LFB was an interesting battle of teams with different styles.
Press conference video to be found below.

Un résumé en français sur le dernier match à l'Open LFB 2012 se trouve en bas du page.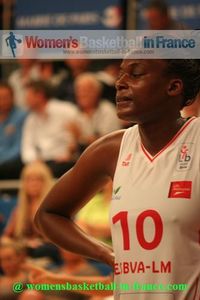 Villeneuve d'Ascq either drove to the basket or just played catch and shoot while Charleville just shot from beyond the arc.
The result was five lead changes and four ties in the first quarter. With (15-12) Villeneuve d'Ascq was leading thanks to a long distance 2-point bomb from Jennifer Digbeu (in picture).

The start of the second quarter was slow offensively. Villeneuve continued to share the scoring while Olayinka Sanni once again got herself in foul problems.
Charleville's game picked up with Ekaterina Dimitrova and Djéné Diawara finding their way on the court.
But it was Amel Bouderra who had hit two three-pointers during the first 10 minute that got the game really going.
She hit her third shot from behind the arc with 2:42 left to play in the first half, which she she somehow managed to bank the shot in off the back board from a narrow angle to put her team in front (24-22).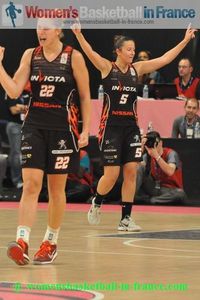 The pendulum was then in favour of Charleville and especially Aurélie Bonnan (in picture) who finished the quarter with a buzzer beater 2-point shot for her team to lead (30-25).
The third quarter was just simple basketball. If the inside players failed to score then the sharp shooters buried the three-pointers with Anne-Sophie Pagnier for Charleville and Émilie Duvivier from Villeneuve.
Yet it was Claire Michel's three-pointer just before the end of the quarter that put Charleville into the driving seat going into the final quarter (45-38).

Sanni returned to action in the final quarter and all of a sudden Villeneuve was much better. She was not scoring but Dieme took full advantage of her team-mate's presence to help herself to some easy baskets (46-50).
Charleville needed a time-out to understand what was happening. Then once again Pagnier struck another three-pointer in her favourite position on the wing in the courner.
With three minutes left to play Charleville's lead had reached double digits (57-46). Afterwards they paced themselves to victory (59-48).

Charleville et son adresse dans les tirs primés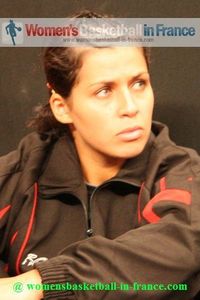 Amel Bouderra, Anne-Sophie Pagnier et Claire Michel donnent une leçon de tir à 3 points (7 de 12) dans le dernier match de l'Open LFB 2012.
Dans ce derby nordiste, Villeneuve d'Ascq et Charleville-Mézières restent coude à coude jusqu'aux dernières minutes.
Plusieurs fautes de Olayinka Sanni - qui semble le coeur de son équipe - coûtent cher à Villeneuve.
Dès que Sanni revient au dernier quart, Villeneuve est plus actif, mais un temps-mort et un tir primé par Pagnier permet à Charleville de creuser l'écart et remporter ce match (59-48).

Picture Gallery and match video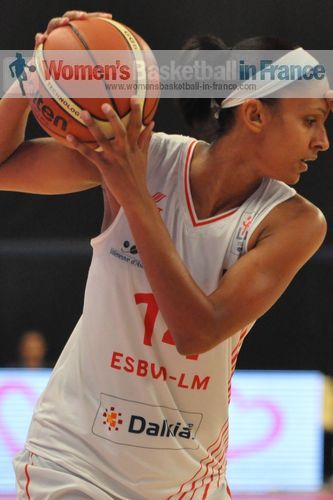 Move your mouse on the small pictures to view
---
Visit our home page
Visit our "What's New" page
picture credits:
womensbasketball-in-france.com

Date created: 23 September 2012
Like this page / Aimez cette page