Open LFB 2012 - Olympians honoured

The Open LFB 2012 in Paris marks the 8th edition of the opening day celebration of women's basketball in France.
All 14 teams from the Ligue Féminine de Basketball are present in Paris for a weekend of marketing, promotions and playing basketball from Friday, 21 September until Sunday, 23 September.
Veuillez trouver en bas du page en français deux communiqués de la LFB sur le weekend de l'Open 2012.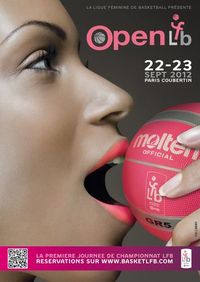 The event officially starts on Friday with the annual photo shoot at the Stade Pierre-de-Coubertin arena at 14:00.
From 14:30 until 21:00 the arena is reserved for the teams to have a one-hour training session.
From 16:30 the draw for the EuroBasket Women 2013, to be hosted by France, is to be conducted. This event, run by FIBA Europe, is to be streamed live from the UNESCO House in Paris.
On Saturday there are four games on the programme which are all to be broadcast.
With the courtesy of the Ligue Féminine de Basketball (LFB) three matches are streamed free for viewers all round the world and can be watched from our our web-tv channel.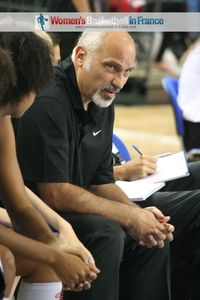 Sports + that are the official TV partners of the Ligue Féminine de Basketball broadcast for the first time a game from this event.
They are showing the match between Bourges Basket and Pergignan on their TV subscription service. This game is not available on the internet.

On Sunday the remaining three games can be followed on our web channel.

As in previous seasons all the games have colour commentary in French.
Ivano Ballarini (in picture) who holds the record of LFB transmissions presents four of the seven games.

The time table for the matches with the commentators is as follows:
Saturday, 22 September

Matches

13:30: Nantes Rezé vs Aix-en-Provence

15:45: Lyon BF vs Arras

18:00: Basket Landes vs Tarbes

20:45: Bourges Basket vs Perpignan Basket


Commentators


Ivano Ballarini and Stéphane Rollée

Sylvain Bourdois-Chupin and Jérôme Fournier

Ivano Ballarini and Grégory Halin

Patrice Dumont and Edwige Lawson-Wade (Sport +)
Sunday, 23 September

14:00 Hainaut Basket vs Mondeville

16:15 Lattes Montpellier vs Toulouse

18:30 Villeneuve d'Ascq vs Charleville-Mézières


Ivano Ballarini and Cathy Melain



Fabrice Canet and Paoline Ekambi

Ivano Ballarini and Arnaud Guppillotte

All weekend at the Open LFB 2012 awards are given and presentations are made with the French Olympic Silver medal team heading the list of teams to be honoured.
The French Team who won the U18 European Championship and the French players, runners-up from the 3x3 World Championship are also honoured.

Hervé Coudray is then presented with his coach of the year award while Sara Chevaugeon collects her young player of the year award (Espoir).
Return to the top of Open LFB 2012 page
---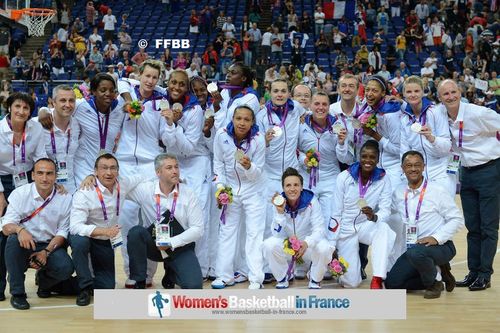 Le weekend de l'Open LFB 2012

La 8è édition de l'Open LFB se tiendra les 22 et 23 septembre prochains à Paris-Coubertin. Le lancement de la saison 2012-2013 de Ligue Féminine sera l'occasion de mettre à l'honneur les médaillées d'argent des derniers Jeux Olympiques tout en les retrouvant aussi sous les couleurs de leur club respectif.
Revenue des Jeux Olympiques de Londres avec une médaille d'argent historique, l'Équipe de France féminine sera mise à l'honneur lors de l'Open LFB 2012. Le samedi 22 septembre, juste avant le coup d'envoi du match Bourges - Perpignan, le public du Stade Pierre de Coubertin pourra saluer, une nouvelle fois, la performance des désormais célèbres Braqueuses qui seront réunies au milieu du terrain pour l'occasion.

Des 12 joueuses médaillées à Londres, 8 d'entre elles évoluent en Ligue Féminine et seront donc présentes sur le parquet de Coubertin les 22 et 23 septembre prochains : Céline Dumerc, Endy Miyem et Emméline Ndongue avec Bourges, Emilie Gomis et Edwige Lawson-Wade avec Lattes Montpellier, Clémence Beikes avec le Hainaut Basket, Jennifer Digbeu avec Villeneuve d'Ascq et Marion Laborde sous les couleurs de Basket Landes.

Enfin, des séances de dédicaces prévues tout au long du week end permettront au public d'être au plus près de leurs joueuses préférées.
Pionnière en matière de webdiffusion, la Ligue Féminine de Basket retransmettra cette année encore l'Open LFB avec des commentaires des personnalités reconnues du basket féminin français. Les trois premières rencontres du samedi et l'intégralité de celles du dimanche seront visibles sur le web.

Sport+, partenaire du basket français et de la Ligue Féminine, diffusera en direct le match Bourges - Perpignan, programmé le samedi 22 septembre à 20h45.

Le programme de l'Open 2012

Samedi 22 septembre

13h30 Nantes Rezé - Pays d'Aix, en direct sur LFB TV
15h45 Lyon - Arras, en direct sur LFB TV
18h00 Basket Landes - Tarbes, en direct sur LFB TV
20h45 Bourges - Perpignan, en direct sur Sport+

Dimanche 23 septembre

14h00 Hainaut Basket - Mondeville, en direct sur LFB TV
16h15 Lattes Montpellier - Toulouse, en direct sur LFB TV
18h30 Villeneuve d'Ascq - Charleville-Mézières, en direct sur LFB TV
---
Visit our home page
Visit our "What's New" page
Open LFB 2012 picture credits:
womensbasketball-in-france.com
FFBB


Date created: 18 September 2012
Last updated: 19 September 2012
Like this page / Aimez cette page