Open LFB
A recap of the weekend's events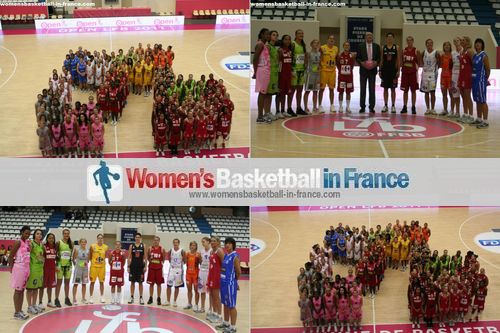 The 7th edition of the Open LFB produced no surprises in terms of results with all the pre-season favourites doing well.
Veuillez trouver en français en bas du page notre commentaire sur les matchs de l'Open.
Seven teams have participated in every opening day event and only Bourges Basket has won on every occasion.
Challes-les-Eaux are close behind with 6 victories, they were beaten in the first edition in 2005 and have remained unbeaten ever since.
The organisation USVO which became Union Hainaut for one season are the only other club with a perfect record with 4 wins. The club was disband in 2009.
The weekend started with the annual photo session in which all the players came together for a group picture.
The teams' captains and the President of the LFB Thierry Balestrière posed together for the final picture from the photo session.
The format of the Open LFB has not changed with four games on day 1 and three games on the final day.
You can read our articles (in English only) on all the games and view our picture galleries by clicking on the matches of interest below:
1. Lattes Montpellier's second quarter: enough to tame Saint Amand: Lattes Montpellier 73-60 Hainaut Basket
2. Open LFB success for Aldo Corno and Challes once again: Nantes Rezé 58-74 Challes-les-Eaux
3. Villeneuve's supporters pushed their team to victory: Aix-en-Provence 91-94 Villeneuve d'Ascq
4. Bourges Basket, troubled by Cavigal Nice Basket 06: Bourges Basket 60-48 Cavigal Nice
5. Mondeville's last-quarter fireworks defeat Charleville-Mézières: Mondeville 53-52 Charleville-Mézières
6. Pauline Akonga-N'Simbo from Arras takes down Basket Landes: Arras 77-52 Basket Landes
7. Open LFB went according to plan against the tunic ladies from Lyon: Tarbes 78-65 Lyon
Une nouvelle saison débute avec l'Open LFB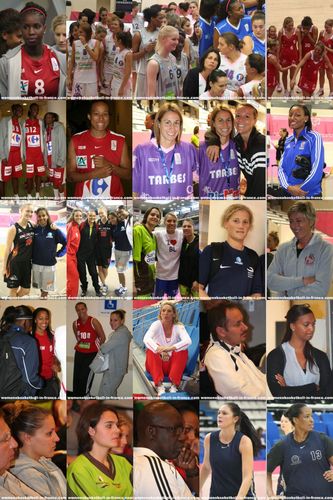 L'Open LFB est toujours l'évènement du début de la saison pour la ligue féminine de basketball. Mais cette fois-ci, il y avait aussi les invitées de l'équipe de France 2001 qui gagnaient l'EuroBasket en 2001 qui ont impressionné les spectateurs:
- Voilà Audrey Sauret fait surface avec les nouvelles promues en robes de Lyon pour essayer à maintenir le niveau contre Tarbes. Mais son expérience n'était pas suffisant pour laisser trembler son adversaire.
- Et ... Edwige Lawson-Wade - qui a participé à nouveau à l'EuroBasket 2011 - a lancé la machine de Montpellier pour facilement gagner contre St. Amand Hainaut Basket. Sa co-équipière Sandra Dijon-Gérardin se rappelait alors de bons souvenirs de sa victoire en EuroBasket 2001.
Dans les autres formations, un bienvenu de retour à Céline Dumerc qui vient de renforcer Bourges Basket après Emméline Ndongue, son ancienne et nouvelle co-équipière, doit encore se patienter avant de retrouver le parquet. Pourtant Dumerc et Bourges évitaient le piège tendu par Aminata Konate et Cavigal Nice, les nouvelles promues.
Kathy Wambe revient après une absence de trois ans en LFB à son ancien club, Villeneuve d'Ascq (ESBVA) et ne nous surprend pas en continuant avec la haute qualité de ses passes décisive (10 en total et 13 points) contre Aix-en-Provence qui ont craqué à la fin pour laisser la victoire à Wambe, Anne Breitreiner, une autre revenue, et leurs co-équipières. Pourtant c'était l'espoir Espagnole Tamara Abalde avec ses 30 points en défaite qui a fait une forte impression.
Avec l'absence de Leilani Mitchell, Pauline Akonga N'Simba de Arras surclasse tout le monde en marquant 36 points, prenant 11 rebonds et provoquant 11 fautes. Basket Landes était transparent pour les 35 dernières minutes àpart Jennifer Humphrey qui marquait 22 points.
Challes-les-Eaux se sent vraiment chez eux à l'Open et une fois de plus avait gagné avec panache contre une équipe de Nantes Rezé diminuée par des blessures. Le jeu collectif de Challes, même avec une Mistie Mims en retrait, était leur atout pour gagner contre Caroline Aubert et ses co-équipières.
---
Return to Championnat de la Ligue Féminine de Basket 2011-2012
Leave Open LFB and return to home page
Return to the top of page
Picture credits:


womensbasketball-in-france

Date created: 28 September 2011
---