Open LFB 2011
Villeneuve win shoot-out against Aix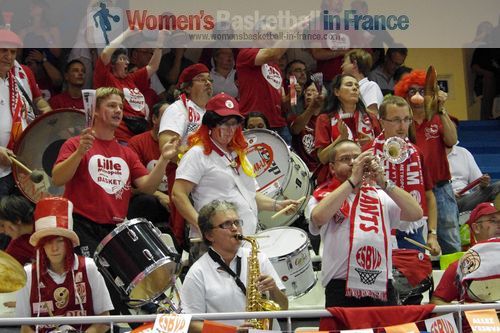 Three hours before the Open LFB clash between Villeneuve and Aix-en-Provence Emilie Gomis spoke about the supporters of Villeneuve d'Ascq and how great they were and how proud she was to play for them.
"LES Z'HURLANTS", the official fan club of Villeneuve d'Ascq, did not disappoint. They started their show before their team arrived on the court for warming up and continued all the way to the end of the match.
In one way they added to the atmosphere in a strange but highly entertaining match.
Both teams hit at least 50 percent of their shots and matched each other in the paint.
It is not often that a player scores 30 points on her début and yet end up on the losing team. Yet that was the case for Tamara Albade. Nathalie Hurst went 4-of-7 from behind the arc and scored in total 24 points while Liene Jansone chipped in 20 points.
Cindy Lima managed to score 10 points despite playing most of the game with foul problems.
However Villeneuve d'Ascq also had three players with scores of more than 20 points: Olayinka Sanni 22 points, match MVP Emilie Gomis added 21 while Anne Breitreiner had 20 points. Kathy Wambe dished out 10 assists and scored 13 points while Jillian Robbins had 12 points and 16 rebounds.
Open LFB match report: Was it a case of a sixth player for Villeneuve?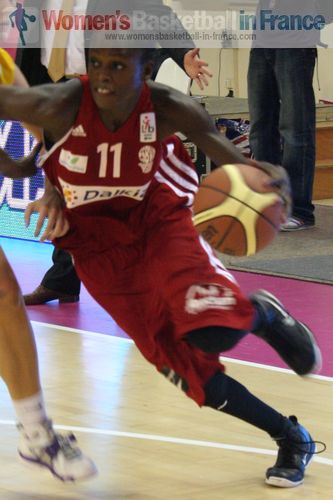 The opening was fast and hectic with both sides hardly missing a shot. Aix-en-Provence had the better of the early exchange and led (18-12) after four minutes. But with a minute to play in the quarter Emilie Gomis tied the game (20-20).
Villeneuve then finished the quarter on style with points from Jillian Robbins and Anne Breitreiner (24-20).
Cindy Lima from Aix-en-Provence picked up her 3rd foul at the start of the second quarter and returned to the bench.
The two teams more or less traded scores all through the quarter with neither team able to control the game for long.
Nathalie Hurst gave a display in using the backboard to score from distance for Aix-en-Provence while Robbins started to make the difference inside the paint as Villeneuve pulled away going into the locker room (46-37).
No real systems appeared to be in place as both sides continued to bombard each other with big players battling in the paint and the smaller players working from the outside.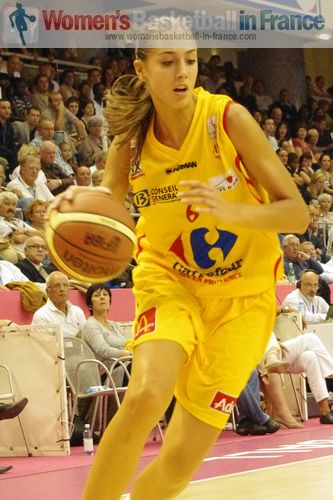 Aix reduced their deficit slightly with five minutes left to play in the quarter (53-58) as Tamara Albade (in picture) picked up her game.
While Liene Jansone was having a good game, Lima had to go back to the bench after picking up foul number 4. Villeneuve were struggling offensively at the end of the quarter but still led (69-67) going into the final quarter.
The last quarter was just end-to-end aggressive basketball. Aix-en-Provence refused to be intimated by the supporters or Villeneuve to go in front briefly with 6:38 to play (76-75).
Robbins then playing with a bandage around her head put Villeneuve back in front for good with six minutes remaining.
Although Robbins eventually fouled out Alice Nayo replacing her hit a big three to give her team a 7-point advantage with less than three minutes to play (89-82).
Aix did not panic. With nine seconds left to play they trailed by 2 points (91-93).
They had the chance to win or tie the game in the dying seconds but the ball did not drop. With 1.9 seconds left Gomis was sent to the line, she split the pair for Villenuve to open the season with an Open LFB victory.
Aix-en-Provence: Emmanuelle Gorjeu 0, Claire Tomaszeski 2, Tamara Albade 30, Nathalie Hurst 24 (8 assists), Kelly Corre 1, Sylvie Gruszczynski 4, Cindy Lima 10, Liene Jansone 20, Natty Chambertin DNP, Laëtitia Jordier DNP
Villeneuve d'Ascq: Rokiatou Coumaré DNP, Anne Breitreiner 20, Sabrine Bouzzenna 1, Alice Nayo 5, Laurie Datchy DNP, Emilie Gomis 21, Kathy Wambe 13 (10 assists), Olayinka Sanni 22 points (11 rebounds), Sabrina Palie 0, Jillian Robbins 12 (10 rebounds)
Picture gallery - Aix-en-Provence vs. Villeneuve d'Ascq
(2011 Open LFB)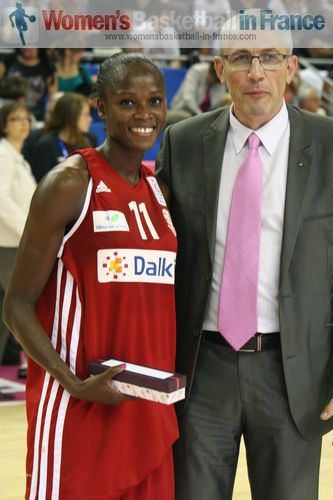 Move your mouse on the small pictures to view
---
Leave Open LFB and return to home page
Return to the top of page
Picture credits:


womensbasketball-in-france.com


Date created: 25 September 2011
---