2011 Open LFB
30 minutes was all Tarbes needed
All 10 players from Tarbes got on the Open LFB score sheet as they comfortably beat Lyon BF (78-65). The match never took off despite an evenly contested first quarter.
The first three minutes of the game belonged to Lyon as they led (6-3). They were still in front halfway through the quarter (10-4).
However Tarbes did not panic and with 90 seconds to play in the guarter they led (14-12). Yet Lyon finished the first quarter on level terms (16-16) thanks to a buzzer beater two-pointer by Géraldine Bertal.
For Julie Legoupil the beginning of the match was complicated as she slipped and hurt her ankle but continued while also picking up three first-quarter fouls.
Tarbes took control from the start of the second quarter with a 6-0 opening. Apart from Leigh Aziz, Lyon had nobody inside and were powerless in dealing with Ana-Maria Cata Chitiga and Lauren Neaves.
A trey by Lubica Drljača followed by 2 fast points from Neaves (31-19) forced Pierre Bressant to call for a time-out with just over five minutes to play in the half.
Nothing really worked for Lyon and Leslie Ardon got herself into foul trouble by picking up her 3rd one.
For Tarbes Daria Mieloszynska joined in the festival of post play to help her team go into the locker room with a a double-digit advantage (41-28).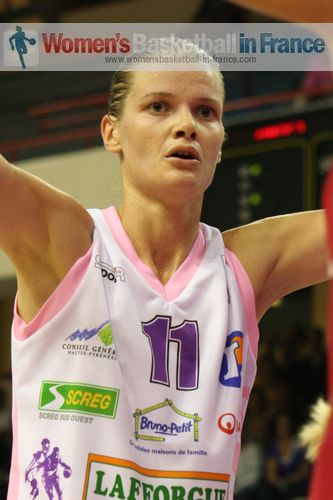 Lyon changed their defensive system after the break which stopped the inside players from having it all their way. But offensively Lyon had no real game plan except for pushing the ball out wide for the long shots.
Tarbes on the other hand varied their offensive actions and increased their advantage every time they scored with Paoline Salagnac and Florence Lepron (in picture), the game MVP, leading the way.
Audrey Sauret tried her best to organise things while Ardon fouled out. All the same Tarbes went into the final quarter ahead (61-39).
Lyon were able to make the final line looking respectable with a last-quarter blitz despite losing Géraldine Bertal at the start of the quarter due to injury.
Tarbes were never in danger of losing the match and Pascal Pisan continued to turn his bench.
Tarbes: Elodie Guillenteguy 4, Paoline Salagnac 13, Lauren Neaves 12, Isis Arrondo 3, Naura El Gargati 10 (11 rebounds), Florence Lepron 12, Lubica Drljača 9, Ana-Maria Cata Chitiga 6, Charlotte Preiss 2, Daria Mieloszynska 4
Lyon: Charline Servage 10, Géraldine Bertal 4, Julie Legoupil 5, Marion Arfélis 8, Audrey Sauret 8, Sarra Ouerghi 10, Leslie Ardon 5, Leigh Aziz 17 (11 rebounds)
Picture gallery - Tarbes vs. Lyon
(2011 Open LFB)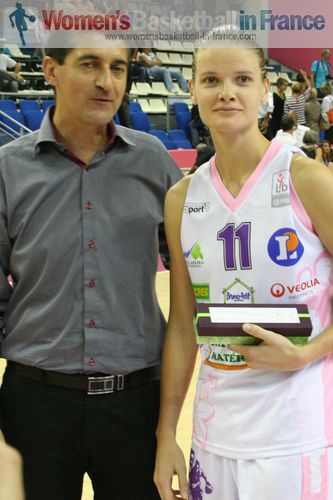 Move your mouse on the small pictures to view
---
Leave Open LFB and return to home page
Return to the top of page
Picture credits:


womensbasketball-in-france.com


Date created: 26 September 2011
---