2011 Open LFB
Basket Landes stunned
by Pauline Akonga-N'Simbo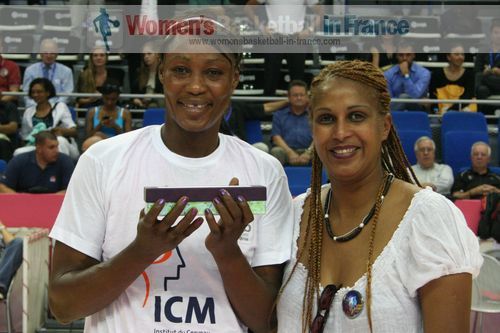 Pauline Akonga-N'Simbo's smile at her team's Open LFB victory against Basket Landes said it all. She was happy and all the hard work by the coach and players paid off.
Arras beat Basket Landes (77-52) with Akonga-N'Simbo scoring 36 points and picking up 11 rebounds and drawing 11 fouls.
The first few minutes of the game was lively with Basket Landes having the better start (7-4). However Pauline Akonga-N'Simbo and Bineta Diouf had a little clash that resulted in a couple of long discussions with the officials.
With Akonga fired up and Joyce Cousseins-Smith and Gabriela Marginean working well Arras dominated the rest of the first quarter (22-13).
Collectively the players from Arras gave Jennifer Humphrey, the only player from Basket Landes who played well, a hard time.
Yet Marion Laborde and Camille Aubert gave Basket Landes some hope for recovery early in the second quarter with 4 quick points. But then nothing much happened and Arras regained the upper hand.
Compared to Basket Landes, Arras resembled a well oiled machine. This was shown after Adja Konteh picked up her 4th foul and Juliana Maloudama was called into action.
On Mialoundama's very first reception of the ball, she gave the impression she was going to shoot but then recycled the ball. Four passes later the ball was back in her hand and she kicked the ball back to Cousseins-Smith who nailed a tree-pointer (39-29).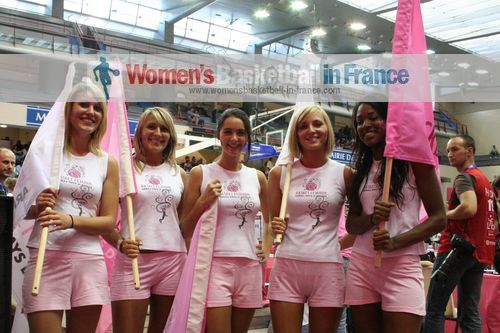 After the break Arras dominated Basket Landes completely by alternating their inside with excellent perimeter play with Akonga-N'Simbo, Nadezdha Grishaeva, Cousseins-Smith and Alexandra Tchangoué all in sync.
Arras slowly stretched their advantage (47-35) after 25 minutes and (58-45) by the end of the quarter. Krissy Badé's coast to coast closing the quarter sent the supporting fans wild.
Apart from Humphrey, Basket Landes fell apart in the final quarter allowing Arras to stroll to victory (77-52).
Arras: Joyce Cousseins-Smith 10, Alexandra Tchangoué 3, Adja Konteh 5, Krissy Badé 5 (5 assists), Pauline Akonga-N'Simbo 36 (11 rebounds), Juliana Mialoundama 0, Alexia Rol DNP, Nadezdha Grishaeva 6, Gabriela Marginean 15
Basket Landes: Camille Aubert 3, Katarina Manic 6 (4 assists), Bineta Diouf 2, Anaïs Le Gluher-Cano 2, Julie Barennes 7, Amélie Pochet 2 Julia Borde 0, Marion Laborde 8, Sarah Ousfar 0, Jennifer Humphrey 22 (10 rebounds)
Picture gallery - Arras vs. Basket Landes
(2011 Open LFB)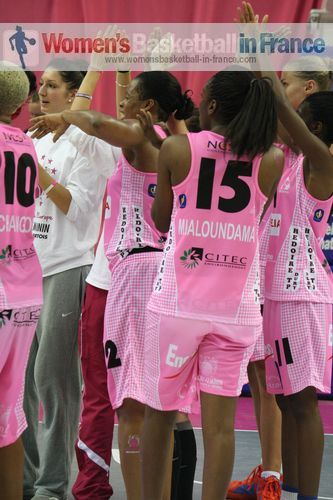 Move your mouse on the small pictures to view
---
Leave Open LFB and return to home page
Return to the top of page
Picture credits:


womensbasketball-in-france.com


Date created: 26 September 2011
---