Webcast TV Services 2009-2010
LFB TV is back again
---
---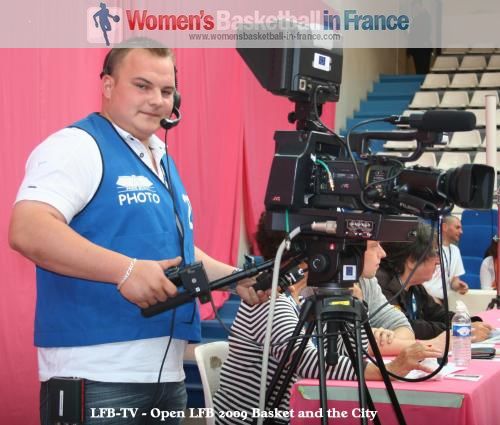 Webcast TV is becoming more and more popular in France. Most of the clubs in the Ligue Féminine de Basket (LFB) provide highlights from their matches in this format.
You can find LFB news and highlights at Daily Motion.
You find full Webcast games on demand from the LFB, FIBA Europe and any other free providers.
For highlight services from other TV service in France, the links are included in weekly reports during the season.
FIBA has a service that covers major championships called FIBA TV.
This service is not completely free. But upon registration you can view some highlights of major games for men's and women's basketball.
Viewing archived games on womensbasketball-in-france.com is done by clicking on the match links on the page.
A message appears asking you to run a media application on your computer. After selecting the application the video will be loaded in a new tab or window on your computer.
This page is updated regularly during the season and appear regularly in our RSS Feed to help you keep track. In order to subscribe to our RSS Feed please read: What is a RSS Feed?
You can move between sections by clicking on the links below or by scrolling down the page to select the game of interest.
1. Basket and the City 5
2. EuroLeague Women qualification round
3. FIBA Europe Games
4. Ligue Féminine de Basket play-off games

---
Basket and the City 5 - Open LFB 2009
3. Villeneuve d'Ascq 77-55 Armentières
5. Pays d'Aix 77-90 Nantes Rezé
6. Challes-les-Eaux 73-70 Lattes-Montpellier
Return to the page index
EuroLeague Women qualification round
16 December 2009: UMMC Ekaterinburg 82-70 Ros Casares
16 December 2009: Spartak Moscow Region 103-59 Fenerbahce
18 November 2009: Spartak Moscow Region 81-56 Tarbes
18 November 2009: UMMC Ekaterinburg 69-54 Galatasaray
28 October 2009: Spartak Moscow Region 91-71 Frisco Sika Brno
Return to the page index
20 October 2009: 2009 FIBA Europe SuperCup Final
Return to the page index
2010 LFB Play-offs
11 May 2010: Nantes-Rezé 84-67 Lattes Montpellier
24 April 2010: Bourges Basket 62-57 Arras
24 April 2010: Tarbes 69-62 USO Mondeville
Return to the page index
---
Return to women playing basketball blog
Return to LFB-TV from Webcast TV 2009
Webcast TV picture credits:
Womensbasketball-in-france.com

Date created: 01 October 2009
Latest Update: 11 May 2010
---