Nantes-Rezé's first LFB
victory of 2013

Hainaut Basket's LFB defeat at home to Nantes-Rezé (55-60) leaves them stuck in the relegation zone. However they have to wait for the remaining games of round 21 from this weekend and the completion of round 20 to know their position.

For Nantes-Rezé who had Caroline Aubert and Sarah Michel back in the line-up, this was their first victory in 2013 in league action. The relief of breaking their five-game losing streak was seen in the players faces as they walked off the court at the end of the game.
Bernadette N'Goyisa was the leading scorer with 15 points and 11 rebounds for the victors while Aubert (7 assists) and Isis Arrondo had 10 points each.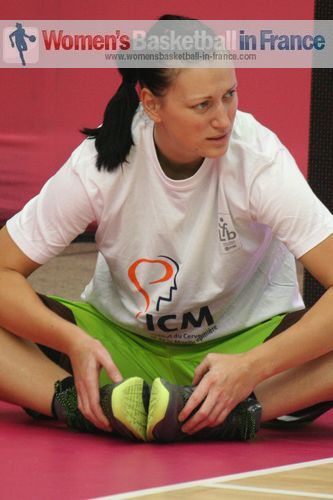 For Hainaut Basket, Ify Ibekwe was trying a little too hard to be aggressive offensively from the perimeter and was not really rewarded despite scoring 17 points and picking up 12 rebounds. Ashley Houts, Laura Garcia and Petra Stampalija (in picture) all finished in double digits with 13, 11 and 10 points each.
Hainaut Basket actually had the better start to the game and led (16-12) at the end of the first quarter. Hainaut were still ahead (22-16) when they lost Amanda Jackson with under three minutes played in the second quarter.
Nantes-Rezé switched to a zone defensive system. With good three-point shooting by Aubert and Arrondo they were able to take the advantage going into the break (39-30).
The third quarter was sloppy by both sides. But with a three-pointer by Houts Hainaut Basket were back on level terms (44-44) going into the final quarter.
Nantes scored the first 6 points of the final quarter and maintained at least a 4-point lead for the rest of the way.
You are able to watch the full game below.
---
Like this page / Aimez cette page