Villeneuve d'Ascq & Charleville-Mézières are one step
closer to LFB survival

In the first three matches of LFB round 20, home court advantage proved to be too much for the visitors. Lattes Montpellier on the other hand were able to pull off a road win with a basket in the last two seconds.
Veuillez lire un résumé en français de quatre matchs de la 20 journée en bas de la page.
Nantes-Rezé - who were without their captain Caroline Aubert - dominated Lattes Montpellier in all sectors of the game for the first 31 minutes of the match.
However Montpellier - without Fatimatou Sacko - did not panic. With just under a minute to play they were in front (70-69) after Edwige Lawson-Wade went on a coast-to-coast.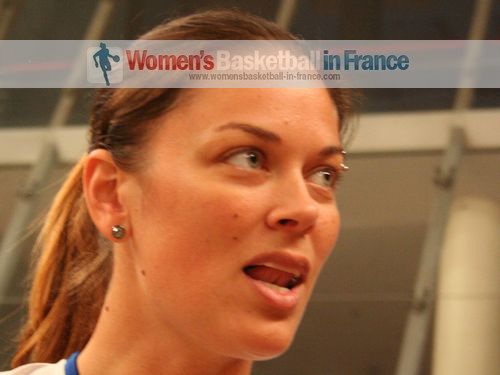 Marielle Amant (17 points) levelled the scores for the last time by splitting a pair from the charity stripes with 30 seconds to play.
Both teams missed chances to claim the lead before Kristen Mann (in picture) was allowed to run to the basket with two seconds to play. She score her 10th point as well the game winning basket.
Nantes-Rezé tried to save the game but took too long to execute: Isis Arrondo had to put up a shot as the buzzer sounded, which missed the target.
Géraldine Robert and Ana Lelas were the leading scorers for Montpellier with 17 and 15 points each, while Gunta Baško-Melnbārd and Antonia Bennett from Nantes-Reze joined Amant in double digits with 11 points each.
Lattes Montpellier's victory (72-70) keeps them alone on top of the LFB regular season standing.
Crunch time for LFB tail enders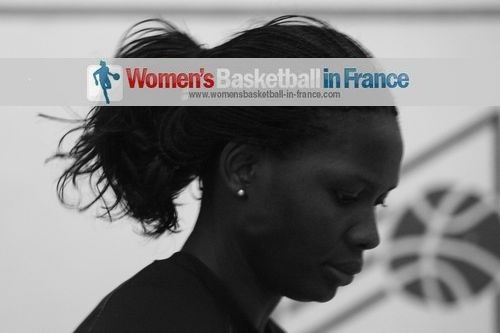 Aminata Nar Diop (in picture) had a slow start in the game between Charleville-Mézières and Hainaut Basket. Standing in for the injured Djéné Diawara she was required to play for 40 minutes.
During the first quarter she looked shaky. But by the third quarter she was in her element and was also responsible for Ify Ibekwe (22 points) fouling out with 24 seconds remaining in this quarter.
Nar Diop finished with 24 points which came from making 10-from-11 shots from the floor and 4-from-5 from the free-throw line. Her team-mate Sheana Mosch (8 assists) added 23 points as Charleville rolled over Hainaut Basket (90-75).
Hainaut Basket had only five fully fit players for the match and were still on level terms with their hosts after 27 minutes (51-51).
However due to foul problems they started to struggle. Losing Ibekwe just before the end of the third quarter did not help as they trailed (55-63).
Laura Garcia who was sick, replaced Ibekwe for the rest of the game. When Amanda Jackson fouled out in the final quarter Carine Paul had to play.

In the end Hainaut Basket just ran out of steam despite a 30-point haul by Ashley Houts.
In the other game Villeneuve d'Asq used a 15-0 run to end the first quarter against Perpignan and take control of the game (21-9). By half time the lead had grown to 21 points (41-20).
The second half of the match was evenly balanced with Villeneuve d'Ascq enjoying the victory (64-46). Lenae Williams had the most points with 19 but Olayinka Sanni and Emma Meesseman were more efficient with 15 points each.
Angie Bjorklund and Abby Bishop were the leaders for Perpignan with 13 and 10 points each.
Despite the defeat Perpignan Basket remain in third place in the LFB regular season standing. Charleville-Mézières and Villeneuve d'Ascq are a little nearer to LFB safety while Hainaut Basket find themselves in deep trouble.

---
Villeneuve d'Ascq et Charleville-Mézières sortent leurs têtes de l'eau

Le leader de la ligue féminine de basket, Montpellier, maintien son avantage sur ses adversaires après une victoire arrachée à la dernière seconde contre les locaux, Nantes-Rezé (72-70). Les nantaises, sans Caroline Aubert, ont mené jusqu'au money time, avec une bonne prestation par Marielle Amant (17 points), mais succombent à la dernière seconde avec un tir à deux points par Kristen Mann (10 points) secondée par Géraldine Robert (17 points, 6 rebonds) et Ana Lelas (15 points).

Mais pour les équipes au bas du tableau, c'est Villeneuve d'Ascq qui jubile après avoir réussit une belle opération contre la troisième équipe du tableau, Perpignan Basket (64-46). Pourtant à domicile, les adversaires dépassent les perpignanaises pour prendre l'avantage au premier quart (21-9).
Pendant que Olayinka Sanni (dans l'image) et Emma Meesseman sont présentes sous le panier avec 15 points chacune et 15 et 8 rebonds respectivement, c'est Lenae Williams qui s'éclate avec des tirs primes et ses 19 points. Seule Angie Bjorklund et Abby Bishop de Perpignan Basket sont dans le jeu avec 13 et 10 points chacune.

Concernant les deux autres lanternes rouges Charleville-Mézières et Hainaut Basket c'est Charleville qui bat les hennuyères (90-75) sur leur parquet. Pourtant les locaux, handicappés par blessures et des problèmes de santé, se montrent combattifs en premier quart et prennent l'avantage.
Puis ce sont les Flammes Carolo avec Aminata Diop (24 points) et Sheana Mosch (23 points) en bonne forme qui prennent l'avant contre des Nordistes affaiblies dont seules Ashley Houts (30 points) et Ify Ibekwe (22 points) maintiennent le momentum du début de la rencontre.
---
Like this page / Aimez cette page