The 12 ladies playing basketball for France at the London Olympic Games

In France playing basketball for the national team is an objective for most of the players of a certain level. The competition for places starts early at U16 level and continues through all the youth age groups up till senior international level.
After qualifying for the final of the Olympic Games people are interested in finding out who are the players representing France, especially after watching their games on prime time television.
Last season nine of the players played their club basketball in the Ligue Féminine de Basket in France while the remaining three played in Italy, Russia and Spain.
Seven of the twelve players selected for the London Olympic Basketball Tournament were members of the French EuroBasket Women team in 2007 when France failed to qualify for the 2008 Olympic Qualifying Tournament.
By qualifying for the final the team has written a new line in the history for women's sport in France by becoming the first team to win a medal. France have only picked up team medals in male sports.
The 12 players playing basketball for France at the 2012 Olympic Games are: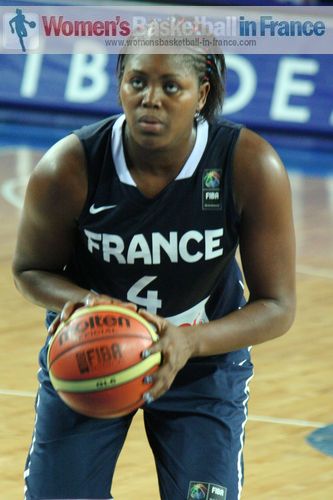 Isabelle Yacoubou-Dehoui (26) has been a member of the French national team since 2007. She first played for France at U20 level in 2006 and walked away with the MVP award at the European Championship. She played her club basketball in France with Tarbes until 2010.
She went to Beretta-Famila Schio for the 2011 season and won a national championship. Last season (2012) she played for Ros Casares in Spain and won the EuroLeague Women Championship title. She will continue her playing career abroad next season (2013) with Sparta&K Moscow Region in Russia.
---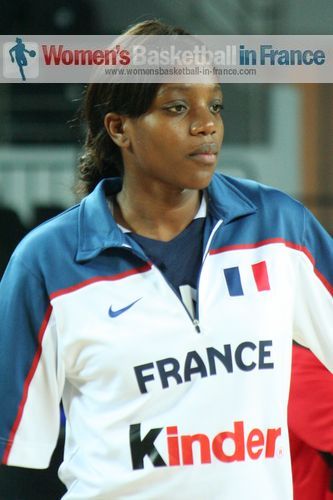 Nwal-Endéné Miyem (24) is a product of the CFBB and has been playing basketball for Bourges Basket since 2006. She had a full youth career starting in 2003 and ended it with a bronze medal at the U21 World Championship in 2007.
Since the summer of 2008 she has been a member of the senior national team, which makes it nine years of playing for France during the off-season.
Apart from all the club honours Miyem has won with Bourges she was also the LFB young player of the year in 2008.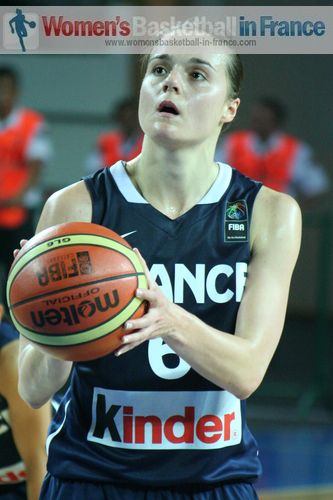 ---
Clémence Beikes (28): her first success with France came as a youth international in 1999 with a bronze medal at the U16 European Championship.
Beikes went to the CFBB and played for France again at U20 and U21 level. But she had to wait until 2006 to play for the senior team. Apart from the summer of 2009 Beikes has been present for France each summer. Beikes had played for a number of clubs in France. Since 2008 her home has been Hainaut Basket while she had won a national championship with USVO in 2003.

Her presence in the Olympic team was not certain because she had missed most of the season after an arthroscopic surgery.

---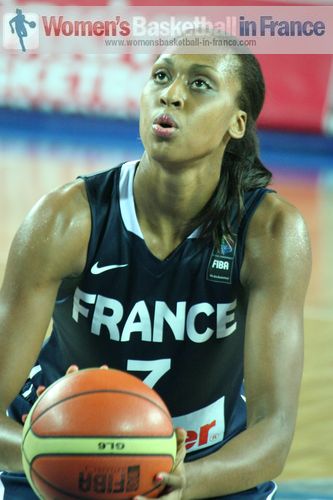 Sandrine Gruda (25) has been playing basketball in Russia since 2007 with UMMC Ekaterinburg. In that time she won four consecutive Russian championships and Russian Cup titles as well as many individual titles. Before leaving for Russia she had passed through the CFBB and two seasons with the USVO.
Gruda was drafted in the WNBA in 2007 and played three seasons for Connecticut Sun (2008-2010). She also played youth international basketball from 2003 until 2007.
She made her international senior début in 2006 and played in the 2006 FIBA World Championship for Women. She missed the 2010 World Championship due to fatigue after the WNBA season.

---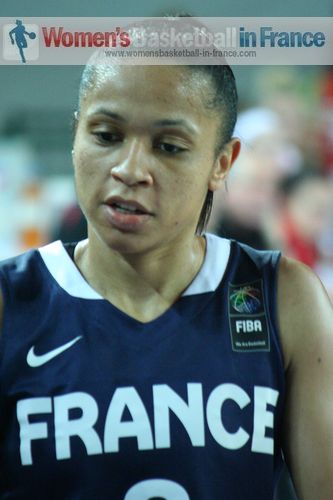 Edwige Lawson-Wade (33) returned to the national team in 2011 after a four-year break. She is the last player from the 2000 Olympic team still playing for France. After seven years of playing basketball abroad, Lawson-Wade returned to France last season (2011-12) and played for Lattes Montpellier. She won the LFB player of the year award.
She played for the U18 team in 1996 and made her full international début in 1998 and is the only player from France with a EuroBasket Women gold, silver and bronze medal.

---
Céline Dumerc (30) is the captain of the team and has been an ever present member of the national team since 2003. Dumerc has not really had a break from international basketball. She played youth international basketball from 1997-2003.
Dumerc had spent three years at the CFBB and then started her professional career with Tarbes in 2000. She moved to Bourges Basket in 2003 and apart from two seasons in Russia (2009-2011) she is still with the club. She has a contract with the club until the end of her professional career. With Bourges Basket she has won every possible domestic honour. She led France to the EuroBasket Women 2009 title and was a member of the all tournament team.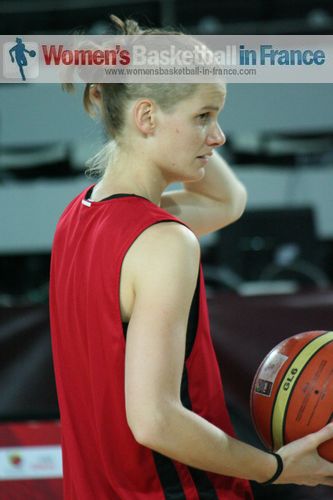 Florence Lepron (27) first played for France in 2006 but only became a regular member of the roster in 2008. She had a rich youth international career winning the U16 European Championship in 2001 and the U20 European Championship in 2005. She also won medals in 2002, 2003 and 2004. Since leaving the CFBB in 2003 she played for Tarbes (twice), Bourges Basket and Villeneuve d'Ascq.

---
Emilie Gomis (28) is known as "Miss Go" for the way she attacks the basket. Like many of the players on the roster she went to the CFBB and also played for France at youth level. She was still playing youth basketball when she made her début for the senior team in 2002. She has been to every EuroBasket Women competition since 2003. Injury kept her out of the 2008 EuroBasket qualifiers, the only summer she has not played for France since 1999.
In 2010 she was seriously injured with 90 seconds to play in the final preparation game and had to miss the World Championship. Gomis played for Villeneuve d'Ascq last season but will join Lattes Montpellier after the Olympic Games.
---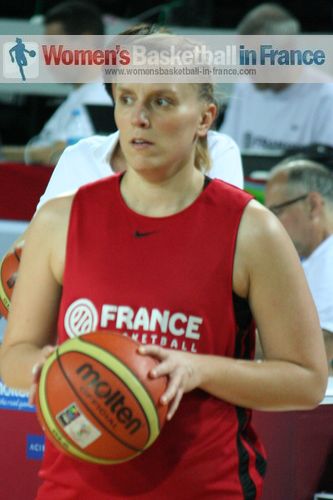 Marion Laborde (25) is the only player on the roster who neither passed through the CFBB nor a basketball academy. She played for her home town club until 18, then left for Tarbes in 2004. In 2007 she left Tarbes to come closer to home and start her social work training with children.
She joined Basket Landes in NF1 and helped them win promotion to the LFB. She was called up for France in 2010 and went to the World Championship. She was called up again for EuroBasket Women 2011.
Laborde - despite not playing basketball at an academy - was selected for France at U18 level in 2004.

---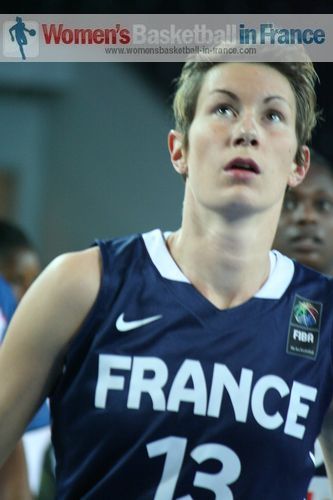 Elodie Godin (27) won every possible honour in France before she was 21 and was selected for the first EuroLeague Women All Star game in 2006. Godin is another product of the CFBB. She joined Bourges Basket in 2003 for three years.
She then went to USVO. When the club collapsed in 2007 she left France to play basketball abroad.
After a year at USK Prague, she found her home in Italy by playing basketball for Cras Basket (2008-2012). She returns to Italy after the Olympics but will play for Beretta-Famila Schio.
Godin was a regular member of the national team between 2003-2006. She returned in 2009 and 2010 but missed EuroBasket Women 2011.
---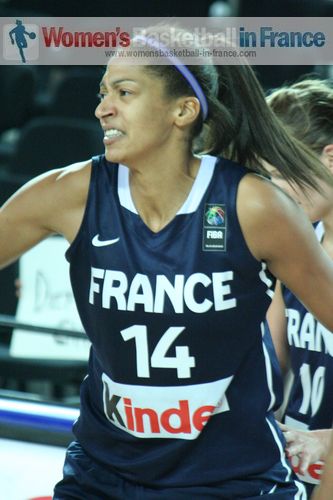 Emméline Ndongue (29) played all her youth basketball at Bourges Basket and apart from two seasons with Aix-en-Provence (2004-2006), her professional career has been with Bourges Basket.
She played for France at youth level between 2001 and 2003. Her international career with the senior team started in 2003 and she has been involved in five EuroBasket Women Championships and 2 World Championships.
Like a number of her team-mates, Ndongue has been playing basketball non-stop for ten years.
---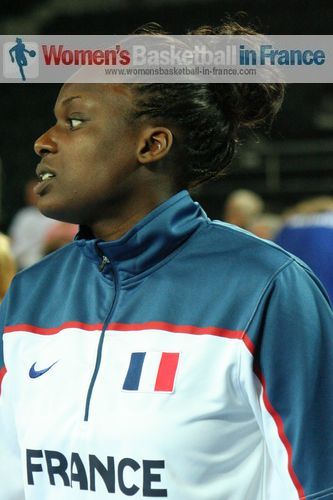 Jennifer Digbeu (25) followed the career path of Sandrine Gruda until 2007. They both left the CFBB at the same time and joined USVO. When Gruda left for Russia in 2007, Digbeu joined Mondeville for two seasons. Since 2009 she was playing basketball in Bourges but after the Olympics she will move to Villeneuve d'Ascq.

Digbeu had to wait until 2008 to make her senior début and 2010 to play in a senior international championship.

---
Playing basketball picture credits:
womensbasketball-in-france.com

Date created: 11 August 2012
Like this page / Aimez cette page