A busy day at the London Olympic Basketball Tournament

The fourth day of women's basketball at the London Olympic Basketball Tournament should be remembered for the dunk by Liz Cambage and how close Great Britain came to beating France.
Great Britain had already been eliminated from the Women's Olympic Basketball Tournament before they got on the court to face France. But this did not stop them from giving France a scare.

Great Britain beat France just over two weeks before the Olympic Games started and decided to give France a good run.

They were deadly from the charity stripes hitting 21 in a row. However the only one missed ended up costing them a victory.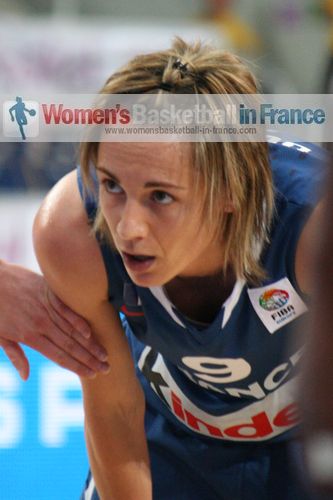 Jo Leedham led the Great Britain charge with 29 points. Yet it was Céline Dumerc (in picture) whole stole the show: with 5.6 seconds to play she hit a three-pointer that led to overtime (67-67).

In overtime with 0.2 seconds to play she went on the run again and from almost the same position planted the game winning three-point shot (80-77).

Tom Maher the Great Britain coach called a time-out and drew up a play for Chantelle Hardy. Her three-pointer effort banked in off the backboard but the shot was released after the buzzer.

In the other games from Group B, Canada beat Brazil (79-73) and Australia Russia (70-66).
So with one day of group action remaining the quarter-finalists are known with the hosts Great Britain and the 2016 Olympic games hosts, Brazil also eliminated.

In Group A, Turkey handed China their first loss (82-55) and booked their place in the quarter-final. China had already qualified.

Croatia finally tasted victory by beating Angola (75-56) with 23 points coming from Ana Lelas.

With the USA beating the Czech Republic (88-61) the battle for the fourth qualifying place from this group is still open.

Croatia still have a chance of qualifying for the quarter-final provided they beat Turkey and the Czech Republic does not win against Angola.
---
London Olympic Basketball picture credits:
FIBA

Date created: 04 August 2012
Like this page / Aimez cette page