Bourges Basket keep
LFB Championship title

Bourges Basket picked up their 8th LFB Championship trophy after beating Montpellier (64-54) in the final game of the three-match series to claim the 2013 Ligue Féminine de Basketball trophy and their 12th Champion of France title.
In the first two games of the series home court advantage counted for nothing. In the first game Bourges hosted Montpellier and ended up losing to them for the third time in the LFB this season.
Montpellier never trailed in the match and were in total control after three minutes (8-3) and cruised to a first-quarter lead (20-12).
For the rest of the game the teams were evenly matched with Montpellier holding on (62-54).
Bourges are at their most dangerous when their backs are to the wall and they proved it by winning the second game (60-53) in Montpellier:

The birthday girl Emméline Ndongue (in picture) led the way for Bourges with 21 points. The match was a ding-dong affair with Bourges edging the first quarter (16-13). However they went into the half-time break trailing (30-32).
Bourges scored the first 6 points in the second half which enabled them to take control. They traded basket for basket for the rest of the third quarter with them maintaining the advantage (44-39).
During the final quarter Bourges' defense was too strong. They maintained their composure down the stretch to force game three in the LFB Championship final.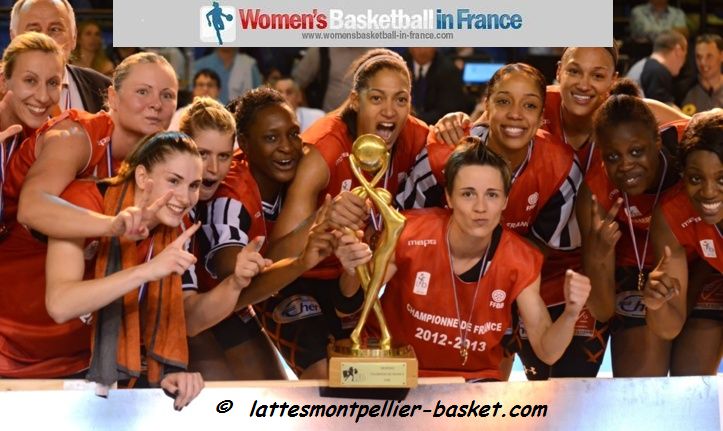 In the final game the curse of playing at home continued with Bourges Basket winning again (64-54).
Montpellier did not find their rhythm and struggled offensively from the tip-off. Bourges, on the other hand, played well defensively and just scored enough points to edge the first quarter (15-9).
The second quarter was a bit more open with Montpellier coming to within 2 points of their guests (25-27) with just over three minutes to play in the quarter.
This was as close as Montpellier got in taking the lead as Bourges stepped on the gas and went into the locker room (39-27) in front.
The remainder of the LFB final turned into a Bourges Basket demonstration as they won the series 2-1 and another French Championship.

Game 3 - Lattes Montpellier 54-64 Bourges Basket
Lattes Montpellier: Lidija Turcinovic 0, Virginie Brémont 2, Ana Cata-Chitiga 0, Edwige Lawson-Wade 7, Emilie Gomis 4, Géraldine Robert 15, Ana Lelas 13, Gaëlle Skrela 0, Justine Barthelemy 0, Fatimatou Sacko 9, Kristen Mann 4

Bourges Basket: Romane Bernies 4, Nwal-Endéné Miyem 16, Céline Dumerc 10 (7 assists), Pauline Krawczyk 5, Stephany Skrba 0, Emméline Ndongue 11, Christelle Diallo 7, Johannah Leedham 5, Marissa Coleman 4

Game 2 - Lattes Montpellier 53-60 Bourges Basket
Lattes Montpellier: Virginie Brémont 5, Ana Cata-Chitiga 2, Edwige Lawson-Wade 11 (4 assists), Emilie Gomis 7, Géraldine Robert 3, Ana Lelas 11, Gaëlle Skrela 0, Fatimatou Sacko 4, Kristen Mann 10
Bourges Basket: Romane Bernies 0, Nwal-Endéné Miyem 12, Céline Dumerc 7 (6 assists, 4 steals), Pauline Krawczyk 3, Stephany Skrba 2, Emméline Ndongue 21, Christelle Diallo 0, Johannah Leedham 13, Marissa Coleman 11
Game 1 - Bourges Basket 54-62 Lattes Montpellier

Bourges Basket: Romane Bernies 2, Nwal-Endéné Miyem 16, Céline Dumerc 12 (5 assists, 3 steals), Pauline Krawczyk 0, Stephany Skrba 4, Emméline Ndongue 6, Christelle Diallo 2, Johannah Leedham 3, Marissa Coleman 9

Lattes Montpellier: Lidija Turcinovic 0, Virginie Brémont 1, Ana Cata-Chitiga 5, Edwige Lawson-Wade 12 (4 assists), Emilie Gomis 2, Géraldine Robert 2, Ana Lelas 13, Gaëlle Skrela 2, Fatimatou Sacko 9, Kristen Mann 16
---
Like this page / Aimez cette page