Bourges and Montpellier once again
in LFB Championship final

Bourges Basket and Lattes Montpellier have qualified for the 2013 LFB Championship final series. The two teams that had finished in 1st and 2nd place during the regular season swept their play-off opponents, Lyon BF and Perpignan Basket in the best-of-three semi-final series.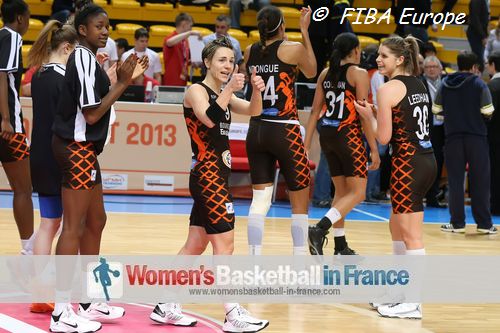 In 2012 Bourges Basket defeated Lattes Montpellier 2-0 during the LFB final series to claim their 11th French title.
This season (2012-13) Bourges Basket finished second during the regular season and had to face Lyon in the semi-final play-off series.
Although this was the first time that Lyon was playing in the Championship play-off, six players from Lyon had played for the now defunct Challes-les-Eaux during the play-offs last season.

Despite playing at home in game 1, Lyon allowed Bourges the first 10 points of the game and ended up losing the match (59-69).
Bourges Basket had the home court advantage for game 2 but trailed (14-15) after the first quarter. Bourges started to take control of the match towards the end of the second quarter and led at the break (32-27).
During the third quarter Bourges tightened up defensively and Lyon faded away. Bourges went on to win comfortably (63-45).
For Lyon the season is over. They have a place in the EuroCup Women for next season assured. However they may qualify for the EuroLeague Women depending on how many places are made available for France.

Game 2: Bourges Basket 63-45 Lyon BF

Bourges Basket: Romane Bernies 2, Nwal-Endéné Miyem 12, Céline Dumerc 10, Pauline Krawczyk 8, Stephany Skrba 2, Emméline Ndongue 10, Christelle Diallo 8, Sophia Elenga 0, Johannah Leedham 5, Marissa Coleman 8

Lyon: Romy Bär 10, Alexia Plagnard 4, Mélanie Plust 4, Audrey Sauret 4, Sara Chevaugeon 2, Leslie Ardon 0, Mame-Marie Sy-Diop 9,  Danielle Page 6, Emilija Podrug 6, Mistie Mims 0

Game 1: Lyon BF 59-69 Bourges Basket

Lyon: Romy Bär 0, Alexia Plagnard 2, Mélanie Plust 0, Audrey Sauret 8 (5 assists), Sara Chevaugeon 0, Leslie Ardon 8 (4 steals), Mame-Marie Sy-Diop 12, Danielle Page 15, Emilija Podrug 0, Mistie Mims 14

Bourges Basket: Romane Bernies 0, Nwal-Endéné Miyem 12, Céline Dumerc 7 (6 assists, 4 steals), Pauline Krawczyk 3, Stephany Skrba 2, Emméline Ndongue 21, Christelle Diallo 0, Johannah Leedham 13, Marissa Coleman 11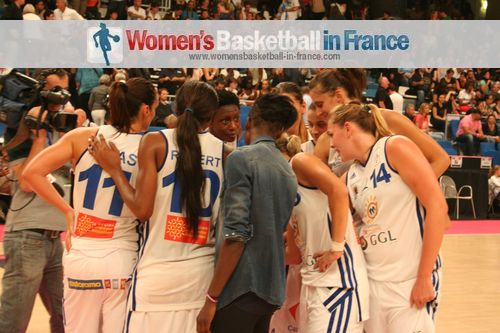 Lattes Montpellier have to thank Kristen Mann for escaping with the victory from game 1. Perpignan never led but managed to draw level (61-61) with five minutes to play.
Mann responded with her first three-pointer almost immediately and with a second one with three minutes to play for her side to take the lead (67-61). The end was tight but Montpellier had enough points to secure the victory (71-66).
In game two Montepellier made no mistakes taking control early in the first quarter (21-14). They then stayed in front the rest of the way to book their ticket for the final.
Montpellier face Bourges for the third time in the LFB championship final (2008, 2012). Perpignan are in their first season in the LFB and are assured a place in the 2014 EuroCup Women.

Game 2: Lattes Montpellier 77-50 Perpignan Basket

Lattes Montpellier: Lidija Turcinovic 0, Virginie Brémont 4, Ana Cata-Chitiga 4, Edwige Lawson-Wade 14 (5 assists), Emilie Gomis 8, Géraldine Robert 5, Ana Lelas 12, Gaëlle Skrela 8, Justine Barthelemy 0, Fatimatou Sacko 10, Kristen Mann 12
Perpignan Basket: Abby Bishop 0, Diandra Tchatchouang 9, Clémentine Samson 0, Laina Badiane 2, Isabelle Strunc 10, Fatou Dieng 0, Pauline Lo 0, Iva Ciglar 6, Elodie Bertal 2, Angie Bjorklund 12, Héléna Ciak 9

Game 1: Perpignan Basket 66-71 Lattes Montpellier

Perpignan Basket: Abby Bishop DNP, Diandra Tchatchouang 12 (5 assists, Clémentine Samson DNP, Laina Badiane 14, Isabelle Strunc DNP, Fatou Dieng 11, Pauline Lo 0, Iva Ciglar 5, Elodie Bertal 5, Angie Bjorklund 12, Héléna Ciak 7
Lattes Montpellier: Lidija Turcinovic DNP, Virginie Brémont 2, Ana Cata-Chitiga 4, Edwige Lawson-Wade 6, Emilie Gomis 10, Géraldine Robert 13, Ana Lelas 5, Gaëlle Skrela11, Justine Barthelemy DNP, Fatimatou Sacko 10, Kristen Mann 10

---
Like this page / Aimez cette page