Belgium basketball
basketfeminin.com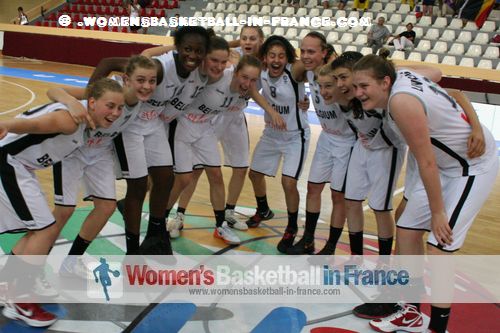 To follow Belgium basketball it is simple, type the name Christian Detroz in your search engine. His site basketfeminin.com is the number one source for information about women's basketball from Belgium in the French language.

Yet three years ago, he closed the site down for a few months because of lack of interest and sponsorship (donations). Fortunately for Belgium basketball his love for the sport was such that he could not keep away for long.
Today the site is completely changed and provides a lot more multi-media functions including a web-tv service.
Last season basketfeminin.com with the help of local partners streamed a number of games from the EuroCup Women.
This season (2012-13) already his site has streamed games from the Belgium opening day (6 games in one day) and have produced video reports from some of the games from round 2.
Some French interest in the Belgium league

When Isis Arrondo left Tarbes last season (2011-2012) she signed for Royal Castors Braine, who were bottom of the Belgium League at the time. She was joined at the club by Soana Lucet who had not been playing at Arras.
Their exploits in the Belgium league was followed in France, and the club that looked set for relegation picked themselves up and survived the Belgium play-down series.
This season Lucet is still at Royal Castors Braine while Arrondo is back in France and under contract with Nantes-Rezé.
Audrey Salvi, a former French youth international and Bourges Basket academy product is playing for Belfius Namur Capitale this season. Salvi who is in her 5th season in Belgium will play in the EuroCup Women for the first time in her career.
After three years at illkirch-Graffenstaden (SIG) in LF2, the time has come for Chloé Westelynck (in picture) to taste Belgium basketball.
A product from the French basketball academy at INSEP, she has joined Spirou Monceau Charleroi. Westelynck is also be able to put into practice what she learned in the STAPs programme as she is involved in training one of the youth teams.
Westelynck is joined at the club by former Spanish youth international Celia Menéndez.
On the other hand, there are also players in the Belgium championship that have recently played in the French league (LFB): Marjorie Carpréaux, Kirby Copeland, Erika Davis, Natacha Doppee, Sara Leemans and Anda Nedovic.
---
Visit our 2012-2013 Ligue Féminine de Basket section

Visit our home page
Visit our "What's New" page
picture credits:
womensbasketball-in-france.com


Date created: 09 October 2012
Like this page / Aimez cette page