Playing basketball in the LF2
final four is hard work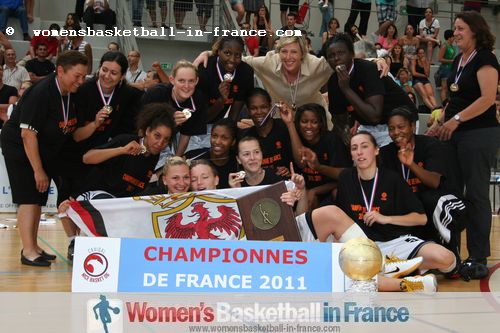 For the women playing basketball in the LF2 the season has finally come to an end with Cavigal Nice picking up the title of Champions of France. They beat Reims (78-50) in the final match.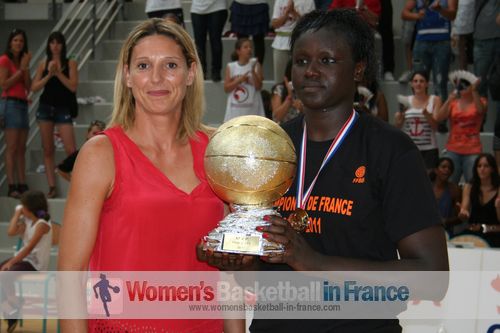 Reims, tired from their semi-final victory, attempted in the first half to match Nice by playing at pace and trailed (45-34) by the end of the first half. However they did not have the strength or the legs during the second half of the game and managed just 16 points.
Jeanne Senghor-Sy (left) picked up the final MVP award with a second double double performance with 24 points and 14 rebounds while Fabienne Connstant contributed 24 points.
This year we have included game reports of playing basketball in the final four in English and French, using each language style of reporting.

Reportage de la finale en Français
English report with some stats
Reportage pour la troisième place en Français
English report with some stats from bronze medal game

The finalists Cavigal Nice Basket 06 and Reims Basket Féminin qualified for the Championship game by beating teams that finished above them during the regular season.
Below in the video you can watch the new Champions celebrating their victory with their supporters.
---
La forteresse intérieure de Cavigal Nice est l'atout pour arracher l'or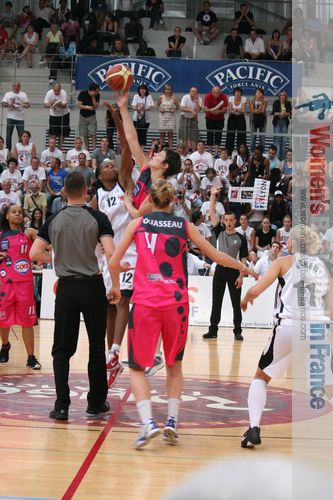 Devant une salle enflammée, Reims et Nice sont coude à coude avec Jeanne Senghor-Sy qui domine à l'intérieur pour les Niçoises. Reims alterne à la marque avec Jenny Fouasseau qui ouvre le score avec un tir prime et Fabienne Constant qui domine sous le panier.
Reims traine de 4 points pour entamer le deuxième quart-temps (25-21).
Les deux équipes augmentent l'intensité défensive. Reims doit se battre pour contrer le physique des Niçoises.
Constant continue à faire du dégat sur ses drives mais Zuzana Gudjaraidze et Lorraine Lokoka assurent sur le côté offensif des Reimois avec un collectif bien soudé sur multiple reprises.
Mélissa Micaletto trouve Gudjaraidze juste avant la fin des 24 secondes. De même Fouasseau tente de marquer et prend son propre rebond pour donner l'avantage à son équipe pour la première fois du match (34-32).
Mais Senghor, grande présence intérieure, aide les Nicoises à reprendre la tête avec un contre sur Fouasseau sous le panier. De plus, privé de Micaletto, les Ardenoises perdent le contrôle et Decker donne l'avantage à Nice avec un tir prime.
Avec moins d'une minute restante, Decker fait 2 interceptions et marque deux lays-up en contre-attaque pour son équipe à rentrer dans le vestiaire avec une longueur d'avance (45-34).
Micaletto est de retour dans la deuxième mi-temps et ouvre le score avec un drive. Mais Nice continue à creuser l'écart avec Constant et Senghor-Sy à l'intérieur.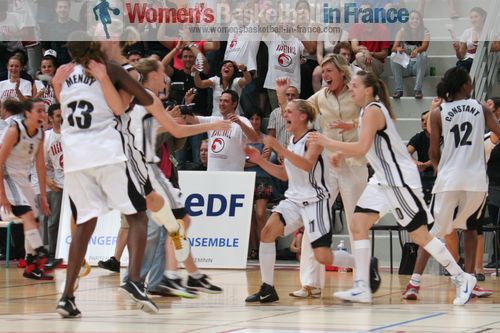 Reims est incapable d'arréter le duo dévastateur malgré les tentatives de Lokoka de revenir au score. Nice mène de 20 points à la fin de ce quart-temps (61-41).
Le match semble plié et les coachs font rentrer leurs jeunes au début du quart avec Caroline Misset pour Reims et Mahouchiza Hasnat pour Nice. Reims ne parvient pas a marquer jusqu'à la cinquième minute avec un drive milieu de Lokoka. Le duo Niçois est toujours au travail et l'écart se creuse d'avantage (69-43).
Alors Philippe Sauret fait entrer encore deux jeunes avec Elodie Mendy et Ninagane Awa et Nice décroche la médaille d'or et une place en LFB (78-50).
Return to the top playing basketball in the LF2 final four
Nice have gold hands
It was down to business from the tip-off with bodies flying all over the place. Both teams played at pace making the scoring very spectacle. For Reims Jenny Fouasseau was in most of the early action while Anaïs Jomby was hitting the three-pointers.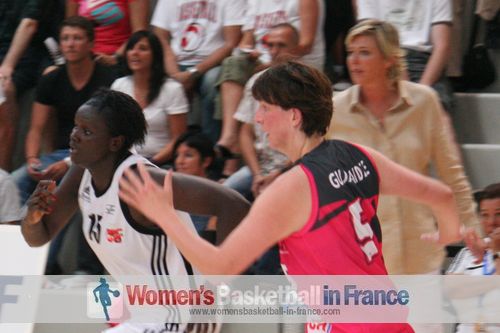 For Cavigal Nice Jeanne Senghor-Sy (left in picture) and Fabienne Constant were doing most of the damage as their side edged the first quarter (25-21).
Nice started to play more physically with the result of Floriane Herrscher having to leave the court in foul problems. However with the experience of Zuzana Gudjaraidze (right in picture) and the no nonsense attitude of Lorraine Lokoka, Reims drew level (29-29).
The intensity went up but with the youthful exuberance of Astan Nwangane and Astan Dabo and the power play of Fouasseau Reims regained the advantage (34-32).
When Nice switched to a full court press they stopped Reims from scoring for the rest of the first half.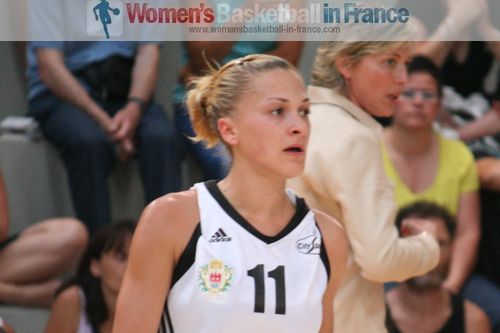 Reims started to tire and committed turnover after turnover which allowed Elodie Decker (right) and Barbara Cousin to score through easy lay-ups.
Nice finished with a 10-2 run to go into the interval leading (45-34).
Nice stepped on the accelerator during the third quarter with a 8-0 opening (53-36) which put Reims on the back foot.
Nice then switched to player-on-player defense and used their stronger inside players to dominate the post as they opened up a 20-point lead going into the final quarter (61-41).
The two coaches decided to give all their players a run during the final quarter to the delight of their supporters. Reims were tired and apart from Lokoka had no answer to the Nice attack.
Cavigal Nice 06 ran out comfortable winners with final four MVP Senghor-Sy leading the way with a double double of 24 points and 14 rebounds while Constant finished with 25 points.
Nice will be playing basketball in the LFB next year after clinching the LF2 French championship title.
Nice: Hasnat Mahouchiza 0, Morgane Plestan 2, Barbara Cousin 3, Laura Dessus 3, Stéphanie Dubois 4, Elodie Decker 11, Fabienne Constant 25, Guiday Mendy 4, Majda Ghariani 2, Jeanne Senghor-Sy 24 (14 rebounds)
Reims: Jenny Fouasseu 7, Zuzana Gudjaraidze 3, Elodie Mendy 4, Caroline Misset 0, Floriane Herrscher 2, Anaïs Jomby 6, Mélissa Micaletto 4, Astan Dabo 3, Niangane Awa 0, Lorraine Lokoka 19
Return to the top playing basketball in the LF2 final four
La Bronze pour Roche Vendée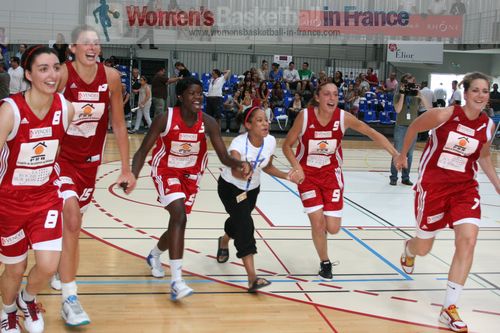 Le match pour la médaille de bronze commence à un rythme plus lent que les matchs de la veille avec un taux de réussite très bas pour les deux équipes qui terminent le quart (7-6) avec Lyon en tête. Les Lyonaises gardent leur avantage grâce à leur défense aggressive qui trouble l'offensive vendéenne qui ne parviennent pas à marquer jusqu'à la quatrième minute.
Finalement, La Roche fait son retour à la ligne de lancer franc avec Christelle Morel et Elodie Gérard sur un tir prime. Tout comme au début de la partie, le second quart-temps se termine avec un score très bas (18-17) en faveur des Lyonaises.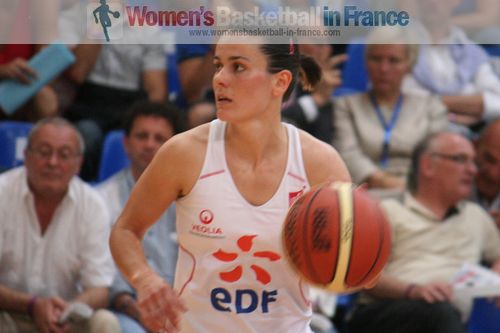 A la sortie du vestiaire, Leslie Ardon met son équipe sur les bons rails, mais sa quatrième faute l'oblige à rejoindre le banc. Les Vendéennes prennent l'avantage de ce déficit de taille avec Helena Ciak à l'intérieur et termine le quart-temps avec une longueur d'avance (35-27).
Durant le dernier quart, les Vendéennes prennent le contrôle du match, toujours avec Ciak à l'intérieur et Gérard sur ses jump shoots. Malgré l'intensité de Charlotte Ducos (en haut à droit sur la photo) et de Géraldine Bertal, et de nombreuses interceptions des Lyonaises, la Roche remporte la partie avec une confortable avance (52-39).
Return to the top playing basketball in the LF2 final four
No luck for Lyon in their match for third place
Lyon's problem from the semi-final continued in their failure to score with just Leslie Ardon hitting the target once in a total of 18 attempts.
However her trey and 4 free throws enabled Lyon to lead (7-6) at the end of the first quarter.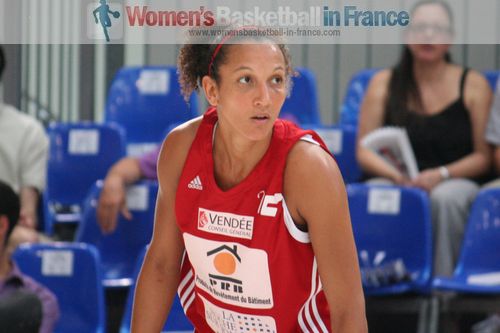 The missing festival continued in the second quarter for both teams. With just Ardon scoring from the field for Lyon during the first five minutes for Lyon her side extended the lead (12-7).
Christelle Morel (left) ended the five-minute scoreless spell of Roche Vendeé by splitting a pair of free throws.
This spurred Roche Vendée into action who managed to draw level (15-15) with 1:39 to play in the first half.
Lyon continued to fire shots from distance with little success but managed to go into the locker room leading (18-17) thanks to a rare field goal success by Marion Arelis.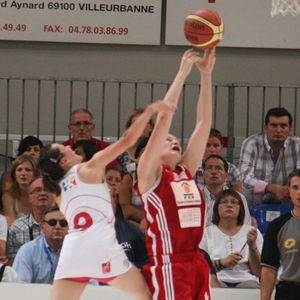 Ardon was the only player from Lyon able to score from open play. However she had to return to the bench after picking up her 4th foul with her team leading (25-21). For Lyon it was going downhill all the way.
Roche Vendée finished the quarter with a 14-2 run to go into the final quarter ahead (35-27).
Helena Ciak (right) won the battle on the boards while her team-mates found their three-point shooting range as Roche Vendée cruised to victory (52-39).
Lyon: Candyce Sellars 2, Charline Servage 2, Géraldine Bertal 10, Julie Legoupil 3, Marion Arfelis 5 (10 rebounds), Charlotte Ducos 4, Aurélie Carmona 4, Leslie Ardon 9, Lydia Karlefors 0, Carole LeClair 0
Roche Vendée: Maty Ndoye 0, Stéphanie Dufour 2, Sylvaine Grelier 3, Myléne Balat 2, Elodie Demortier 2 (3 assists), Elodie Gérard 12, Christelle Morel 9 (12 rebounds), Gabreila Kubatova 8 (5 assists), Viktoria Mircheva 4, Helena Ciak 10 (12 rebounds)
Next season Lyon BF will be playing basketball in the LFB because they finished first at the end of the regular season
Return to the top playing basketball in the LF2 final four
---
Return to Ligue Basketball from playing basketball LF2 final four
Return to women playing basketball in France Home page
GO Back to the top of the playing basketball in the LF2 final four
---
LF2 playing basketball news picture credits:
womensbasketball-in-france.com

Date created: 22 May 2011
---