Basketball news
Nice playing basketball
for promotion to the LFB
Cavigal Nice are one step away from playing basketball in the LFB after beating Roche Vendée (65-54) in the first LFB semi-final.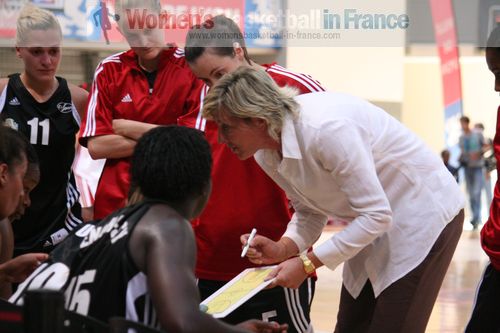 Olga Tarashenko's (left) players dominated the first quarter (21-8) to take control of the game. They also restricted Roche Vendée from scoring from beyond the arc.
Jeanne Senghor-Sy did most of the damage with a game high 22 points and 9 rebounds while Fabienne Constant and Stéphanie Dubious added 15 and 13 points each.
For Mathieu Chauvet, the coach from Roche Vendée, it was a hard knock to swallow after losing out to Union Hainaut Basket at the same stage of the competition last year for a second time.
This year we have included game reports in English and French, using each language style of reporting.

Reportage en Français
English report with some stats

Nice mène du début jusqu'à la fin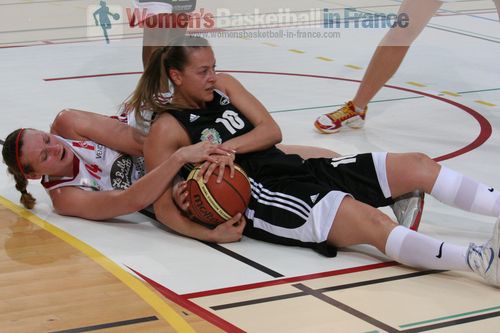 Stéphanie Dubois ouvre le score pour Nice avec un tir prime pour donner le premier avantage à son équipe. Dès le début de la partie, le tempo et l'intensité niçoise poussent les Vendéennes à perdre des balles et forcent des shoots difficiles. De même, Nice domine sur le côté offensif notamment avec Jeanne Senghor-Sy à l'intérieur (8 points) dans le premier quart. Les Niçoises terminent le quart avec une longueur d'avance (21-8).
Le deuxième quart-temps débute avec la même intensité mais les Vendéennes reviennent grâe aux fautes provoquées et de nombreux lancers entrainé par Viktoria Mircheva. Après de nombreuses balles perdues successives pour chaque équipe Dubois aide les Niçoises à garder l'avantage et à entrer dans le vestiaire (31-25).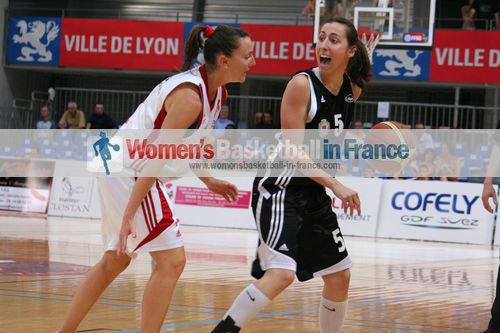 Toujours à la traine, les Vendéennes se battent pour revenir au score, mené par Christelle Morelle et sa bonne finition sur ses lay-ups et avec l'énergie et la défense de Mylène Balat. Cependant les Niçoises parviennent à garder leur avance avec 9 points de Fabienne Constant.
Tout comme le quart-temps précédent, les Niçoise gardent le contrôle du match et ne se laissent pas déstabiliser par l'agressivité des Vendéennes pour revenir au score. Malgré un trois-point en contre attaque de Elodie Gérard, les Niçoises remportent le match (65-54) pour décrocher un ticket pour la finale.
Return to the top playing basketball in the LF2 final four
A blitz start for Nice was enough
Jeanne Senghor-Sy took full advantage of Roche Vendée's slow start to stamp her authority in the match. She dominated the paint early and came up with a nice reverse spin hook shot to put her side up (7-2) with just under four minutes played.
Yet
Elodie Demortier
responded with a solo effort charge for her only points for Roche Vendée, which also got the supporters excited. However the joy was short lived as they just managed to score 4 more points during the rest of the quarter.
Stéphanie Dubois's perfect three-point shooting, Cavigal Nice's excellent defending and great fast break finishing enabled them to open up a maximum lead of 14 points before setting for a (21-8) advantage.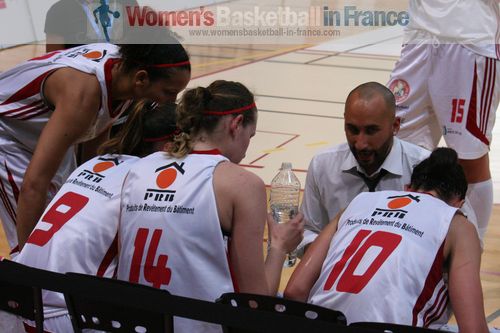 Nice dropped the pace during the second quarter as key players picked up fouls. So Viktoia Mircheva from Roche Vendée used her height to good advantage and scored 8 points as her side reduced the deficit going into the interval (25-31).
After the break it was the turn of Fabienne Constant to come to the rescue for Nice by scoring 9 points during the third quarter.
For Roche Vendée Christelle Morel was leading at both ends of the court. She also had a running battle with officials as she asked for more protection in her duels with Senghor-Sy.
Despite the efforts of Myléne Balat, Roche Vendée's failure to hit a trey left them 6 points behind going into the final quarter.
Both teams were playing basketball at their best during the final quarter keeping both sets of fans on their feet. It became more physical as neither side was prepared to give up any space.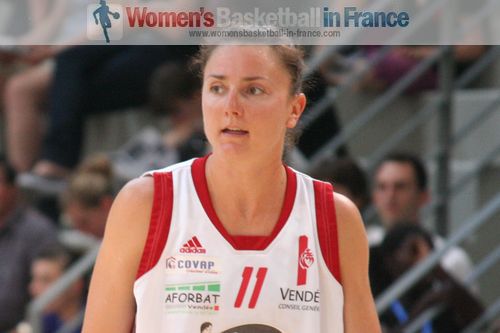 Elodie Decker from Nice paid the prize for her aggressiveness fouling out with just over five minutes to play.
With 2:38 Elodie Gérard (right) finally connected from the land of many for Roche Vendeé to make it a 4-point game (51-55).
But tiredness and a little bit of indiscipline stopped them from getting any closer.
Nice did the final scoring from the free-throw line to win (65-54).
As Reims will not accept promotion to the LFB next season, Nice are much closer to be playing basketball in the Ligue Féminine de Basketball next season.
Roche Vendée: Ndoye Maty 1, Stéphanie Dufour 2, Sylvaine Grelier 0, Myléne Balat 9, Elodie Demortier 2, Elodie Gérard 5, Christelle Morel 13, Gabreila Kubatova 9, Viktoria Mircheva 12, Helena Ciak 1
Nice: Hasnat Mahouchiza DNP, Morgane Plestan 0, Barbara Cousin 6, Laura Dessus 0, Stéphanie Dubois 13, Elodie Decker 6, Fabienne Constant 15, Guiday Mendy 0, Majda Ghariani 3, Jeanne Senghor-Sy 22 (9 rebounds)
Return to the top playing basketball in the LF2 final four
---
Return to Ligue Basketball from playing basketball LF2 final four
Return to women playing basketball in France Home page
GO Back to the top of the page
---
LF2 basketball news picture credits:
womensbasketball-in-france.com

Date created: 21 May 2011
---