NF1 basketball final four delight for Union Hainaut Basket
NF1 basketball delight for Clémence Beikes
Roche Vendée were more aggressive at the start of the game and with
Gabrela Kubatova
doing most of the scoring raced out to a (10-4) lead.
Clémence Beikes, Laëtitia Kamba and Janeka Lopp went to work offensively for UHB. With 2.57 played the teams were level (14-14).
Then the game became more physical with both sides trading basket for basket. However Beikes had the last say of the first quarter as she ran the clock down to deliver the perfect pass to Lopp who shot a three-point buzzer beater (24-21).
The start of the second quarter was one-way traffic as USB opened up the first significant lead of the game (34-21) within less than three minutes.
Roche Vendée were unable to stop the UHB trio of Beikes, Kamba and Lopp as their deficit grew to 18 points.
UHB then relaxed a little bit too much allowing their opponents to come back with 11 points by the interval (43-32).
Roche Vendée picked themselves up during the third quarter and with less than two minutes to play they trailed by just 4 points (48-52).
Once again Beikes came to the resure with the last 4 points of the quarter for Union to go ahead (58-50) into the final quarter.
UHB were on the back foot all through the final quarter and also lost Kamba for 5 fouls.
The game came to its climax with 90 seconds left to play when Mylène Balat gave Roche Vendée the advantage (68-67).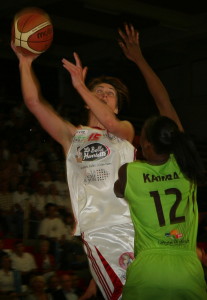 Yet Livia Libicova (right) bulldozed her way into the UHB paint and drew the foul to win a couple of free-throws, which she converted successfully.
Beikes who is the NF1 player of the year was quickly down the court. She made the perfect pass to Emilie Duvivier who was placed directly in front of the basket to hit a rainbow three-pointer to tie the game. These were her only points of the game.
With eight seconds left to play the teams were still on level terms when Karolina Piottriewicz found herself under the basket.
She somehow out-jumped her markers to score what turned out be the winning basket with her first 2 points of the game.
However she missed the free-throw and gave Roche one more chance. But they messed up the play and ended up on the losing side.
For the match statistics please go to the end of our match report in French
Go back to the top of page
---
NF1 basketball final regular season chapter is written
Return from NF1 Amateur Basketball news to the Nationale Féminine 1 index page
Return from NF1 Basketball news to women playing basketball blog page
Go to Women Playing Basketball In France Home Page
---
NF1 Basketball picture credits:

womensbasketball-in-france.com

Date created: 23 May 2010
---