Good bye NF1 basketball - Welcome Ligue 2 (L2)
The NF1 basketball regular season came to an end on Saturday, 8 May 2010 without the typical end-of-season drama.
The final two places for the NF1 final four as well as the three teams to be relegated with Tours was decided during round 29.
This weekend marked the end of Nationale Féminine 1 basketball. Next season with the structure change in French Basketball, the second division will be called "Ligue 2".
Charleville-Mézières
who will be hosting the final four ended the regular season with a comfortable victory (65-39) against Illkirch-Graffenstaden.
Amel Bouderra and Djéné Diawara scored 13 points each for the winners while Céline Schmitt-Sendner led the hosts also with 13 points.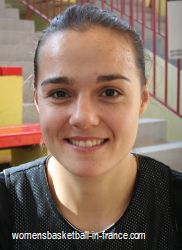 Clémence Beikes (pictured) returned to action for Union Hainaut Basket and scored 20 points in the road victory against Lyon BF (75-66).
Laetitia Kamba was once again player of the match with 22 points and 10 rebounds. Géraldine Bertal led the hosts with 22 points.
CSP Rezé hosted Roche Vendée in the derby match and finished the season with a defeat (45-75) to end the season in 14th place.
US Laveyron had the satisfaction of beating Nice (75-56) while Charnay-lès-Mâcon won on the road against Dunkerque (70-67).
With the defeat of CSP Rezé, US Laveyron moved above Charnay-lès-Mâcon in the final standing and will be the first team to be offered reinstatement if the situation comes up.
Reims BF ended the season on a high by beating Voiron (86-61) with an outstanding performance by Magali Mendy with 18 points, 4 assists, 4 steals and 8 rebounds.
Tours lost at home to Pleyber-Christ (57-84) and Rennes beat the CFBB (59-37).
For next season Angers, Aplemont Le Havre, Mourenx EBPLO and Perpignan have won the right to play in the new division after having qualified for the NF2 final four.
NF1 Basketball final season standing 2009 - 2010
Team

Points

Charleville Mézières

57

UHB-Saint Amand

53

Roche Vendée

51

Lyon BF

49

Illkirch-Graffenstaden

48

Dunkerque Malo

47

Rennes

46

Reims

46

Pleyber-Christ

46

Nice BC 06

44

Voiron

42

US Laveyron

41

Charnay et Mâcon

41

CSP Rezé

40

Tours

35

CFBB (INSEP)

34
Go back to the top of page
---
Round 28: Charleville-Mézières promoted to Ligue Féminine de Basketball
Return from NF1 Amateur Basketball news to the Nationale Féminine 1 index page
Return from NF1 Basketball news to women playing basketball blog page
Go to Women Playing Basketball In France Home Page
---
NF1 Basketball news picture credits:

womensbasketball-in-france.com

Date created: 09 May 2010
---