It is not easy playing basketball and
hosting a LF2 final four
Playing basketball and hosting a LF2 final four once again does not favour the regular season champions.
Last year's
champions Charleville-Mézières remain the only team in the history
of second division basketball to achieve this.
Lyon BF lost to Reims (56-59). They were also beaten last year during the semi-final.
Pierre Bressant, the coach from Lyon, explained that the game was difficult from the tip-off, including early foul problems. He basically admitted that Reims had caused his teams difficulties.
For Philippe Sauret, it was a perfect match despite the close finish. His young players did what they were asked.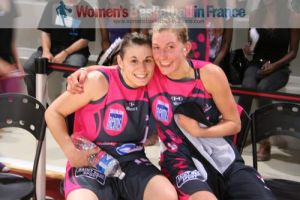 For Mélissa Micaletto and Jenny Fouasseau (in picture) it was almost too perfect. Micaletto had a perfect shooting day with 12 points while Fouasseau led the team in scoring with 17 points.
This year we have included game reports in English and French, using each language style of reporting.

Reportage en Français
English report with some stats

Reims décroche une place en finale
Tout comme le premier match des finals four, les équipes jouent à un rythme et une intensité élevée.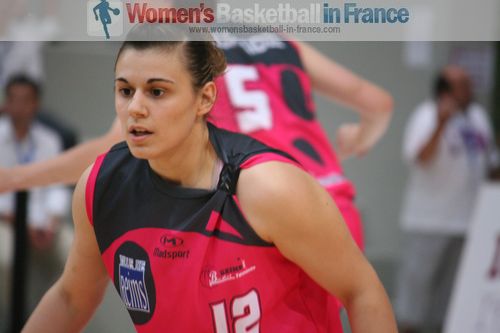 A la 15ème seconde, Mélissa Micaletto ouvre le score pour Reims sur le terrain Lyonais avec un trois-point. Néanmoins, Leslie Ardon répond tout de suite par un tir prime.
Micaletto et Floriane Herrscher marque tour à tour pour donner l'avance à Reims et de nouveau Ardon réduit l'équart.
Ainsi, les deux équipes sont coude à coude pout terminer le quart-temps (16-14) pour les Ardennoises.
Au début du deuxième quart-temps, les Ardennoises prennent les rennes du match avec un 10-0 engrené par Jenny Fouasseau (23-25).
Pour revenir au score, les Lyonaises tentent de nombreux tirs primes sans grand succès et le match se tranforme en un concours de trois-point avec très peu de réussite pour les deux équipes. Cependant, les efforts de Candyce Sellars et l'agressivité de Charlotte Ducos - qui fait une interception à quelques secondes de la mi-temps - ramènent les Lyonaises au score.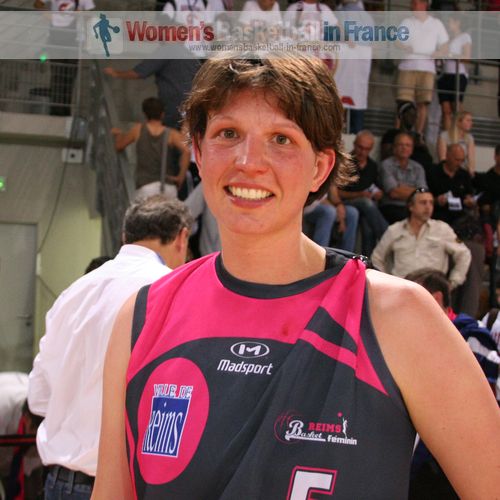 Les Ardennoises sortent du vestiaire avec une avance (38-30) et contrôlent le troisième quart-temps notamment grâce à la réussite au shoot de Fouasseau et Zuzana Gudjaraidze alternant les tirs primes et tirs intérieurs. Par contre, les Lyonaises n'ont pas de réussite, marquant seulement 3 shoots sur 20 et souffrent également des nombreuses fautes, 12 à 2.
Mais Leslie Ardon a la main chaude et aide son équipe à sortir la tête de l'eau (50-40).
Devant leurs supporters enthousiastes, les Ardennoises entament le dernier quart avec une considerable avance. Pourtant, les Lyonaises mettent la 6ème vitesse en défense et provoquent la panique chez les filles de Philipe Sauret. Grâce à leur jeu collectif et la finition de Géraldine Bertal et Candyce Sellars, Lyon revient au socre (50-52).
Bien que Lyon ait une chance idéalisée à neuf secondes de la fin, elles échouent à la ligne des lancers francs. Ainsi, les Ardenoises décrochent la deuxième place en finale.
Return to the top playing basketball in the LF2 final four
Reims BF were too quick for Lyon BF
This game was played at such a high tempo that blinking was not allowed. It was almost as if the two teams wanted the game to finish in record time.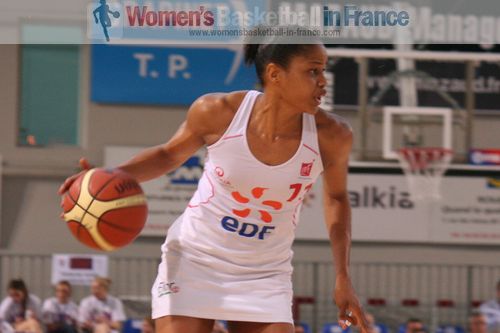 Mélissa Micaletto opened the scoring with her first shot of the match which happened to be a long distance shot from the land of many. However Leslie Ardon (in picture) replied quickly with a baseline trey for the hosts.
Micaletto was on the scoreboard again with 2 points, quickly followed a trey by Floriane Herrscher (8-3).
Ardon hit her second trey and then the teams traded basket for basket until the end of the quarter with Reims staying in front (16-14).
Lyon started to accumulate fouls but managed to stay in touch (23-25) midway through the second quarter.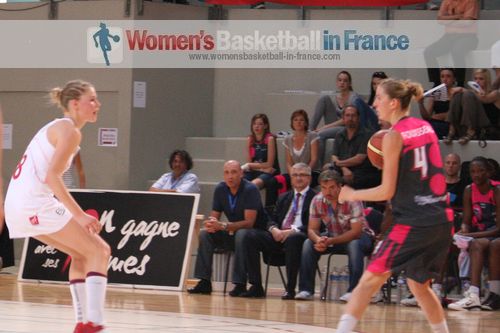 Jenny Fouasseau (in picture with ball) then kick started a 10-0 run with a shot from her favourite spot from beyond the arc. However Géraldine Bertal and Charlotte Ducos saved Lyon from falling further behind.
Reims went into the locker room leading (38-30) and with just 2 team fouls while Lyon had committed 11.
The third quarter was just a comedy of errors for Lyon. They had more of the ball but just hit the target 3 times in 20 efforts.
Reims were defending well with Lorraine Lokoka and Astan Dago putting their bodies on the line.
Reims managed to hit 4-of-7 from the field during the third quarter which included three-pointers by Fouasseu and Zuzana Gudjaraidze to lead (50-40) going into the final quarter.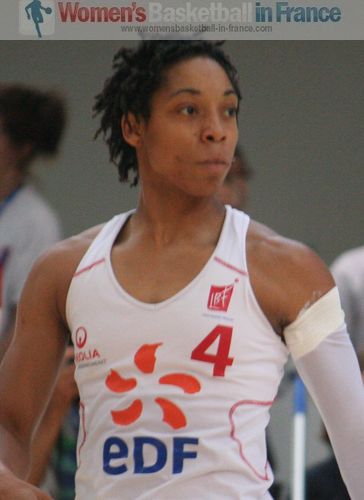 Then Candyce Sellers (left) started playing basketball with more intensity at the start of the final quarter and Reims were on the back foot.
Philipe Sauret used his time-outs and also decided to bring Gudjaraidze back into the action.
Yet Bertal continued her one-lady demolition job and with 30 seconds left to play Lyon trailed by a single point (56-57).
Lyon had the chance to go in front from the charity stripes but Julie Legoupil missed both free throws.
Micaletto and Gudjaraidze split pairs from the charity stripes. This left Lyon needing a tree-pointer for overtime.
Lyon failed to really get a shot off and like Roche Vendée they failed again during the semi-final.
Reims ended up winning (59-56).
Lyon: Candyce Sellars 13, Charline Servage 0, Géraldine Bertal 16, Julie Legoupil 4, Marion Arfelis 0, Charlotte Ducos 7, Aurélie Carmona 8, Leslie Ardon 10, Lydia Karlefors DNP, Carole LeClair 0
Reims: Jenny Fouasseu 17, Zuzana Gudjaraidze 6, Elodie Mendy DNP, Caroline Misset DNP, Floriane Herrscher 10, Anaïs Jomby 0, Mélissa Micaletto 12, Astan Dabo 5, Lorraine Lokoka 9
Return to the top playing basketball in the LF2 final four
---
Return to Ligue Basketball from playing basketball LF2 final four
Return to women playing basketball in France Home page
GO Back to the top of the page
---
LF2 playing basketball news picture credits:
womensbasketball-in-france.com

Date created: 22 May 2011
---