NF1 basketball grand slam for Charleville-Mézières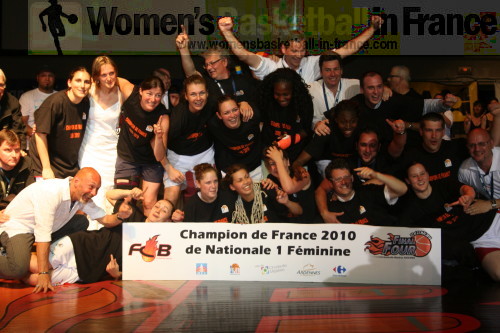 2010 NF1 basketball Champions
Charleville-Mézières brings an end to NF1 basketball in France by becoming the last champions of this division.
They beat Union Hainaut Basket in a highly entertaining game that went to overtime.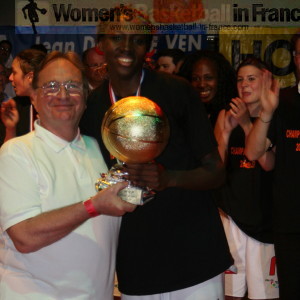 Déjené Diawara (right) from Charleville-Mézières picked up the award of MVP for the final four.
Pour la première fois dans l'histoire du basket féminin (NF1), les premières de la saison régulière remporte le titre au final four.
Devant un public enflammé, Charleville-Mézières termine la saison en beauté en décrochant le titre de championne de France.
Le grand chelem est atteint pour le FCB : Romain Yernaux, élu coach de l'année et Diawara MVP du tournoi.
For this event we have put together two reports in English and French.

English report

Reportage en Français

Team sheet with points

Links to the articles from the semi-final and third place matches:

Roche Vendée 69-57 Lyon BF (match for third place)
Charleville-Mézières 69-67 Lyon BF
Union Hainaut Basket 74-72 Roche Vendée
Beikes, Kamba et Lopp menant l'UHB en finale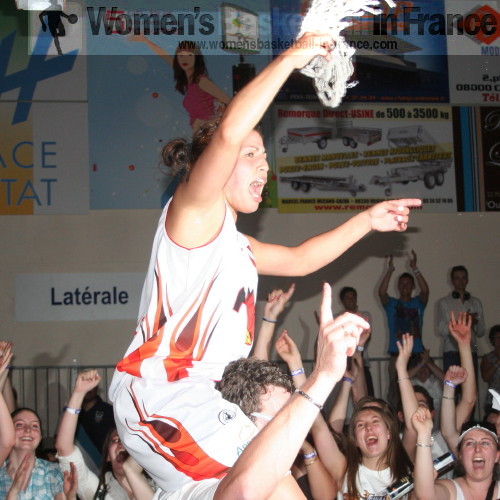 Amel Bouderra (left)opened the scoring in the final with a baseline jumper with 28 seconds played.
But Clémence Beikes was quickly down the other end to equalise for UHB.
Laëtitia Kamba and Déjené Diawara battling in the paint at both ends of the court were in full swing from the tip-off. Kamba hit first with a trey to give USB an early lead (9-6).
Diawara hit back with 2 points for the hosts. But then a three-pointer by Dasa Krasnockota was quickly followed by 2 points by Beikes to put UHB in the driving seat.
This situation forced Romuald Yernaux, the coach from Charleville, to call the first time-out of the game with his side trailing (16-8) with four minutes left to play in the first quarter.
Both teams stepped up defensively after the time-out and scoring became next to impossible until the last 30 seconds when Bouderra connected from beyond the arc.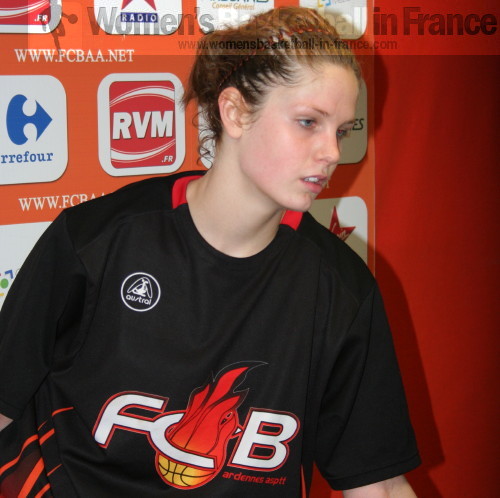 This was followed by a three-point buzzer beater by Alexia Kusion (pictured). However UHB led (18-15) at the end of the first quarter.
The game became even quicker in the second quarter, with both teams playing a similar player-on-player marking system with neither side able to put a run together.
With 4:22 remaining until the interval Yernaux decided to use his second time-out with his team trailing (21-24).
Beikes and Kamba found the target for UHB. They started to pull away (28-22) from their hosts. However Corinne Benintendi, their coach was not happy and called for a time-out with just under 2 ½ minutes to play.
The two teams continued to play fast offensive basketball, which made up for their lack of success from the free-throw line (5-of-13 combined).
Once again Beikes was the star of the match, with back to back scores to finish the quarter and take her side into the interval leading (34-27).
The teams started slowly after the break. But once Bouderra found the target for the hosts, the scorekeepers were kept busy with shots flying in from all over the court with Sarra Querghi and Zusane Ondrejova hitting the target for the hosts while Kamba and Noémie Lemaire did the scoring for UHB.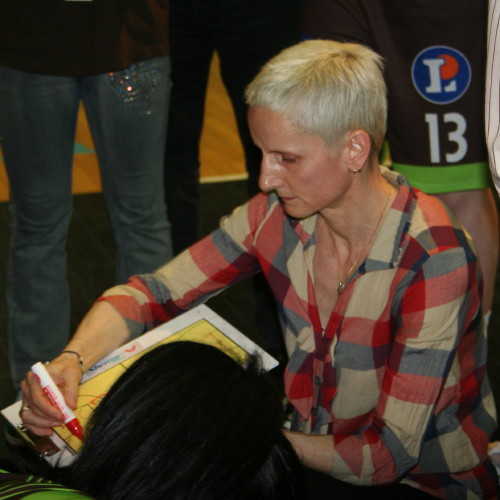 The UHB coaching staff decided with 4:44 left to play that a time-out was required despite leading by 5 points (40-35).
Both teams were back on level terms with a three-point play by Ondrejova with 2:44 remaining in the quarter.
The hosts finally edged in front (47-46) with 18 seconds to play when Diawara somehow wrestled the ball off her markers to score in the paint. She then added the free-throw.
However the joy was short lived because with a second left Emilie Duvivier was left open at the 45° point to fire in a three-pointer.
The fourth quarter had plenty of drama. It appeared that Diawara had won the match for the hosts with a drive to the basket with about 10 seconds left to play. Yet Beikes managed to draw a foul at the last second.
There was some argument and the game clock was pushed back to three seconds. Beikes went 1-of-2 and Charleville were unable to score, so the game went into overtime (60-60).
Bouderra was left open on the baseline and she opened the scoring with a baseline trey. UHB then lost Beikes for her 5th foul with 3:47 to play.
Kamba and Diawara continued their battle inside. But it was a slip at the offensive end by Lopp that allowed Bouderra to set up a fast break that was concluded by Alexia Kusion (66-62) with 1:49 to play.
UHB were then on the back foot and Bouderra added 2 more points from the free-throw line (68-62) with a minute left to play.
However the suspense lasted until the final seconds with Querghi firing in a trey for the hosts that secured the win (73-71).
Return to the top of NF1 basketball final four final
---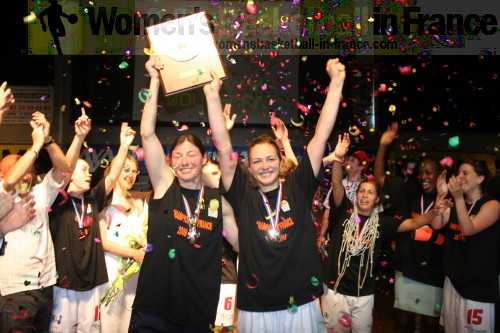 NF1 basketball: Carrine Contessi et Sarra Ouerghi lèvent la coupe de champion de France
L'année de NF1 basketball s'achève: Charleville décroche le titre de championne de France contre l'UHB (73-71)
Dans une salle remplie et des supporters des deux équipes en folies, le match s'entame sur un rythme très élevé. Après deux fautes consécutives de l'UHB, les locales commencent avec un tir primé de Bouderra à 0 degré.
Tout de suite Beikes réplique avec un jump shoot. Kamba domine la raquette en défense et donne l'avantage à son équipe grâce aux contres. Lopp shoote un trois point après renversement, mais Krasnockota attaque le panier du côté de Charleville.
L'UHB prend l'avantage avec Kamba qui met un tir primé du haut de la raquette et Beikes qui a la main chaude. Bouderra réduit l'écart avec un tir à trois point (8-11).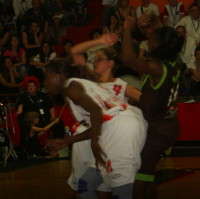 Pourtant les locales n'arrivent pas à passer devant malgré un public enflammé. A l'intérieur, Kamba et Diawara (sur l'image à droite) se battent au rebond. Pourtant c'est Diawara qui prend un rebond offensif pour réduire l'écart (10-16).
Bouderra, toujours très adroite, met un trois points à 30 secondes de la fin du quart-temps. La dernière possession est fructueuse pour Charleville après un travail collectif: Kusion réduit l'écart à 3 points pour commencer le 2ème quart-temps (15-18).
Les deux équipes jouent au coup pour coup. La défense se durcit et les attaques durent plus longtemps: à la fin des 24 secondes, après un renversement, Diawara marque après une passe aveugle de Bouderra.
Duvivier répond avec un tir primé pour creuser le trou. Cependant, Bouderra garde la main chaude et aide son équipe à s'accrocher à l'UHB. L'UHB accélère sa cadence et creuse le trou avec Piotrkewicz, dos au panier, et le duo Beikes-Kamba.
Avec quelques secondes restantes dans la première mi-temps, Beikes monte la balle et s'arrête en jump shoot pour marquer au buzzer et aller à la pause avec 7 points d'avance (27-34).
La deuxième mi-temps est même plus intense que la première avec Ouerghi qui retrouve son adresse. Malgré l'interception de Beikes, Charleville revient au score avec Ondrejova présente au rebond et agressive en attaque.
Diawara, active à l'intérieur, ramène Charleville à 3 points et à la 2' Ondrejova égalise avec un panier, plus la faute. Le public est déchainé. Lemaire et Beikes redonnent l'avantage à l'UHB. Néanmoins, à 30 secondes de la fin du quart-temps, Diawara égalise et fait passer son équipe devant pour la première fois de la partie (47-46).
Duvivier met un tir primé pour donner deux longueurs d'avance à son équipe pour entamer le dernier quart-temps.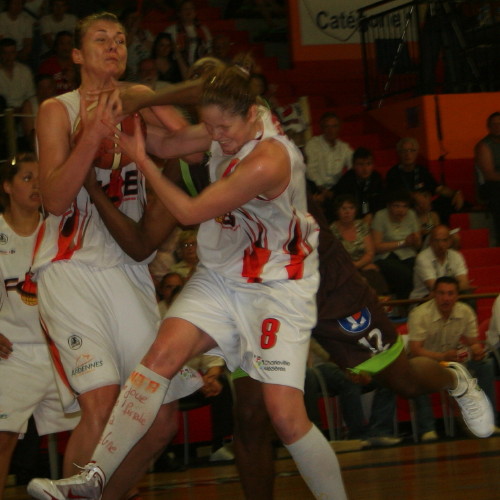 L'UHB commence bien avec Lopp au jump shoot. Par la suite, il y a de nombreux tirs loupés. Mais à la 6' Bouderra rentre en jeu et égalise avec un lay-up (51-51).
Duvivier redonne l'avantage à l'UHB avec une attaque à la ligne de fond. Cependant, une interception de Diawara permet aux locales de passer devant. Malgré le contre de Lopp sur Bouderra aux trois points, Charleville passe devant avec Ouerghi (54-53) à la 4'. Mais Beikes a toujours la main chaude.
Les équipes sont au coude à coude. Un panier de Ondrejova et une bonne défense de Diawara permettent à Charleville d'égaliser 55 partout. Bouderra, en forme depuis le début de la partie, permet à Charleville de prendre l'avantage grâce à un tir primé.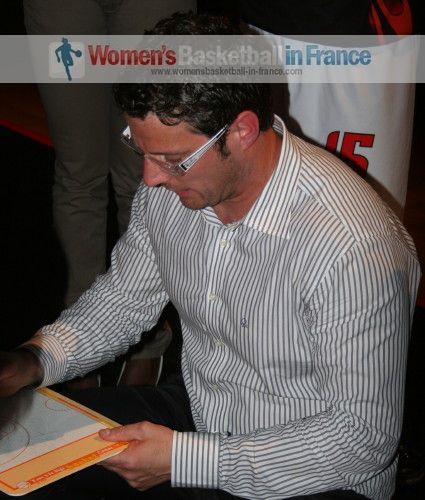 Mais le duo Kamba-Beikes permet à l'UHB de s'accrocher et un cross énorme de Lopp suvi d'un lay-up permet à l'UHB de repasser devant (58-59). Avec 12 secondes restantes dans le match, Diawara bat Kamba au 1 contre 1, mais une faute sur Beikes au buzzer permet au Hainaut de décrocher la prolongation (60-60).
Le début de la prolongation s'entame avec un tir primé de Bouderra. L'UHB ne parvient pas à répondre. Beikes commet sa 5ème faute à la 4', mais la défense nordiste reste très solide et Kamba lutte contre Diawara à l'intérieur.
En dépit d'opportunité au rebond, Charleville n'arrive pas à creuser l'écart. Pourtant c'est Diawara qui donne l'avantage à son équipe (64-60). Lopp fait revenir UHB à 2 points.
L'interception de Bouderra et le lay-up de Kusion donne de l'avance à Charleville. Par la suite, Bouderra enchaîne les lancers francs et le Hainaut ne semble pas trouver de réponse à une équipe locale en pleine forme. Pour augmenter le suspense, les nordistes font encore une frayeur à Charleville avec Ouerghi qui marque en contre-attaque.
Puis cette dernière rate le deuxième lancer franc. Kamba prend le rebond, ressort pourque Ouerghi marque un tir primé. Mais avec seulement trois secondes sur le chrono, le score reste (73-71) et les locales sont championnes de France devant leur public enflammé.
Return to the top of NF1 basketball final four final
---
NF1 Basketball final four score sheet
Charleville-Mézières 73-71 Hainaut Saint-Amand
Charleville-Mézières: Amel Bouderra 23, Sarra Ouerghi 13, Alexia Kusion 7, Djéné Diawara 16 (16 rebounds), Elisabeth Montero 1, Zuzana Ondrejova 13.
Injured Players: Carine Contessi and Bélinda M'Boma
Hainaut Saint-Amand: Emilie Duvivier 8, Diana Krasnockova 16, Clémence Beikes 21, Noémie Lemaire 4, Janeka Lopp 8, Laetitia Kamba 12, Karolina Piotrkiewicz 2.
Return to the top of NF1 basketball final four final
---
NF1 basketball final regular season chapter is written
Return from NF1 Amateur Basketball news to the Nationale Féminine 1 index page
Return from NF1 Basketball news to women playing basketball blog page
Go to Women Playing Basketball In France Home Page
Return to the top of NF1 basketball final four final
---
NF1 basketball picture credits:

womensbasketball-in-france.com

Date created: 23 May 2010
---