NF1 basketball final four: Charleville-Mézières in final at home
2010 NF1 basketball four: FCBAA qualify for final
As regular season champions Charleville-Mézières hosted the 2010 NF1 final four.
For this event we have put together two reports in English and French.

Reportage en Français

Team sheet with points

English report

NF1 basketball - les locaux se qualifient pour la finale
Les lyonnaises démarrent pied au plancher et commencent avec un panier rapide à trois points de Arfelis. Lyon impose leur tempo.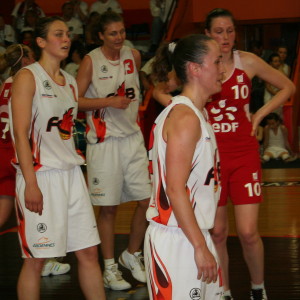 En attaque comme en défense, toutes les balles qui traînent sont les leurs. Ce n'est donc pas étonnant que Charleville a du mal à se mettre en route à cause de la défense énergétique.
Tout de même,Charleville parvient à saccader le tempo en marquant au coup pour coup avec Ouerghi marquant 8 points. A la fin du premier quart-temps, Charleville réussit à se maintenir au score avec seulement un petit retard (20-22).
Les premières cinq minutes du deuxième quart-temps sont au reflet du début de match et le score se maintient plus au moins égal avec les Lyonnaises alternant à la marque Arfelis, Bertal et Arnaud.
Mais l'équipe de Charleville commence à devenir plus dominatrice en attaque et marque 6 points incontestés avant que Sellars heurte Contessis qui doit sortir pour cause de blessure (apparemment au genou).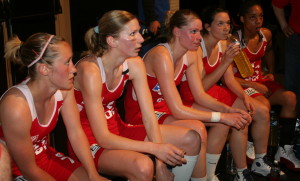 Pour la première fois dans le match, Lyon semble avoir des problèmes pour marquer et encaisse panier après panier d'Ondrejova et de Diawara.
La première mi-temps s'achève avec un tir primé de Montero pour donner une considérable avance à Charleville (43-32).
Le troisième quart-temps est une période défensive où le seul moyen de marquer est le tir extérieur. Bressant commence à s'énerver et râle après l'arbitre jusqu'à obtenir la faute technique avec 4:50 restant dans le match. Malgré cela, les Lyonnaises ne laissent pas l'écart s'agrandir.
En effet, en dépit de sa petite taille, Sellars parvient à arracher un rebond à Diawara avec 7sec 16 secondes dans le quart-temps.
Durant le quatrième quart-temps, Lyon court après le score et profite de l'absence de la grande taille de Diawara (pour cause de douleur au mollet) pour revenir au score (60-56,) notamment avec un tir primé de Legoupil.
Il est impérative pour les Lyonaises de mettre leur adversaire sur la ligne des lancers francs pour avoir plus de temps en attaque. Les fautes s'enchaînent et Sellars sort pour 5 fautes.
Bouderra, Monterro et Ondrejova se poursuivent au lancer franc et parviennent à garder l'avance sur les Lyonnaises. Cependant, en dépit de la pression, les Lyonnaises parviennent à rester au score avec de nombreux paniers avec la faute de Legoupil et Duchez.
Mais toujours 2 à 5 points à la traine, les Lyonnaises n'arrivent pas à devancer Charleville.
Le match semble gagné et le public de Charleville fait déjà la fête dans les tribunes. Pourtant Ducos met un trois points et à l'attaque suivante, avec 19 secondes sur le chrono, elle shoote en contre-attaque et provoque la faute.
Après les lancers francs de leur adversaire, Legoupil, à son tour, valide 2 de ses 3 lancers francs. Ainsi Lyon perd de 2 points avec une seconde restant à jouer.
Mais une mauvaise passe du Bouderra donne encore une lueur de victoire aux Lyonnaises avec Legoupil qui tente le tir primé. Cependant, le tir est manqué ce qui ouvre le chemin à Charleville vers la finale. NF1 basketball match statistics:
Charleville-Mézières 69-67 Lyon (20-22, 43-32, 53-42)
Charleville-Mézières: * Amel Bouderra 5 (3 pds, 8 fprov), * Carine Contessi 2, * Bélinda M'Boma DNP, * Sarra Ouerghi 13 (5/6 à 2 pts, 6 rbds, 6 fprov), Alexia Kusion 12, * Djéné Diawara 16 (5/6 à 2 pts, 13 rbds, 3 pds, 5 fprov, 21 éval), Elisabeth Montéro 5 (7 rbds, 3 pds), Zuzana Ondrejova 16 (5/8 aux tirs dont 5/7 à 2 pts, 5/5 aux LF, 6 rbds, 19 éval).
Lyon : Candyce Sellars 6 (élim 5 fts), * Marion Arfelis 15, * Géraldine Bertal 12 (7 rbds, 3 in, 18 éval), * Julie Legoupil 14 (3 pds), Léonore Duchez 3, * Charlotte Ducos 9 (7 rbds), * Mélanie Arnaud 8 (6 rbds), Kristina Cesnaviciuté 0.
Return to the top of NF1 basketball final four final
---
Charleville taken to the wire at NF1 basketball final four
The first quarter was played very quickly. Both sides hardly missed a shot inside the paint. However Charleville were unable to convert their free-throws with just 3-from-8 and ended up losing (20-22) the first quarter.
The cat and mouse game continued for the first seven minutes of the second quarter with Charleville gaining the upper hand (33-31).
Despite losing the battle of the boards, Charleville started to take control of the game and scored 6 unanswered points before losing Carine Contessi: Candyce Sellars from Lyon accidentally ran into Contessi, who then went down. She was helped off the court as it looked like a sprain.
She did not play again and was seen with crutches at the end of the game.
Lyon BF for the first time in the match were unable to break down the zone defense of their opponents and finished the first half down by 11 points after Elisabeth Montero fired in a three-point buzzer beater from way behind the three-point line (43-32).
The third quarter was very defensive and neither team was able to get inside the paint and hence they were forced to shoot from far (53-43).
Sellars may have been the smallest player on the field but that did not stop her taking on Djéne Diawara for rebounds.
With 7.16 left to play in the quarter, she clipped Diawara in mid air while contesting a rebound.
Diawara had to leave the court for treatment with her side leading (55-46).
By the time she returned, with 4.16 left to play, Sellars had fouled out with a technical and her team's advantage had been reduced to just 4 points (60-56).
The game became more intense. With just over a minute left to play Pierre Bressant, the coach from Lyon BF, had more than a few words to say to the officials after Mélanie Arnauld was knocked flying out of the court.
Arnauld suffered a nose bleed while the Lyon fans behind the basket were up on their feet having a go at the officials.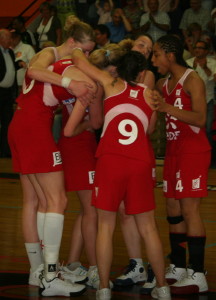 After a couple of minutes, the game resumed without Arnauld. Lyon played their hearts out making score after score while sending the hosts to the free-throw line to stop the game clock.
With less than three seconds left on the game clock, Charleville were leading (69-65). The home fans were celebrating.
However a mistake by Sarra Querghi in fouling Julie Legoupil while shooting from beyond the arc changed the atmosphere.
Legoupil made 2 from 3 shots but Lyon pressed their hosts and Bouderra made a wild pass.
Legroupil picked up the lose ball behind the three-point line to fire the shot off as the buzzer went. Yet her shot hit the back board and Charleville survived.
Return to the top of NF1 basketball final four final
---
NF1 basketball final regular season chapter is written
Return from NF1 Amateur Basketball news to the Nationale Féminine 1 index page
Return from NF1 Basketball news to women playing basketball blog page
Go to Women Playing Basketball In France Home Page
---
NF1 basketball picture credits:

womensbasketball-in-france.com

Date created: 23 May 2010
---