NF1 basketball news: Roche Vendée finish in third place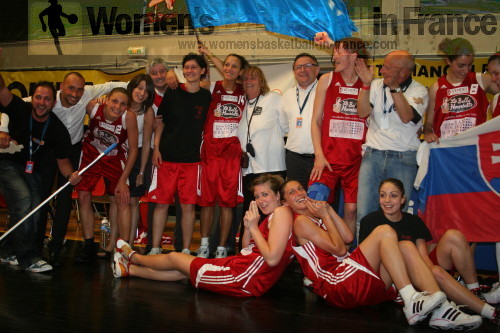 Roche Vendée ended their NF1 basketball season on a high with a victory against 2008-2009 NF2 Champions Lyon BF.
Luck was not on the side of Lyon during the weekend. They lost by 2 points to the hosts Charleville-Mézières in the semi-final and were not able to raise their game to challenge Roche Vendée in the match for third place.
For this event we have put together two reports in English and French.

Reportage en Français

English report

Roche Vendée ne rentre pas les mains vides
Lyon débute comme le match précédent avec un tir primé de Arnaud à O degré. Mais elle n'arrive pas à imposer leur rythme malgré les tentatives de Sellars et Bertal.
Les lyonnaises marquent que 2 autres points dans le quart-temps. Les Vendéennes, très adroites, font payer leurs adversaires et finissent le quart-temps avec un avantage de 10 points (15-5) avec Gérard et Morel menant à la marque.
Le deuxième quart-temps s'entame avec une équipe de Lyon beaucoup plus adroite. Bertal reprend les choses en main en mettant 4 points consécutifs avant que les Vendéennes parviennent à marquer.
Mais le RVBC trouve la réponse avec Gérard qui a la main chaude avec 3 tirs primés dans ce quart-temps. Cependant, Sellars retrouve son adresse et parvient à minimiser les dégâts en enchainant 7 points et en dominant au rebond.
Malgré cela, les lyonnaises ont du mal à arrêter le RVBC, très fort à l'intérieur des trois points avec une Morel déchainée. Les lyonnaises donc ont un retard de 17 points.
Mais dans les dernières secondes Sellars intercepte la balle et va au lay-up au buzzer pour réduire l'écart (40-25) à la mi-temps.
L'entame de la deuxième mi-temps est très défensive avec aucun point durant les deux premières minutes avant que Bertal retrouve le panier.
Le match se poursuit avec les deux équipes marquant au coup pour coup avec Gérard toujours adroite à trois points. Arfelis se prend un coup dans le nez et est obligé de sortir.
Durant son absence, l'écart se creuse, (52-31) à la 4' avec Libicova qui met un tir extérieur à 0 degré et Balat au lancer franc. Mais vers la fin du quart-temps, les Lyonnaises retrouvent leur agressivité offensive avec Sellars et Ducos.
En dépit de sa petite taille, Ducos arrache le rebond de son propre tir et ressort pour Arfelis qui termine l'attaque avec un tir primé.
Les lyonnaises reviennent à 15 points, mais Kubatova et Morel enfoncent le clou et donnent une bonne avance au RVBC.
L'équipe de Lyon entame le dernier quart-temps avec un retard de 18 points (59-41).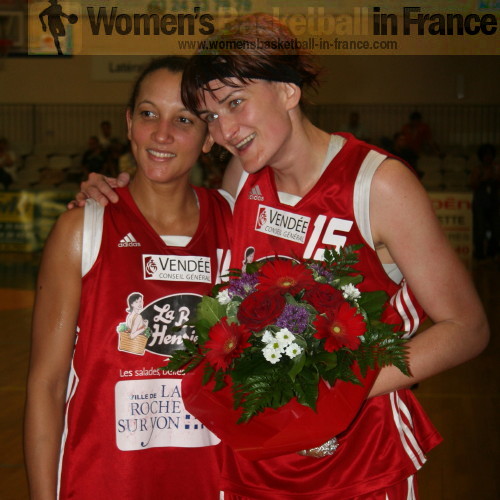 Mais Arfelis aide Lyon à revenir au score avec 2 trois points consécutifs. De même la grande taille de Cesnaviciute aide les lyonnaises en défense et sa présence offensive est bien reçue. A la 7', l'équipe de Lyon revient à 10 points (63-53).
Mais leur maladresse durant les trois prochaines minutes permet aux Vendéennes de reconstruire une confortable avance avec Grelier, Balat et Fouez alternant à la marque.
Malgré quelques attaques fructueuses de Lyon et une interception de Legoupil, les Lyonnaises n'arrivent pas à réduire l'écart.
Le RVBC remporte la partie (69-57) avec leurs supporters en folies.
Roche Vendée 69-57 Lyon BF

Roche Vendée: Stéphanie Dufour 2, Sylvaine Grelier 7, Mylène Balat 5, Elodie Demortier 0, Elodie Gérard 24, Maïté Fouquez 7, Gabriela Kubatova 10, Christelle Morel 7, Livia Libicova 7.
Lyon: Candyce Sellars 8, Marion Arfelis 14, Géraldine Bertal 13, Julie Legoupil 3, Léonore Duchez 0, Charlotte Ducos 3, Mélanie Arnaud 12, Kristina Cesnaviciute 4.
Return to the top of NF1 basketball final four final
NF1 basketball bronze medal for Roche Vendeé
Roche Vendée dominated the first quarter to lead (15-5).
The game came to live at the start of the second quarter with both teams starting to fire in from beyond the arc in what turned into a three-point shooting contest.
Elodie Gérard from Roche Vendée was connecting three times from beyond the arc as her side maintained their advantage (31-19) with four minutes remaining in this quarter.
They further stretched their lead to (40-25) before the break.
Both teams appeared cold after the break with nothing happening for over two minutes.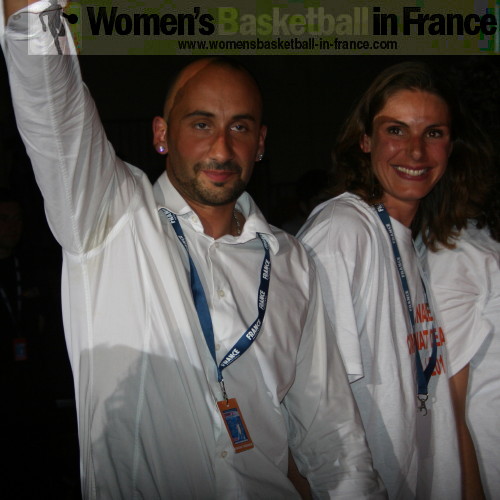 Gérard continued her show in the art of shooting from long distance.
Lyon had to play without Marion Arfelis for a few minutes while she received treatment to her nose. By the time she returned Lyon trailed by 21 points.
With 28 minutes played Roche Vendée appeared to have the game won leading (55-33).
Kristina Cesnaviciute's height made all the difference as Lyon closed the gap by the end of the third quarter (41-59).
Roche Vendée were never in any difficulty during the final quarter and maintained a big enough advantage which allowed them to stroll to victory (69-57).
Return to the top of NF1 basketball final four final
---
NF1 basketball final regular season chapter is written
Return from NF1 Amateur Basketball news to the Nationale Féminine 1 index page
Return from NF1 Basketball news to women playing basketball blog page
Go to Women Playing Basketball In France Home Page
---
Basketball picture credits:

womensbasketball-in-france.com

Date created: 23 May 2010
---