Tarbes finish 2012-2013 with the
LFB Challenge Round trophy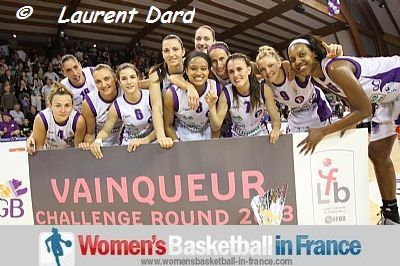 For the second time in the history of the LFB Challenge Round Tarbes lift the winner's trophy. It is also the first silverware in the Ligue Féminine de Basketball for the Tarbes coaching duo of Cyril Sicsic and Lina Brazdeïkyte.
Tarbes swept the series 2-0 to close the season on a positive note after a yo-yo season in the LFB. In game one it was only during the final three minutes of the encounter that Tartbes managed to edge their nose in front and win on the road (71-67).
Paoline Salagnac (in picture below) had been the lady on form knocking down 28 points for the winners. For Basket Landes it was a tough loss for their last home game of the season.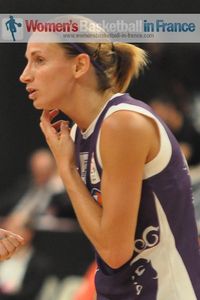 Game two was not so close despite a perfect first quarter by Basket Landes (21-13). Tarbes made up their deficit by the end of the second quarter to lead at the break (35-34).
Then Tarbes took control of the game for good during the first part of the third quarter with a 12-0 run to open up a double-digit lead (47-34) with 15 minutes to play.
Basket Landes failed in their attempt to regain the lead and Tarbes celebrated on their court with their supporters a comfortable victory (68-55) against their derby rivals.
Both teams, Basket Landes and Tarbes have qualified for the EuroCup Women competition for 2013-1014 season.
Game 2: Basket Landes 68-55 Basket Landes

Tarbes: Joyce Cousseins-Smith 10 (3 assists), Paoline Salagnac 9 (3 assists), Justine Bichot 0, Gabriela Ocete 9, Kristen McCarthy 8, Laurie Datchy 5, Naura El Gargati 2, Jovana Rad 13, Hristina Tyutyundzhieva 0, Charlotte Preiss 1, Angelica Robinson 11 (13 rebounds) 

Basket Landes: Olivia Epoupa 0 (4 assists), Carmen Guzman 10, Tamara Abalde 10, Kamila Stepanova 12, Anaïs Le Gluher-Cano 3, Valériane Ayayi 8, Sabrina Reghaïssia 2, Anaïs Deyres 2, Jennifer Humphrey 8
Game 1: Basket Landes 67-71 Tarbes
Basket Landes: Olivia Epoupa 4 (4 assists), Carmen Guzman 12, Tamara Abalde 2, Kamila Stepanova 12, Anaïs Le Gluher-Cano 15, Valériane Ayayi 8, Sabrina Reghaïssia 7, Jennifer Humphrey 7

Tarbes: Joyce Cousseins-Smith 4 (4 assists), Paoline Salagnac 29 (4 assists), Gabriela Ocete 11, Kristen McCarthy 2, Laurie Datchy 0, Naura El Gargati 2, Jovana Rad 15, Charlotte Preiss, Angelica Robinson 9

---
Like this page / Aimez cette page