Playing basketball in the
Challenge Round is hard on coaches

Playing basketball in the LFB Challenge Round has been rewarding for Basket Landes in two ways: first they have achieved the season's objective of qualifying for the EuroCup Women by reaching the Challenge Round final.

Secondly they will face Tarbes in a derby atmosphere during the final of the best-of-three series for the Challenge Round trophy.
Basket Landes will host Tarbes for the first time this season on their own court as their first meeting of the season was at the Open LFB which counted as a home game for Basket Landes.

Basket Landes achieved their qualification by eliminating three-times defending champions Nantes-Rezé over their three-match series 2-1.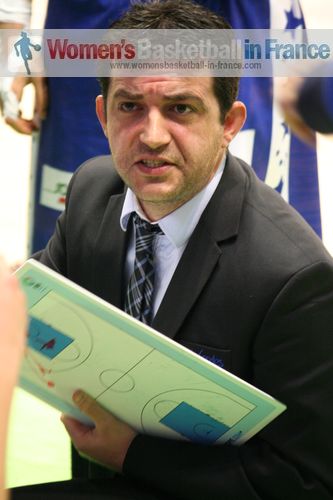 Olivier Lafargue (in picture), the head coach of Basket Landes, went through all the emotions from despair to joy and happiness during the last 36 seconds of game 3.
His side were trailing (60-62) and his season was coming to an end when the match was turned upside down.
Isis Arrondo was called for an unsportsmanlike foul which allowed Kamila Stepanova to tie the match at the free-throw line. Stepanova's next action was to deliver a perfect pass to Jennifer Humphrey under the basket who scored with Basket Landes going in front.
The last 19 seconds were played at the free-throw line with Carmen Guzman staying as cool as ice for Basket Landes to hold on to win (69-67).
Emmanuel Coeuret, the coach from Nantes-Rezé, was furious after the match because of the way the officials made some calls down the stretch. His captain Caroline Aubert was also in tears. However the season is not over for Nantes as they will be playing basketball once more during the final of the French Cup in May.
Below are the score sheets for the three-game series:

Game 3: Basket Landes 69-67 Nantes-Rezé

Basket Landes: Olivia Epoupa 5 (3 assists), Carmen Guzman 10, Tamara Abalde 5, Kamila Stepanova 9, Anaïs Le Gluher-Cano 14, Valériane Ayayi 12, Sabrina Reghaïssia 6, Jennifer Humphrey 8

Nantes-Rezé: Viktoria Mircheva 9, Caroline Aubert 7, Gunta Baško-Melnbārd 10, Sarah Michel 13, Isis Arrondo 5, Yuliya Andreyeva 4, Marielle Amant 6, Bernadette N'Goyisa 8 (11 rebounds), Antonia Bennett 5

Game 2: Basket Landes 85-76 Nantes-Rezé

Basket Landes: Olivia Epoupa 6, Carmen Guzman 26, Tamara Abalde 4, Kamila Stepanova 19, Anaïs Le Gluher-Cano 12, Valériane Ayayi 2,  Sabrina Reghaïssia 4, Jennifer Humphrey 12 (11 rebounds)

Nantes-Rezé: Viktoria Mircheva 0, Caroline Aubert 0, Gunta Baško-Melnbārd 19, Sarah Michel 10, Isis Arrondo 10, Yuliya Andreyeva 6, Marielle Amant 10, Bernadette N'Goyisa 19, Antonia Bennett 2

Game 1: Nantes-Rezé 78-54 Basket Landes

Nantes-Rezé: Viktoria Mircheva 6, Caroline Aubert 6 (5 assists), Claire Stievenard 0, Gunta Baško-Melnbārd 11, Sarah Michel 10, Isis Arrondo 9, Yuliya Andreyeva 11, Marielle Amant 8, Bernadette N'Goyisa 9, Antonia Bennett 8

Basket Landes: Olivia Epoupa 10 (3 steals), Carmen Guzman 13, Tamara Abalde 8, Kamila Stepanova 5, Anaïs Le Gluher-Cano 8, Valériane Ayayi 8, Sabrina Reghaïssia 6, Jennifer Humphrey 16 (15 rebounds)

---
Like this page / Aimez cette page