2013 Coupe de France finalists:
Lattes Montpellier and Nantes-Rezé

The 2013 final of the "Coupe de France" in Paris Bercy is going to be between the 2010 French Cup winners Lattes Montepellier and Nantes-Rezé.

Lattes Montpellier, playing their first home game in the Coupe de France since March 2011, made home advantage count as they defeated Lyon BF (71-63) to book their place in the final.
The game was a typical cup match, very physical with plenty of passion. Laurent Buffard from Lyon picked up a technical after a heated exchange with the officials during the second quarter.
It was not until the 27th minute (43-43) that Lattes Montpellier started a run that decided the outcome.
They finished the third quarter leading (52-47). With five minutes left to play they increased their advantage to 15 points (68-53).
Lyon were beaten and just played the game out.
Lattes Montpellier: Lidija Turcinovic 0, Virginie Brémont 4 (4 steals) Ana Cata-Chitiga 0, Edwige Lawson-Wade 11, Emilie Gomis 4, Géraldine Robert 17 (9 rebounds), Ana Lelas 10, Gaëlle Skrela 5, Fatimatou Sacko 11, Kristen Mann 9

Lyon: Romy Bär 4, Alexia Plagnard 3, Mélanie Plust 5, Audrey Sauret 4, Sara Chevaugeon 3, Leslie Ardon 0, Mame-Marie Sy-Diop 12 (10 rebounds, 4 steals), Danielle Page 6, Emilija Podrug 4, Mistie Mims 23
---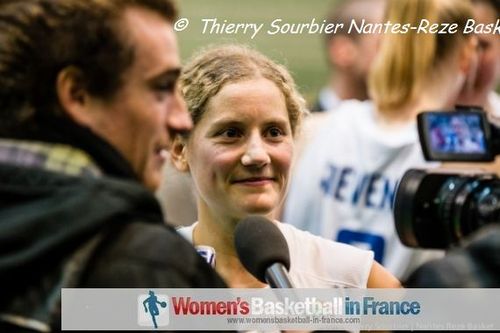 Playing at home, USO Mondeville were unable to lift themselves to get their bid for a place at the final of the French Cup in Paris Bercy losing (64-79) to Nantes Rezé.
Nantes-Rezé were quickly into their game with the first 6 points of the game. However back to back three-pointers by K. B. Sharp tied the game.
With Gunta Baško-Melnbārd leading the way for Nantes-Rezé, her side scored 10 unanswered points. Yet once again on the back of Sharp's baskets, USO Mondeville hit back with also 10 consecutive points to finish the first quarter tied (16-16).

From the second quarter onwards, Nantes-Rezé took control of the game for good and were never in danger of losing the game. Baško-Melnbārd and Marielle Amant were solid offensively while the rest of the team backed them up.
All Mondeville achieved in this game was to hit three-pointers (12-from-19).

USO Mondeville: K. B. Sharp 17, Ingrid Tanqueray 14, Kadidia Minte 0, Giedre Paugaite 2, Laëtitia Kamba 7, Naignouma Coulibaly 3, Amanda Lassiter 17, Marine Johannes 5

Nantes-Rezé: Viktoria Mircheva 2, Caroline Aubert 5 (11 asssists), Claire Stievenard 0, Gunta Baško-Melnbārd 19, Sarah Michel 4, Isis Arrondo 7, Yuliya Andreyeva 6, Marielle Amant 22, Bernadette N'Goyisa 4, Antonia Bennett 10

---
Like this page / Aimez cette page