2012 Coupe de France holders
are eliminated

Arras' reign of the French Cup, the Coupe de France is over while the dream of playing at Paris Bercy is still on for Lyon BF, Lattes Montpellier, Nantes-Rezé and USO Mondeville.

Charleville-Mézières hosted Lattes Montpellier in what turned out to be the best game of the quarter-final. The match was full of suspense going back and fourth.
With 12 seconds to play Montpellier led (69-66). The Charleville coaching staff called for a time-out. They needed a 3-point play to at least force overtime.
With just over two seconds to play the ball reached the hands of Sheana Mosch who fired in a three-pointer.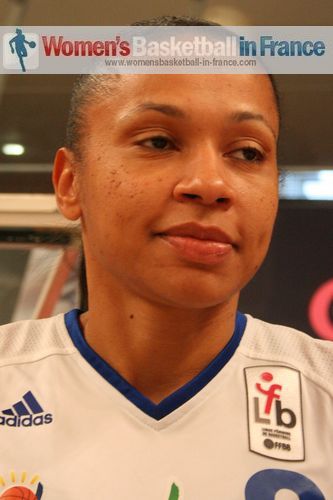 Montpellier quickly got the ball to Edwige Lawson-Wade who then launched a long distance shot that hit the backboard and fell into the basket as the time expired.
The 2011 French Cup winners Montpellier survived to play in the next round.
Charleville-Mézières finished the match with a shooting success of 61% (31-from-51). Aminata Nar Diop led the way with 19 points and 10 rebounds while Aurélie Bonnan chipped in 16 points. Amel Bouderra and Mosch had 13 points.
For Montpellier Géraldine Robert was the most active player with 22 points and 8 rebounds while Emilie Gomis and Gaëlle Skrela followed up with 14 and 11 points respectively.
When the quarter-final draw for the Coupe de France was made, Lyon were to face Bouges at home. However due to a rule about number of games played on the road they were forced to play in Bourges.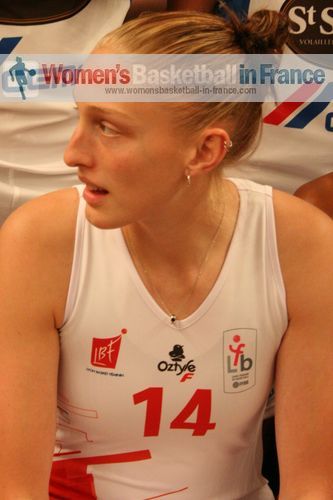 Lyon's worries were unfounded as their opponents did not show up as expected. Bourges lost (69-74). Lyon already set themselves up for victory with a strong first quarter (22-14) and then never gave up the lead.
Danielle Page (in picture) was on form firing in 22 points and pullling down 16 rebounds for Lyon. Mistie Mims added 15 points while picking up 4 steals.
It was a hard night for Bourges who lost Styliani Kaltsidou during the second quarter. With Jo Leedham still absent Céline Dumerc (10 points) and Emméline Ndongue (13 points) were forced to step up offensively to take some pressure off Nwal-Endéné Miyem (19 points).
However their efforts were in vain and for only the second time since 2005 Bourges Basket will no be at Paris Bercy.
Nantes-Rezé ended the reign of Arras as French Cup Champions (84-62). Arras led at the interval (41-35) but then fell apart during the third quarter in which they managed just 4 points.
Nantes-Rezé finished the third quarter with a 14-0 run to take control of the match for good leading (63-45).
Antonia Bennett playing for Nantes-Rezé was the leading scorer in the game with 17 points. Arras who are without their captain Johanne Gomis-Halilovic for the rest of the season were led by Krissy Bade with 14 points.
Basket Landes failed to make home advantage count as they fell (45-58) in a scrappy affair against USO Mondeville. 
K. B. Sharp, Laëtitia Kamba and Noelle Quinn all scored 12 points for the winners while for the hosts Carmen Guzman was the leading scorer in the game with 17 points.

Quarter-final results:

Charleville-Mézières 69-72 Lattes-Montpellier
Basket Landes 45-58 USO Mondeville
Nantes-Rezé 84-62 Arras
Bourges Basket 69-74 Lyon BF
The semi-finals are played on Wednesday, 27 March with the following pairings:
Lattes-Montpellier vs. Lyon BF
USO Mondeville vs. Nantes-Rezé

---
Like this page / Aimez cette page