Challes-les-Eaux may not have a club to write basketball news about after the General meeting on the 4th of June 2012 if the members of the club decide to join Lyon BF in a new project.
Challes-les-Eaux, despite its recent success at senior and youth levels, find themselves trapped in the corner due to financial constraints.
This season Challes-les-Eaux Basket finished in third place in the Ligue Féminine de Basketball while their U18 team finished third in the national championship and were runners-up in the French Cup.
On the other hand it was not a good season for Lyon BF as they finished 13th and were relegated.
Veuillez trouver en bas du page des informations en français.
The last two times that clubs merged in the LFB (
to Cavigal Nice O6
and
to Union Hainaut Basket
), it resulted in one of them closing for good.
So the supporters of Challes-les-Eaux might not be too happy about the future of the club if the project with Lyon BF is to be approved.
But the question is how come Challes-les-Eaux Basket find themselves in this position after 58 years of existence?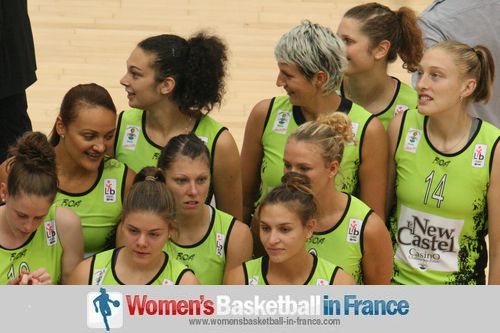 First of all, Challes-les-Eaux is a small town with a population of just over 5000 people and are less than 8km (5 miles) away from Chambéry.
Chambéry is home to one of the best handball teams in Europe and is heavily sponsored by the local community. A new arena was opened three years ago with this handball club taking most of the local sponsorship.
Hence Challes-les-Eaux have been unable to attract more funding opportunities and therefore have been operating on a very tight budget over the last three years.
This is one of the reasons why the club has worked with a professional roster of just seven players and the main reason for declining participation in EuroCup Women for the 2011-12 season.
Yet despite all the financial issues Mistie Mims signed a three-year extension of her contract in February.
However the alarm bells started to ring when it was announced that the coach, Aldo Corno, was not coming back next season because his contract expired and no replacement had been announced.
The only basketball news from the club since Corno's departure was the signing of Joyce Cousseins-Smith and the transfer of Anaël Lardy to USK Prague.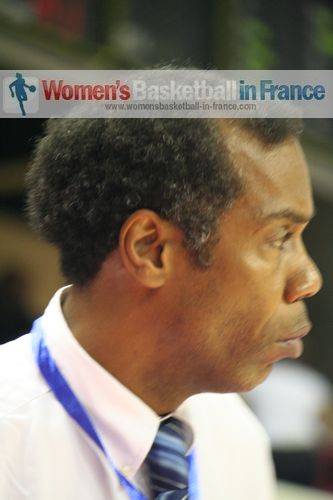 In the meanwhile at Lyon Pierre Bressant (in picture) was released of his duties as Head Coach in April after his team had been relegated. His replacement Laurent Buffard was named as his successor in May.
At the same time Lyon released a statement about a possible project with Challes-les-Eaux so that the region could have an elite club to be able to compete in European competitions.
If the deal goes ahead, then Limoges should be pleased as they will be saved from automatic relegation from LF2. This could mean that Cousseins-Smith may not join the club.
While nothing has been confirmed, it appears that the merger would result in Buffard taking the role of head coach and all home matches being played in Lyon.
However most training activities are supposed to remain in Challes-les-Eaux including the youth academy structure.
Lyon is about 113km (70 miles) away from Challes-les-Eaux. So it should be interesting to see how travel arrangements will work out and which uniforms they will be wearing (Lyon wore tunics last year while Challes-les-Eaux tight bicycle shorts).
But more importantly Lyon would remain in the LFB and play in the EuroCup Women competition which Challes-les-Eaux had qualified for.
If this merger happens according to the conditions mentioned, then 58 years of basketball history in Challes-les-Eaux come to an end.
Under the name of Challes Savoie Basket, the club won the French Championship in 1991, 1992 and 1993. It was also the first French club to qualify for a EuroLeague Women Final 4 in 1993 (EuroLeague Women was called European Cup For Women's Champions Clubs until 1996) where the team had finished in third place.
But by 1998 Challes Savoie Basket was in financial difficulty and was withdrawn from national championship participation after the 1997-1998 season.
The club was bought for one French Franc in 1998 and was renamed Challes-les-Eaux Basket. Corinne Bénintendi was named as coach and remained at the club until 2009.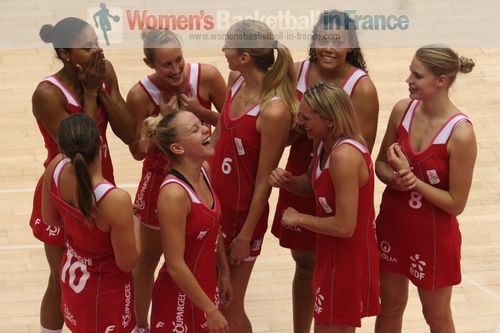 Although the club was demoted to the regional league, the second team had won the regional championship, which permitted them to restart in NF3 for the 1998-1999 season.
They won the NF3 title in 1999, picked up the NF2 title in 2003 and completed the climb-back to the LFB by winning the 2005 NF1 title.
Return to the top of Ligue Féminine de Basketball news page
Rumeur ou certitude – une possible union entre Challes-les-Eaux Basket et Lyon BF ?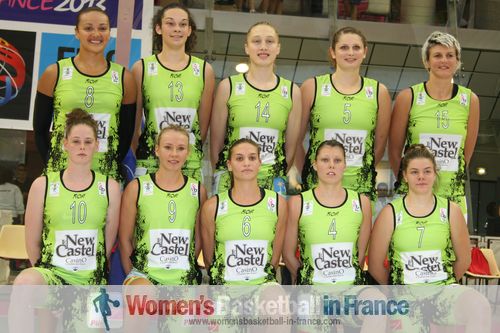 Depuis début mai, la rumeur court que Challes-les-Eaux Basket a l'intention de s'allier avec Lyon BF; et il parait que ce pourrait bienêtre le cas. Déjà en avril, le club avait annoncé la fin du contrat du coach Aldo Corno et le départ de la meneuse Anaël Lardy à l'USK Prague. Et depuis peu, les dirigeants de Challes-les-Eaux ont prévu de se réunir le 4 juin 2012 concernant l'éventuelle union avec Lyon BF.
Challes-les-Eaux Basket, nommé Challes Savoie Basket jusqu'en 1996, est un club reconnu pour son palmarès et l'excellence de son centre de formation. Fondé en 1954, les joueuses savoyardes ont remporté trois titres consécutifs de championne de France (en 1991, 1992, et 1993), deux Coupes de France et deux tournois de fédération. De plus, le club a été le premier club français à se qualifier pour le Final Four de l'Euroligue en 1993.
Bien que le club ait rencontré quelques difficultés financières dans le passé, notamment en 1998, le club renait sous le nom de Challes-les-Eaux Basket en 1998, et évolue en NF3 grâce au titre de champion régional de leur équipe réserve. Sous la tutelle du coach Corinne Bénintendi au club de 1997 à 2009, Challes-les-Eaux Basket décroche sa place en LFB en 2005 en remportant le titre de championne de NF1.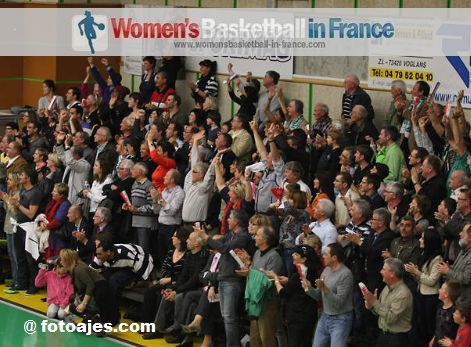 Durant 2011/2012, les joueuses séniors aussi bien que les équipe espoirs ont fait une belle saison: L'équipe 1 termine troisième et se qualifie pour l'EuroCoupe et les cadettes sont médaillées de bronze au final four et décrochent la deuxième place lors de la coupe de France.
Par contre, Lyon BF termine que treizième en LFB et est ainsi relégué en LF2.
Mais comment Challes-les-Eaux et Lyon BF prévoient-ils se joindre alors qu'ils sont séparés de 113 km ?
Depuis des années, Challes-les-Eaux Basket a été contraint par les restrictions budgétaires notamment causé par le manque de sponsors régionaux. Effectivement, le club a dû se battre pour leurs sponsors avec le club Chambéry Savoie handball – un club de hand évoluant en première division.
De ce fait, Challes a été incapable d'attirer plus d'aide financière, nécessaire pour se maintenir depuis plus de trois ans. C'est une des raisons pour laquelle le club avait seulement sept professionnelles dans leur effectif et a refusé de participer à l'EuroCoupe durant la saison 2011/2012.
Cependant, Challes a prolongé le contrat de Mistie Mims de trois ans supplémentaires.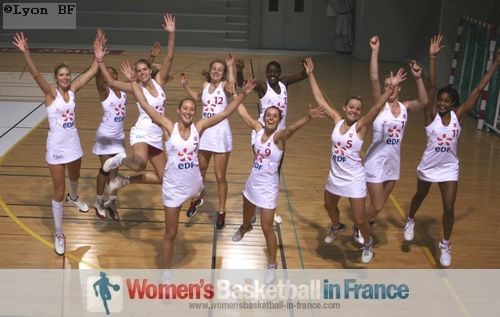 De son côté, Lyon BF a prévu de remplacer le coach Pierre Bressant par Laurent Buffard pour la saison prochaine. En plus, Lyon avait déclaré que l'éventuelle union avec Challes permettrait à la région lyonnaise/Rhône Alpes d'avoir un club en LFB et jouant dans un championnat Européen.
Bien que rien est confirmé, il parait que l'union bénéficierait Lyon BF car le coach serait Laurent Buffard et les matchs à domicile se dérouleraient dans la ville de Lyon. Ainsi, Lyon resterait en LFB et participerait à l'EuroCoupe. Néanmoins, les entraînements de l'équipe Une et du centre de formation se dérouleraient à Challes-les-Eaux.
Certes, c'est incertain comment les deux clubs vont s'organiser, les supporteurs de Challes ne sont pas contents avec l'accord prévu car les deux dernières unions dans la ligue française ont échoué et ont entrainé la disparition d'un des clubs fusionné (par exemple dans le cas de USVO et Saint Amant, l'USVO a été forcé de fermer ses portes).
Return to the top of Ligue Féminine de Basketball news page
---
Read our basketball news from the EuroLeague women
Read our basketball news from the EuroCup women
Go to Ligue Féminine de Basket 2011-2012 page
Read our basketball news from LF2
Leave LFB basketball news for season 2011-2012 page and return to home page
Return to the top of Ligue Féminine de Basketball news page
Basketball news picture credits:


womensbasketball-in-france.com
fotoajes.com

Date created: 30 May 2012
---