2013 players-of-the-year awards
Référendum LFB / BasketNews

With the long time LFB sponsors of the award Maxi-Basket having stopped the publication of their magazine at the end of 2012, the official basketball awards for the 2013 players of the year for the French player, foreign player and young player have been announced by the magazine BasketNews.
The selection process is as follows: Votes are collected from the captains and coaches from all the clubs in the first division as well as from an expert panel.

Each voter is allowed to make 5 choices by awarding 5 points for 1st choice going down to 1 point for fifth choice.
Wbbif is not a member of the voting panel for this award.
For the first time in LFB history the votes of each player weres made available for online publication. You will be able to find details of the full results in the French section below.
Veuillez trouver en bas de page le communiqué sur les MVP de la ligue féminine de basketball de 2013.
The 2013 LFB awards are as follows:

Géraldine Robert from Montpellier is the 2013 LFB player of the year, while Australian international Marianna Tolo picked up the foreign player award. Belgium international Emma Meesseman was the winner of the young player award.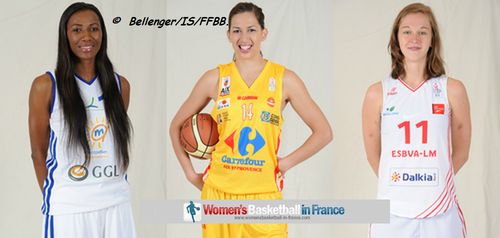 Robert, Tolo et Meesseman sacrées
Réalisé en collaboration avec l'hebdomadaire BasketNews depuis 2001, le référendum récompense la meilleure joueuse française, étrangère et espoir (née en 1993 et après) de la saison régulière. Le sondage a été réalisé auprès des capitaines et entraîneurs des équipes de Ligue Féminine ainsi que d?un panel de journalistes de la presse spécialisée et régionale. Retrouvez tous les résultats du vote.
Meilleure joueuse française : Géraldine Robert (Lattes Montpellier)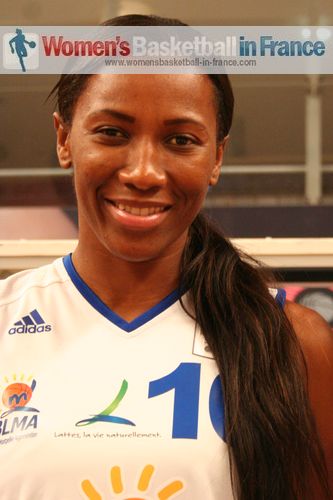 Arrivée à Lattes Montpellier comme joker médical, Géraldine Robert (32 ans, 1m84) a su s'imposer au sein de l'effectif héraultais. Sa polyvalence et son énergie ont amené Valéry Demory à la conserver. Meilleure marqueuse française, meilleure joueuse à l'évaluation (18.6), Géraldine Robert a apporté toute son expérience pour permettre au BLMA de se qualifier en finale après une saison régulière réussie. Ses stats en saison régulière : 14.5pts, 8.2rbds en 32'

Classement complet
1. Géraldine Robert (84pts, 11 "première place") - 2. Céline Dumerc (83pts, 6) - 3. Edwige Lawson-Wade (69pts, 6) - 4. Endéné Miyem (53pts, 4) - 5. Paoline Salagnac (27pts, 1) - 6. Marielle Amant (23pts) - 7. Héléna Ciak (14pts) - 8. Gaëlle Skrela (9pts, 1) - 9. Emméline Ndongue (9pts) - 10. K. B. Sharp (8pts)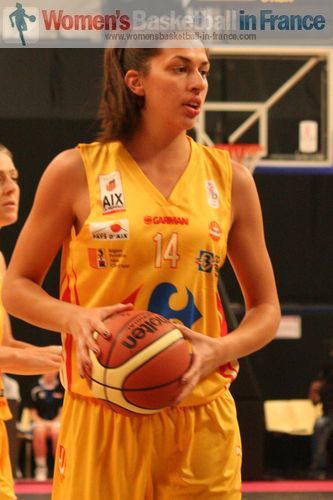 Meilleure joueuse étrangère : Marianna Tolo (AUS/CRO - Pays d'Aix)

Elément central dans le dispositif mis en place par Bruno Blier, Marianna Tolo (23 ans, 1m96) s'inscrit dans la tradition des grandes intérieures australiennes. Pour sa première expérience professionnelle loin de son île natale, elle a porté le Pays d'Aix sur ses épaules à de nombreuses reprises et termine deuxième meilleure joueuse à l'évaluation cette saison (17.7). Ses stats en saison régulière : 14.2pts, 6.8rbds en 35'

Classement complet
1. Marianna Tolo (65pts, 7 "première place") - 2. Angelica Robinson (61pts, 8) - 3. Mistie Mims (41pts, 2) - 4. Danielle Page (39pts, 4) - 5. Cayla Francis (39pts, 1) - 6. Olayinka Sanni (38pts, 1) - 7. Abby Bishop (31pts) - 8. Emma Meesseman (23pts, 2) - 9. Carmen Guzman (17pts, 2) - 10. Angie Bjorklund (16pts)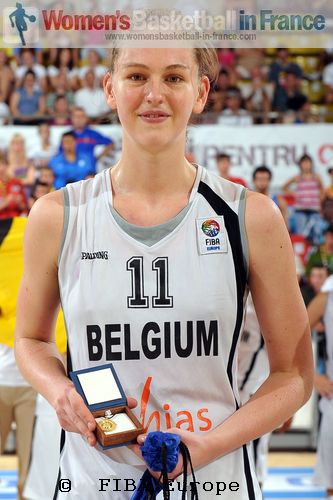 Meilleure joueuse espoir : Emma Meesseman (BEL - Villeneuve d'Ascq)

Appelée à succéder à la légende Ann Wauters, Emma Meesseman (19 ans, 1m92) décroche le titre de meilleure espoir. Elue meilleure jeune joueuse européenne en 2011, le phénomène belge a apporté sa pierre à l'édifice villeneuvois cette saison. Prêtée à l'ESBVA par le Spartak Moscou, elle devrait évoluer une année de plus en LFB. A noter que le scrutin espoir n'a jamais été aussi serré puisque le trio de tête se tient en quatre points. Ses stats en saison régulière : 12.1pts, 6.3rbds en 31'

Classement complet
1. Emma Meesseman (95pts, 8 "première place") - 2. Romane Bernies (93pts, 10) - 3. Olivia Epoupa (91pts, 5) - 4. Valériane Ayayi (52pts, 4) - 5. Christelle Diallo (32pts, 1) - 6. Sara Chevaugeon (22pts) - 7. Elodie Mendy (5pts, 1) - 8. Lidija Turcinovic (5pts) - 9. Claire Stievenard (4pts) - 10. Mamignan Touré (2pts)

Règlement
Qui vote ? Tous les coaches et capitaines de Ligue Féminine, ainsi qu'un panel de journalistes de la presse spécialisée et de la PQR.Comment ? En classant les joueuses par ordre préférentiel de 1 à 5, avec interdiction de voter pour une joueuse de son équipe. Cinq points sont donc accordés à la première, quatre à la deuxième, etc.
---
Like this page / Aimez cette page