November young player of the month
Emma Meesseman

The winner of the wbbif November young player of the month award is Belgium international Emma Meesseman.

Meesseman's LFB début in November did not start on a winning note. But since her return after injury Villeneuve d'Ascq have won two games and more importantly moved out of the relegation zone.
Veuillez trouver en bas de page des informations en français ...
Unlike last month in which the choice of Valériane Ayayi as young player of the month was unanimous amongst the readers of womensbasketball-in-france.com there were seven players in competition for the award.
Valériane Ayayi and Olivia Epoupa from Basket Landes, Agathe Degorces (Toulouse), Louise Dambach (Illkirch-Graffenstaden), Jenny Fouasseau (COB Calais) and Pauline Lithard (Reims BF) were the other players highly rated.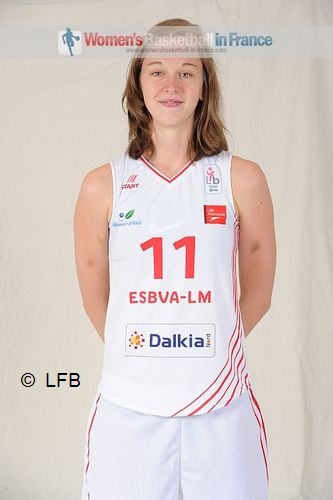 Emma Meesseman is the current FIBA Europe young player of the year (2011) as well as Belgium player of the year.
For the first time in her career she did not play for Belgium during the summer youth championship (U20 European Championship for Women Division B) although she did play for the Belgium's senior team during the EuroBasket Women 2013 qualification series.
Meesseman missed the start of the season after fracturing her hand in a freakish training accident just before the Open LFB.
In the four games she played in November she scored 45 points and picked up 27 rebounds. She was also credited with 7 blocks and 8 assists.

Des étincelles d'une jeune joueuse Belge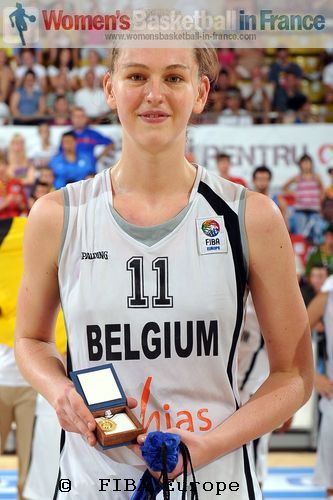 Emma Meesseman semble faire la différence dans une équipe en LFB qui a été affaiblie par des joueuses blessées. Dès son retour, Villeneuve d'Ascq a gagné deux matchs et a réussi à sortir du groupe de rélégation.
En Novembre, Meesseman a accumulé un total de 45 points, 27 rebonds, 8 passes décisives et 7 contres. Pourtant il y avait six autres candidates pour jeune joueuse du mois de Novembre: Ayayi et Epoupa (Basket Landes), Degorces (Toulouse), Dambach (Illkirch-Graffenstaden), Fouasseau (COB Calais) et Lithard (Reims BF) pour se distinguer. Mais ses qualités sur le terrain ont convaincu nos lecteurs de notre site de la voter pour meilleure jeune joueuse en Novembre.

---
Like this page / Aimez cette page