After one quarter of the 2012-13
LFB season: three teams are in trouble

The first quarter of the 2012-13 LFB season has passed with just one club having a perfect record.
Lattes Montpellier are a perfect 7-from-7 and are two games ahead of four teams chasing them. At the other end of the table Hainaut Basket, Tarbes and Villeneuve d'Ascq are struggling to take off.

In the only LFB round 7 match broadcast, the hosts Hainaut Basket were beaten by Charleville-Mézières (54-65). Hainaut Basket edged the first quarter (13-11) but then lost their way during the second quarter after a 14-0 run by their guests.
Charleville-Mézières missed their first three-pointer. But during their 14-0 run Yacine Séné (2 three-pointers) and Amel Bouderra combined for 3 three-pointers in a row to help their team to go into the lead (35-23).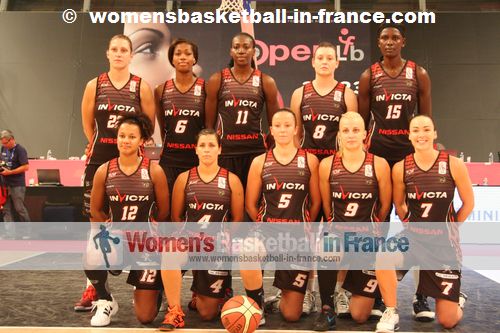 The second half of the match was interesting with Charleville-Mézières staying in front all the way to the end.
Djéné Diawara finished the game with 15 points while Bouderra and Séné scored 13 and 11 points respectively for the Flammes Carolo.
For Hainaut Basket the season is not going well with just one victory from seven games in the LFB. Once again they allowed their opponents to go on a run that put them on the back foot. In addition Hainaut Basket's low shooting percentage this season has not helped them as they are at the bottom of the table with Villeneuve d' Ascq and Tarbes.

The rest of the LFB news from round 7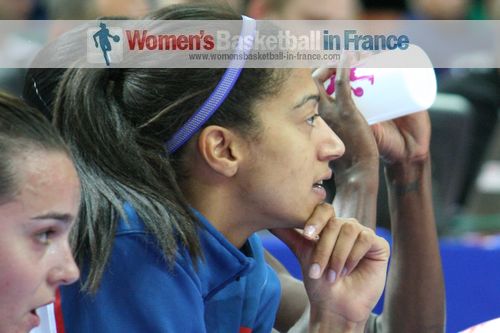 Bourges Basket returned to winning ways after a week of defeats in the LFB and EuroCup Women competition. Trailing (17-20) after the first quarter against Tarbes they got back to their defensive best in the second quarter conceding just 4 points as they regained the advantage (31-24) by half time.
Tarbes raised their game during the third quarter but ran out of gas in the final quarter.
Emméline Ndongue (in picture) led Bourges offensively with 15 points (5-of-7 from the field) while Frida Eldebrink added 10 points. For Tarbes Jovana Rad and Paoline Salagnac had 14 and 12 points each.
Tarbes' poor communication skills continue: last week they reported that Lauren Ervin was released from her contract due to not recovering from her previous injury. Now we have learned that Kim Smith has been signed as her medical replacement.
Perpignan Basket's challenge for a place in the top continues after another victory. This time they crushed Villeneuve d'Ascq (83-58).
Emma Meessemann made her first appearance for Villeneuve d'Ascq and contributed 7 points. Olayinka Sanni fired in 21 points to lead all scoring. Yet her team were done and out by the end of the first quarter (12-27).
Perpignan were just too strong with all 11 players getting on the score sheet. Angie Bjorklund led the way with 18 points while Iva Ciglar finished with a double-double of 11 points and 10 assists. Pauline Lo added 10 points.

The so called game of the round turned into a wash-out with Lattes Montpellier beating Nantes-Rezé (80-59). Gaëlle Skrela was once again the leading player with 24 points while Edwige Lawson-Wade contributed 16 points and 6 assists in this victory.
For Nantes-Rezé Gunta Basko-Melnberde was the leading player with 10 points and 10 assists.
Lattes Montpellier now lead the LFB by two games over Bourges Basket, Lyon BF, Nantes-Rezé and Perpignan.
Lyon BF had to work hard for their win. But with Leslie Ardon scoring 20 points they pulled off an impressive road victory (60-57) against Basket Landes.
Toulouse Métropole once again gave their coach a hard time but still came out on top (67-58) against Arras.
USO Mondeville saw off Aix-en-Provence (74-57) thanks to 21 points from Amanda Lassiter.
LFB round 7 results:

USO Mondeville 74-57 Aix-en-Provence
Perpignan Basket 85-58 Villeneuve d'Ascq
Toulouse Métropole 67-58 Arras
Basket Landes 57-60 Lyon BF
Lattes Montpellier 80-59 Nantes-Rezé
Bourges Basket 63-49 Tarbes
Hainaut Basket 54-65 Charleville-Mézières
---
Visit our 2012-2013 Ligue Féminine de Basketball section

Visit our home page
Visit our "What's New" page
picture credits:
womensbasketball-in-france.com

Date created: 05 November 2012
Like this page / Aimez cette page