2014 Coupe de France
The Tango dance again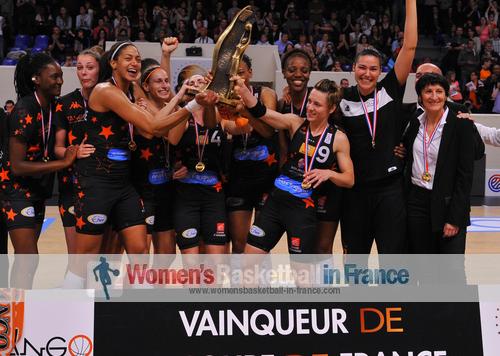 For the ninth time in the history of Bourges, the Joë Jaunay Coupe de France trophy travels back to their trophy cabinet. Tango Bourges Basket beat Villeneuve d'Ascq (57-48) in the final.

Veuillez trouver en bas de page des informations sur la finale de la Coupe de France entre Tango Bourges Basket et Villeneuve d'Ascq.

Bourges Basket were led by MVP Nwal-Endéné Miyem who just missed two shots (7-of-9) in scoring a game high 20 points. Emméline Ndongue, in her final French cup match, was also very accurate with just one miss all night in knocking down 14 points.
For Villeneuve d'Ascq, Emma Meesseman was in a class of her own with 13 points in her last game for the club. Lenae Williams followed up with 10 points that she all scored in the first half. Mélissa Diawakana deserves an honorable mention for her aggressive play at both ends of the court in her 13 minutes of play.

Tango Bourges Basket win the French cup in Courbertin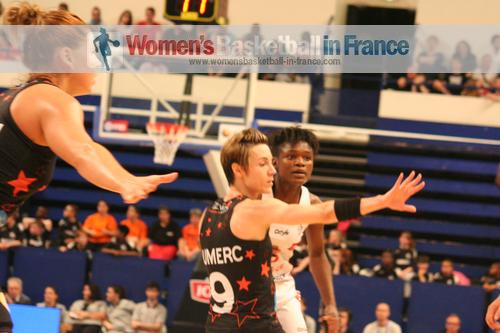 The first five minutes turned into a round of observation with defense winning over attack. Villeneuve d'Ascq scored the first 6 points of the game but should have had more. They only led (6-3).

Once Bourges settled down they were in front (9-6) with 90 seconds to play in the first quarter. 
Mélissa Diawakana almost turned the game upside down with 5 straight points for Villeneuve. But Cathy Joens restored the order with a three-pointer. Then Romane Bernies hit a couple of free throws for Bourges to lead (14-11) at the end of the first quarter.

The second quarter turned into a tactical chess match with four ties and the lead changing hands foiur times as neither side was able to gain the upper hand.

Bourges went into the locker room leading (33-31) with Emméline Ndongue and Nwal-Endéné Miyem scoring 10 and 9 points each.
Diawakana took her chance well with the absence of Elin Eldebrink and  continued to cause mayhem after the break.
Yet Bourges took charge of the game with Miyem scoring 7 quick points.
Both teams were tied for the last time (42-42) with 10 seconds to play in the third quarter. Then the pendulum swung into Bourges' favour.

Their full court press paid off with Jo Leedham picking up a steal and an easy basket. After an interception by Paoline Salagnac and despite her failing to score, Marianna Tolo was on hand to pick up the rebound. Thereby she was fouled. She hit both free throws for Bourges to take a 4-point lead into the fourth quarter (46-42).
The final 10 minutes of the match were not pretty. Ndongue scored first and Bourges were able to maintain a lead of a minimum five points on their way to their first French Cup victory since 2010 and also avenge the defeat of their U17 team earlier in the day in the U17 final.
Coupe de France féminine
Quand victoire rîme avec tactique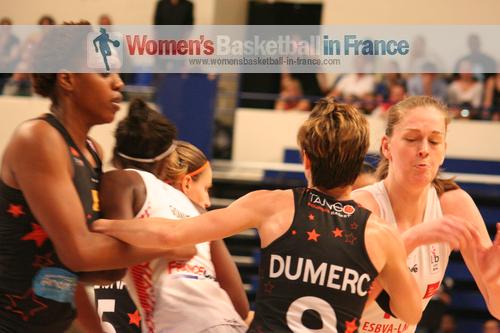 Non pas seulement que Bourges remporte la Coupe de France après l'avoir manqué pour quatre années de suite, mais aussi Endéné Miyem (en image à gauche) est élue MVP AIG avec 20 points et 5 rebonds.
Pourtant c'est Villeneuve d'Ascq qui est plus dynamique dans cette rencontre mais aussi plus maladroit au shoot et ainsi succombe aux Berruyères.

Quoique Emma Meesseman (13 points) joue brillamment pour les Nordistes, ce sont les Tangos qui grignotent leur retard pour finalement prendre l'avantage après sept minutes de jeu à l'image de Emméline Ndongue (14 points). La maladresse au shoot est au menu pour l'ESBVA. A la fin du premier quart, Bourges a 3 points d'avance (14-11).
Sans Elin Eldebrink, c'est à Mélissa Diawakana (7 points) de faire des ravages dans les lignes berruyériennes. Mais Cathy Joens garde la tête froide et met un tir primé.
Le chassé-croisé continue pendant toute la deuxième période avec Bourges en tête (33-31).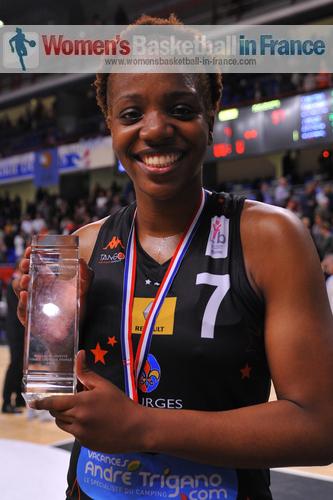 Quand Villeneuve prend l'avantage grâce à Djene Diawara, c'est Miyem qui remet son équipe sur la bonne voie. Avec des passes décisives de Céline Dumerc (10 en total) et des interceptions de Jo Leedham et Paoline Salagnac, Bourges passent devant (46-42) avec dix minutes à jouer.
Les intérieures nordistes ne lâchent rien. Mais Miyem et Ndongue disent leur dernier mot dans cette rencontre en inscrivant des paniers pour que Bourges remportant son neuvième trophée Coupe de France avec cette victoire (57-48).
---
Visit our Coupe de France index

Visit our home page
Visit our "What's New" page
Picture credits:
womensbasketball-in-france.com
Date created: 12 May 2014
Like this page / Aimez cette page