2014 Coupe de France U17 final
Young and jubilant

Lyon's 39-year wait for another youth Coupe de France trophy is over after beating Tango Bourges Basket (59-50) in the 2014 final. Lyon led from start to finish in a typical French youth game that had everything from suspense to tears.

Veuillez trouver des informations sur la finale de la Coupe de France entre les moins 17 de Lyon BF et Tango Bourges Basket.

Lyon scored the first 5 points of the match and managed to stay in front all the way to the end to lift their first French cup victory since 1975.
The first 20 minutes were typical youth basketball scrap with not much scoring but a lot of effort. Lyon had the better of the first quarter (15-6) but failed in turning their dominance into points. So they only went into the interval with a 5-point lead (26-21).

The third quarter turned into a youth basketball classic with both sides defending as if their lives depended on it.
Bourges were driven by Lisa Berkani and Chloé Mantelin chasing after the game. Lyon's clutch shooting from Evita Herminjard (49-44) gave Lyon the edge with five minutes to play.

Gundo Diallo from Bourges then brought the game to life with a rainbow three from way behind the three-point line to make it a two-point game (47-49).
However this was as close as it got with both teams making typical youth errors in the closing seconds.
Lyon went on to win (59-50) to lift the U17 French Cup for the first time after almost four decades.
Click on any picture below to open gallery:

The scorers of both teams:
Lyon BF


4 Sophia DJERIRI 3 points
5 Ines TALBI 7 points
6 Prescilla LEZIN 4 points
7 Ariane MPETSHI PERRICARD 0 point
8 Johanna MUZET 10 points
9 Athenais HETIER 0 point
10 Ambre GOETGHELUCK 6 points
11 Evita HERMINJARD 17 points
12 Emma FOREL 2 points
13 Axelle ROUSSEAU 10 points


14 Gulseren TUNAL (did not play)
15 Roxanne DUCRET (did not play)

Tango Bourges Basket

4 Marine GLON 2 points
5 Goundo DIALLO 10 points
6 Amélie FERNANDEZ 3 points
7 Cholé MANTELIN 10 points
8 Léa DELAPLACE 2 points
9 Myriam DJEKOUNDADE 4 points
10 Lisa BERKANI 9 points
11 Euzhann LERANDY 8 points
12 Roxane BOYOKO 0 point
14 Léna GARIN 3 points

The following players did not play but collected a medal.

Jordana BONETT
Catherine DIAGNE
Noémie BATARD
Mathilde HUET
Romane REVEL

U17 Coupe de France féminine
Les Lyonnaises confirment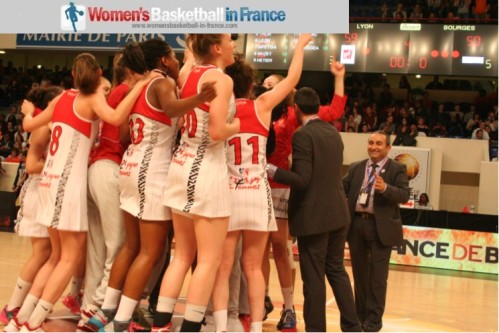 Quoique les Lyonnaises ont un avantage important dans le premier quart (15-6) contre les Tangos, elles n'arrivent pas à dominer le match. A l'interval, elles mènent par 5 petits points (26-21).

Les jeunes joueuses de Bourges Basket, emmenées par Lisa Berkani et Chloé Mantelin, essayent le tout pour le tout pour ramener l'équipe au score. Puis avec cinq minutes à jouer, Evita Herminjard met un panier pour redonner les 5 points d'avance à Lyon (49-44).
Mais Gundo Diallo de Bourges donne l'espoir à Bourges avec un tir à 3 points (47-49).
Pourtant c'est Lyon qui emporte cette rencontre pour soulever la coupe après 39 ans d'attente.
---
Visit our Coupe de France index

Visit our home page
Visit our "What's New" page
Picture credits:
womensbasketball-in-france.com
Date created: 10 May 2014
Like this page / Aimez cette page