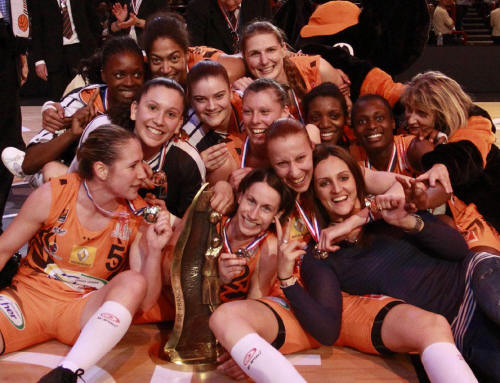 Bourges Basket have won the women's basketball Coupe de France for the 7th time in their history.
Bourges Basket have been in every final since 2005 and with the exception of 2007 they have walked away with the Joë Jaunay trophy.
Tarbes were without Hamchetou Maïga-Ba who has returned to the WNBA and Isabelle Yacoubou-Dehoui who is injured. For Bourges Basket Ana Lelas was unable to play.
The first points in this cup final came from Styliani Kaltsidou, who hit a shot from behind the arc with just over a minute played.
Bourges had more of the ball during the first five minutes and took advantage of Tarbes' poor free throwing to lead (11-5) with five minutes played.
Frida Eldebrink started the Tarbes comeback with a 12-0 run. But it was the shooting of Pauline Jannault with 3 three-pointers including a buzzer beater that enabled Tarbes to lead (22-15) by the end of the first quarter.
Fatimatou Sacko scored a three-pointer at the start of the second quarter that gave Tarbes a 10-point lead.
Pierre Vincent did not panic. His players then went on the rampage outscoring Tarbes 16-4 to regain the lead (31-29) with just under two minutes till the break.
Eldebrink and Emma Randall scored for Tarbes as they regained the advantage briefly. Yet back to back scores from Emméline Ndongue (right) and Katarina Manic enabled Bourges to walk into the locker room in front (35-34).
After the break Bourges went into overdrive and scored 12 unanswered points to complete a 16-0 run to lead (47-34) with 26 minutes played.
Bourges appeared to have control of the match with a 12-point lead going into the final quarter (52-40).
Tarbes did not give in and slowly reduced the deficit. With two minutes left to play they trailed by just 4 points (57-61).
The Coupe de France final match was evenly poised with 75 seconds to play when Sacko was successful from the charity stripes (59-61).
The fireworks then started with Kaltsidou and Jannault trading treys before Nwal-Endéné Miyem more or less secured the victory for Bourges with a shot from also behind the arc (67-62) with 12 seconds left to play.
Isis Arrondo had no option but to try for a three-pointer with the clock running down. Her attempt did not go in while MVP Ndongue picked up the rebound.
Bourges Basket: Anaël Lardy 7, Katarina Manic 6, Aurélie Fauvre DNP, Nwal-Endéné Miyem 12, Margaux Galliou DNP, Styliani Kaltsidou 18, Jennifer Digbeu 4, Ana Lelas DNP, Paoline Salagnac 2, Kelly Elanga DNP, Emméline Ndongue 14, Ilona Burgrova 2.
Tarbes: Anne Breitreiner 0, Frida Eldebrink 13, Pauline Jannault 19, Elina Conduche DNP, Isis Arrondo 2, Naura El Gargati 0, Florence Lepron 4, Béatrice Castets DNP, Fatimatou Sacko 22, Emma Randall 2.
---
The finalists are Bourges Basket and Tarbes, a repeat of the 2009 final
Bourges, Charleville-Mézières, Mondeville and Tarbes qualify for semi-final
Go to Coupe de France index page
Go to Women Playing Basketball In France Home Page
GO Back to the top of the page
---
Coupe de France picture credits:
Bellenger/IS/FFBB

Date created: 16 May 2010
---