have qualified for their sixth consecutive Coupe de France final by beating Charleville-Mézières (65-41).
Charleville's challenge lasted four minutes with them leading (6-5).
Bourges added then 6 uncontested points to take control of the game for good and finished the first quarter with 12 points in front (23-11).
After a hard fought first quarter (13-13), Tarbes started to take control of the game during the second quarter. They went into the locker room leading (37-32).
Tarbes went on a 8-0 burst early in the third quarter to go 14 points clear (52-38) and never looked back.
Isabelle Yacoubou-Dehoui was the player of the match for Tarbes with 27 points and 14 rebounds.
Bourges Basket: successful Coupe de France series continues
Bourges Basket have qualified for visiting Paris Bercy every year since 2005. With the exception of 2008, they have walked away with the Joë Jaunay trophy.
Charleville-Mézières started the match well with Djéné Diawra and Sarra Ouerghi scoring to lead early on (6-3).
Bourges Basket then went to work with their captain Emméline Ndongue and Nwal-Endéné Miyem (left) doing all the scoring in a 11-0 run for Bourges to take the advantage (14-6) and the control of the game for good.
Pierre Vincent started to rotate his players without losing the advantage (23-11) at the end of the first period.
Charleville were unable to crack the Bourges Basket defense during the second quarter. With 17 minutes played they trailed by 18 points (15-35).
This was the score at the interval with neither team able to find the target for the rest of the quarter.
Charleville's game plan of shooting from beyond the arc failed them in the first half of the match as they went 0-from-10.
Bourges relaxed a little during the third quarter, allowing Charleville to outscore them 18-16.
Bourges stepped up defensively in the final quarter to cruise to victory (65-41).
Bourges Basket: Anaël Lardy 6, Katarina Manic 6 (4 assists), Nwal-Endéné Miyem 23, Styliani Kaltsidou 6, Jennifer Digbeu 4, Ana Lelas 7, Paoline Salagnac 6 (4 assists), Emméline Ndongue 5, Ilona Burgrova 2.
Charleville-Mézières : Amel Bouderra 5, Carine Contessi 0, Bélinda M'Boma 6, Sarra Ouerghi 11, Alexia Kusion 2, Margaux Thomaze 0, Djéné Diawara 8, Elisabeth Montéro 0, Zuzana Ondrejova 9.
Return to the top
Isabelle Yacoubou-Dehoui takes Tarbes to Paris Bercy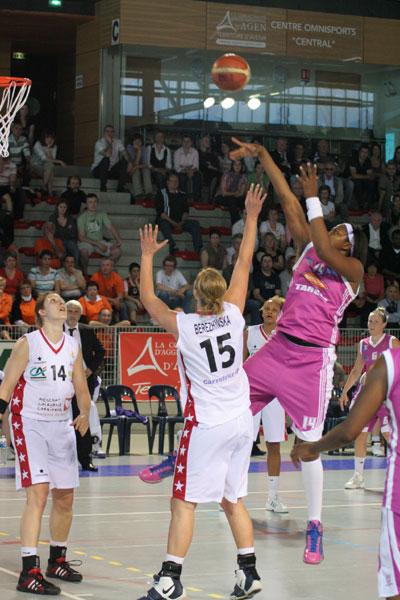 Isabelle Yacoubou-Dehoui (left) was everywhere for Tarbes. She scored 27 points, picked up 14 rebounds, dished out 3 assists and drew 6 fouls in just under 30 minutes on court to help her team win the game (83-63).

Yacoubou opened the scoring in this game and her team-mate Fatimatou Sacko scored the next 4 points for Tarbes to lead (6-0) with just over three minutes played.

Temeka Johnson got Mondeville finally off the mark and scored 5 of her team's 7 points as they briefly went in front.

Both sides found scoring difficult for the rest of the quarter and ended the quarter on level terms (13-13).

The shots started to fall for both teams during the second quarter. Pauline Thizy and Johnson were the main threat for Mondeville while for Tarbes' Yacoubou-Dehoui continued to cause mayhem.

Tarbes went into the interval leading (37-32) thanks to a buzzer beater three-pointer by Hamchetou Maïga-Ba.

After the break Tarbes stepped up a gear. With Frida Eldebrink, Maïga-Ba and Yacoubou-Dehoui putting together an 8-0 run, Tarbes opened up the first significant lead of the game (52-38) after 25 minutes of play.

Three-pointers by Anne Breitreiner, Emma Randall and Eldebrink enabled Tarbes to go into the final quarter with a 20-point lead (66-46).

Mondeville tried to come back into the game during the final quarter. But Florence Lepron with her excellent passing made it easy for her team-mates to score and maintain the 20-point advantage until the end of the match (83-63).

Tarbes: Hamchetou Maïga-Ba 9, Anne Breitreiner 6, Frida Eldebrink 15, Pauline Jannault DNP, Isis Arrondo 2, Naura El Gargati DNP, Florence Lepron 8 (8 assists), Béatrice Castets DNP, Fatimatou Sacko 11, Isabelle Yacoubou-Dehoui 27 (14 rebounds) Emma Randall 7.

Mondeville: Temeka Johnson 12, Fanny Cavallo 0, Aija Putnina 6, Lenae Williams 14, Clarisse Costaz 3, Yacine Sene 8, Pauline Thizy 12, Aurélie Bonnan 2, Valeriya Berezhynska 6.

Return to the top