The 2013 Coupe de France Joë Jaunay
goes to Lattes Montpellier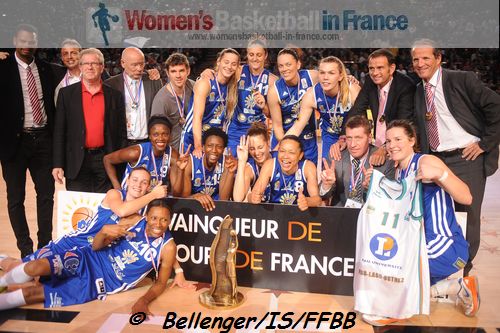 Lattes Montpellier have won the Joë Jaunay Coupe de France trophy for the second time in their history by beating Nantes-Rezé (67-64) in a nail biting finish.
Edwige Lawson-Wade was able to bring her club career to a perfect end despite having to watch the finish from the bench after fouling out in the closing stages. She last lifted the Joë Jaunay trophy in 2004 when she played for USVO. This victory gave her her fifth Coupe de France winner's medal.
The final match got off to a curious start with Montpellier having to wear the kit of l'Élan Béarnais Pau Lacq Orthez because they forgot to bring their away strip (which is white) as they were drawn as the visitors.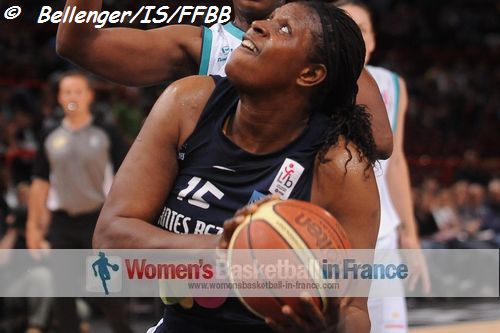 The first ten minutes of the match belonged to Bernadette N'Goyisa from Nantes who scored 16 points from 8-of-9 shooting. She single-handedly powered Nantes to a first-quarter lead (19-16).
Montpellier picked themselves up during the second quarter with Gaëlle Skrela scoring and Fatimatou Sacko taking care of the rebounds at the defensive end to go ahead at the break (32-26).
Montpellier continued to control the pace of the game all through the third quarter and opened up an 11-point lead going into the final act (53-42).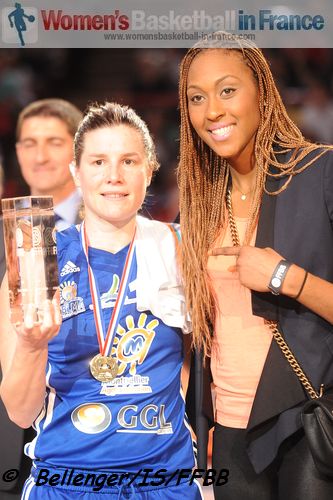 Nantes came storming back during the fourth quarter with Sarah Michel leading the way. The match became more physical and Sacko found herself out of the game with 5 fouls as the game reached its climax.

Skrela was the hero for Montpellier down the stretch scoring point after point while Nantes stayed in striking distance. However with five seconds to play Montpellier led (67-64) and Nantes had two attempts to take the game into overtime. Yet the three-point attempts by Marielle Amant and Yuliya Andreyeva failed.
Skrela was awarded the MVP award by Sandrine Gruda (both in picture) after her side had changed to the club colours to celebrate.
Unfortunately the game was not broadcast live by Sport+ despite all the publicity that Céline Dumerc was to provide the colour commentary.
Below you find after-match comments supplied by the FFBB:

Lattes Montpellier: Lidija Turcinovic DNP, Edwige Lawson-Wade 6,  Virginie Brémont 2, Kristen Mann 9, Géraldine Robert 8, Emilie Gomis 4, Ana Lelas 3, Gaëlle Skrela 24, Ana Cata-Chitiga 0, Justine Barthelemy DNP, Fatimatou Sacko 11

Nantes-Reze: Viktoria Mircheva 7, Caroline Aubert 10, Claire Stievenard 0, Gunta Baško-Melnbārd 7, Sarah Michel 12, Isis Arrondo 0, Yuliya Andreyeva 2, Marielle Amant 2, Bernadette N'Goyisa 20, Antonia Bennett 4

---
Like this page / Aimez cette page