2013 Trophée féminin
Coupe de France winners
Saint-Etienne (CASE Basket)

Saint-Etienne (CASE Basket) picked up their first Trophée Féminin Coupe de France by beating Charney (83-68) in the final at Paris Bercy.

Canadian Angela Crealock (in picture below) who was on the losing side in the 2012 cup final (Trophée Féminin Coupe de France) was the hero of the day for Saint-Etienne by draining 5-from-8 shots from behind the arc in leading her side to victory with 17 points and 6 assists.
Malgoizata Babicka was the team's leading scorer with 18 points while Alexandra lvovskaya and Babette Nivet chipped in 15 and 14 points apiece.
Camille Ruiz who had celebrated an LF2 title last season (2011-12) with Perpignan Basket added a French cup medal to her collection while becoming the fifth player in double digits with 11 points.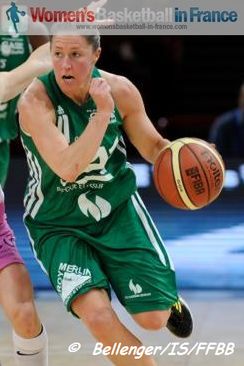 Charnay Basket Bourgogne Sud who are currently battling for promotion to LF2 were led by Margot Lefy with 16 points. Charlotte Decos and Clémentine Elong-Epp both scored 16 points.
The match itself was a close affair for 30 minutes with neither side able to pull away and three-pointers raining in from all sides of the court.
Leading (54-52) going into the final quarter Saint Etienne were able to turn the match finally in their favour with a 13-2 run to open the first significant lead of the match (67-54).
Charnay were on the back foot and switched to zone. But nothing changed as their opponents continued to knock down long-distance shots to maintain their advantage.
Charnay: Clémentine Elong-Eppe 11 (7 rebounds), Liany Telliam 0, Laure Belleville 4 (4 steals), Adriana Cavoska 9, Charlotte Ducos 11 (4 assists), Massarami Meite 1, Emilie Laurent 0, Dasa Rajecka 8, Awa Diallo 8, Margot Lefy 16
Saint-Etienne: Candice Perrier 0, Babette Nivet 14 (5 assists), Alexandra lvovskaya 15 (8 rebounds), Marie-Fatou Gueye 3, Camille Ruiz 11, Angelia Crealock 17 (6 assists), Morgiane Eustache 0, Léonore Duchez 5, Malgoizata Babicka 18, Magali Saunier 0 
---
Like this page / Aimez cette page