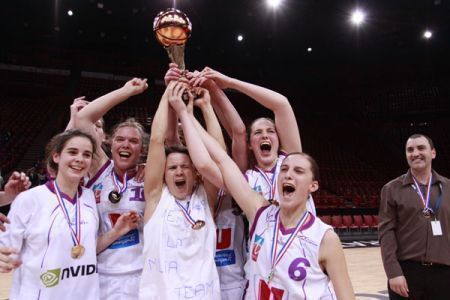 Angers Union Féminine Basket put their name on the Trophée Coupe de France after beating AS Villeurbanne (90-76) in overtime.
Angers Union were quickly into their game and led (11-4) with less than three minutes on the game clock. Angers made up for their lack of height in the paint with fast breaks to stay in front (25-18) by the end of the first quarter.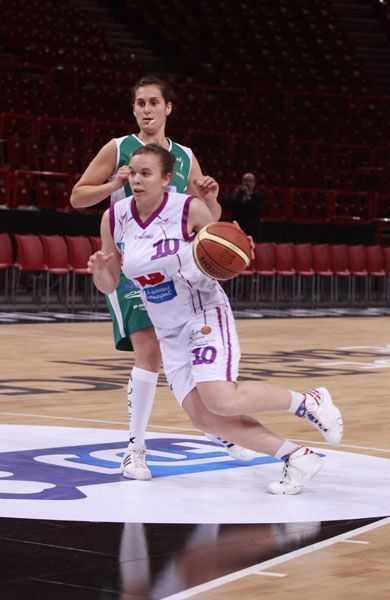 Adriana Cavojska, Alexandra Ilvoskaya and Anne Tchoumba from AS Villeurbanne started to make their presence felt in the paint as they reduced their deficit to 3 points by the interval (35-38).
Angers had no chance under the boards but managed to stay in front (55-52) going into the final quarter thanks to the shooting from Aurélie Besson (left) and Elise Vieira.
AS Villeurbanne opened up a 10-point lead with four minutes left to play in the fourth quarter they appeared to be on their way to victory (67-57).
They then went to sleep for about 90 seconds and were punished by Vieira and Besson. They put 10 of their team's 12 points for Angers to regain the advantage (69-67).
The quality of the basketball picked up and with 30 seconds left to play Cavojska connected with Villeurbanne's first trey of the match (72-71) to put them in striking distance of winning the match.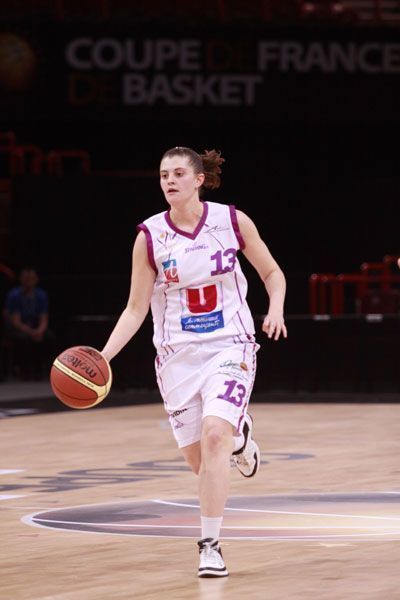 However with the clock running down Agnès Boisiaud managed to draw a foul and split a pair of free throws to take the game into overtime.
Villeurbanne were unable to pick themselves up for the final five minutes leaving the way for David Girandière to savour the victory and winning the 2010 edition of the Trophée Coupe de France Féminine.
Girandière explained after the game that he was proud of his young team's success. His players were having a great season and they could start to think about the NF2 Championships (final four).
He was also thanking the fans that made it to Paris for the final.
For Elise Vieira (above in picture), the victory was due to the team and she dedicated her 24 points to her team mates who made the passes.
Game Statistics
AS Villeurbanne 76-90 Angers (18-25, 35-38, 52-55, 72-72, 4-18).
Officials: Stéphane Hortet and Audrey Ducanos

AS Villeurbanne: 31 from 76 attempts from the field (41 %) with just 1 from 19 from beyond the arc; 13 from 18 free throws (72 %).
57 rebounds: 22 offensive, 35 defensive
16 assists - 32 turnovers - 10 steals - 2 blocks

Charline Morateur 2, Adriana Cavojska 26, Maryne Reolid DNP, Aurélia Bonnet-Gros 9, Solène Vintejoux 2, Agnès Mendy 5, Alexandra Ilvoskaya 10, Corina Okamba N'Dinga 0, Kerstin Falk 0, Anne Tchoumba 22 (11 rebounds).
Angers: 32 from 81 attempts from the field (40 %) with 6 from 31 from beyond the arc; 20 from 25 free-throws (80 %)

39 rebounds: 14 offensive, 25 defensive

19 assists - 15 turnovers - 16 steals - 2 blocks

Mélodie de Sousa 0, Agnès Boisiaud 10, Amandine Chemineau 8, Emilie Nassau 3, Aurélie Besson 18, Zoulfaou Vitta 7, Carine Brossais 10, Elise Vieira 24, Sophie Le Marrec 10, Radana Pechakova 0.
---
Go to 2010 French Cup introduction page
Go to Coupe de France index page
Go to Women Playing Basketball In France Home Page
GO Back to the top of the page
---
Coupe de France picture credits:
Bellenger/IS/FFBB

Date created: 15 May 2010
---