Where to watch EuroLeague Women Basketball
When FIBA Europe announced the EuroLeague Women basketball matches
were to be broadcast by Eurosport in 2009
it was considered a break-through for the competition.
The deal also included full rights for the final four.
The television deal was extended in 2010 with Eurosport and the FIBATV platform for live streaming was established.
This service offered viewers all round the world a chance to watch at least one game per week live via a subscription.
Although neither service was free, other TV channels and network providers picked up the signals and broadcasted games.
Unfortunately the broadcasting deal was not perfect because of local media rights which blocked the service from certain countries.
This season the deal with Eurosport for streaming EuroLeague Women games is over and FIBA Europe has changed its policy.
The policy is as follows:
1. First-party rights (the rights to broadcast in the club's home country) of home games belong to the home club. All other rights, including Second-party rights and Internet rights may be exploited by FIBA Europe.
2. If a club produces a game for TV, they are obliged to provide a satellite uplink for FIBA Europe TV.
3. If an uplink is made available then the information about satellite parameters must be communicated to FIBA Europe.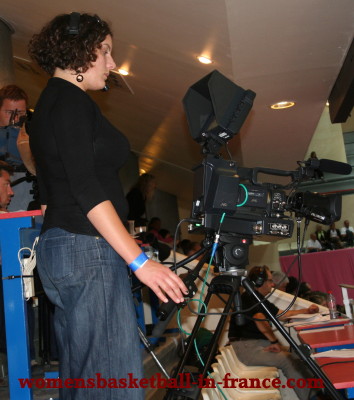 What all this really means is that the clubs are responsible for making matches available.
Unfortunately in France Bourges Basket, Montpellier and Tarbes have not put anything in place for live streams and SPORT+ who have the television rights have no plans to cover the group games.
Tarbes do provide a web radio link with PICFM in Tarbes so it is possible to listen to French commentary of their games. At Bourges Basket the local newspaper Le Berry runs a live interactive blog.
For the second phase of the group phase you will be able to watch some of the EuroLeague Women matches from around Europe live here at womensbasketball-in-france.com.
Just visit our
our EuroLeague Women home page
on match day. If a second match is playing at the same time with a live stream then we will broadcast it from our
WEB TV page
.
If more than two matches are streaming live at the same time then our what's new page will also be used for broadcasts.
Some of the online betting services as well as online web services such as justin.tv sometime broadcast games.
FIBATV have recently made the game of the week available for free viewing on demand on their own TV platform.
Polish club sides Lotos Gdynia and CCC Polkowice have a deal with TVP Sport that enable them to provide streams even when they are playing away.
UMMC Ekaterinburg also provide links to all their matches via different channels in Russia so we are not able to provide the information for a regular channel.
Our colleagues from Spain lokosxelbaloncesto.com have a YouTube channel with archived games from matches played in Spain. You can find their channel by placing the following link into your browser youtube.com/user/lokosxelbaloncesto.
We have provided a list of TV partners and regular web stream channels for each club below:
Group A:
Ros Casares: TV partner NOU DOS
Galatasaray MP: TV and live stream provided by Galatasaray TV (GS-TV)
UMMC Ekaterinburg: TV partner NTV+ BASKET
ZVVK USK Prague: TV partner CT4, live stream provided by basketbal.tvcom.cz
Bourges Basket: No coverage
Lotos Gdynia: TV partner TVP Sport, live stream provided by sport.tvp.pl
VICI Aistes: TV partner Sport + Lithuania
Seat Unisze Györ: TV partner DIGI SPORT +
Group B:
Fenerbahçe SK: TV Partner FB TV, live stream provided by fbtvonline.com
Perfumerías Avenida: TV partner TVCYL
Beretta-Famila: No coverage
Nadezhda Orenburg: Live stream provided by yatv.ru/nadezhda-tv
UNIQA-EuroLeasing: TV partner DIGI SPORT
CCC Polkowice: TV partner TVP Sport, live stream provided by sport.tvp.pl
Tarbes: Web Radio PICFM

Group C:
Sparta&K Moscow Region: Live stream provided by yatv.ru/spartakvidnoje
Rivas Ecópolis: TV partner La Otra (Telemadrid), live stream provided by telemadrid.es.
Wisla Can-Pack: No coverage
Lattes Montpellier: No coverage
Good Angels Kosice: TV partner STV2, live stream provided by stv.sk and live.huste.tv
Cras Basket Taranto: No coverage
Gospic Croatia: TV partner HRT2, live stream provided by zkkgospic.hr
Frisco Brno: No coverage

---
Look back at what happened in round 6
Visit our 2011-12 Ligue Féminine de Basketball page
Visit our EuroLeague Women index page
Visit WBBIF blog for latest news
Return to the top of EuroLeague Women news page
Picture credits:
womensbasketball-in-france.com
Date created: 30 November 2011

---