EuroLeague Women
Robert, playing with a smile
The player having the most fun in the EuroLeague Women this season has to be Géraldine Robert from Lotus Gdynia. She was everywhere as her team Lotus Gdynia beat VICI Aistes (97-80).
In the three other matches, only Beretta-Famila were able to win at home. Sparta&K Moscow Region went on a three-point shooting festival during the final quarter to win their game while ZVVZ USK Prague were saved by a Portuguese and WNBA legend.
After an exciting first day of the sixth round action with a lot of electricity in the air as teams battle for ranking points, the final matches did not have the same intensity.
However after six rounds of games Tarbes from France are without a single victory. They need to start winning soon if they want to stay in the competition. In the other groups the battle of fifth place is still wide open.
Ros Casares 60-52 UMMC Ekaterinburg
Bourges Basket 65-66 Galatasaray MP
Lotos Gdynia 97-80 VICI Aistes
Seat Unisze Györ 71-75 ZVVZ USK Prague

CCC Polkowice 78-52 Tarbes GB
Fenerbahçe SK 84-72 Nadezhda Orenburg
Beretta-Famila 59-50 UNIQA-Euroleasing Sopron

Wisla Can-Pack 50-65 Rivas Ecópolis
Frisco Brno 61-80 Gospic Croatia
Lattes Montpellier 83-65 Good Angels Kosice
Cras Basket 70-90 Sparta&K Moscow Region

Géraldine Robert and Lotos Gdynia are fighting
in their EuroLeague Women campaign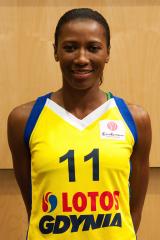 Géraldine Robert was all over the place and even when she was on the bench she could not keep still. Her energy around the boards was infective as her team-mates from Lotos Gdynia followed her example as they held on to beat VIC1 VICI Aistes (97-80) in an up-and-down game.
Robert finished with 21 points, 8 rebounds, 4 assists and 2 steals. The game can be viewed on Sport.tvp.pl in Poland. This victory put them on level points with Bourges and back into the battle for the play-offs.
In the final game from EuroLeague Women Group A, Seat Unisze Györ fell at home in the closing stages to ZVVZ USK Prague (71-75).
Ticha Penicheiro used all her experience in helping her side to victory with 9 assists but more importantly her calmness from the free-throw line during the last 15 seconds in which she went 4-of-4.
In ELW Group C, Sparta&K Moscow Region left it until the final quarter to launch the fireworks against their hosts Cras Basket.
Leading (67-62) going into the final quarter, Sparta&K Moscow went on a three-point shooting festival (6-of-6) as they delivered the knock-out blow in a 23-8 final-quarter run to win (90-70). Seimone Augustus was the leading scorer for the winning team with 22 points while Elodie Godin had 19 points in a losing effort by the hosts.
In a low scoring physical encounter Laura Macchi from Beretta-Famila held off UNIQA-EuroLeasing Sopron (59-50). Macchi had a game high 16 points while Cheryl Ford compiled a double-double of 10 points and 13 rebounds before fouling out.
---
Look back at what happened in round 5
Visit our 2011-12 Ligue Féminine de Basketball page
Visit our EuroLeague Women index page
Visit WBBIF Blog for latest news
Return to the top of EuroLeague Women news page
Picture credits:


Lotos Gdynia

Date created: 17 November 2011

---