EuroLeague Women
Round 5 summary
The defending EuroLeague Women champions remain perfect this season after overcoming Nadezhda Orenburg in the opening game of the fifth round.
For France apart from Montpellier the ELW round 5 was a disaster as Bourges and Tarbes lost badly at home.
Erika De Souza was on fine form for Perfumerías Avenida . She went 12-of-15 from the field for 24 points. She also collected 10 rebounds in her team's road victory against Nadezhda Orenburg (69-64). There was another FIBA TV blow-out with VICI Aistes having an easy victory against Seat Unisze Györ (71-51).
UMMC Ekaterinburg with 16 points from Sandrine Gruda notched up their fourth victory in Group A by beating hosts ZVVZ USK Prague (74-59).
Wisla Can-Pack got back to winning ways after their defeat in round 4 with a home victory against Cras Basket (64-58).
Results from round 5:
ZVVZ USK Prague 59-74 UMMC Ekaterinburg
VICI Aistes 71-51 Seat Unisze Györ
Galatasaray MP 77-71 Lotos Gdynia
Bourges Basket 50-77 Ros Casares

UNIQA-Euroleasing Sopron 75-58 CCC Polkowice
Nadezhda Orenburg 64-69 Perfumerías Avenida
Tarbes 56-78 Fenerbahçe SK

Wisla Can-Pack 64-58 Cras Basket
Good Angels Kosice 55-67 Sparta&K Moscow Region
Gospic Croatia 82-96 Lattes Montpellier
Rivas Ecópolis 112-70 Frisco Brno

A number of matches this week were streamed by the clubs and should be available on their websites or You Tube soon.
The summaries from the fifth round of games in the 2011-2012 FIBA Europe EuroLeague Women can be read by clicking on the links below or scrolling down the page:
News from Group A
News from Group B
News from Group C

EuroLeague Women Group A
UMMC Ekaterinburg
started slowly in the first quarter. They moved up a gear in the second, then stepped on the accelerator in the third and relaxed in the final quarter to beat the hosts ZVVZ USK Prague (74-59).
Once again the Russians used a balanced scoring offensive with four players in double digits with Sandrine Gruda scoring the most with 15. However for the hosts Anna Montañana was the game top scorer with 24 points of which 10 came in the final quarter.
For the second week in a row, the FIBA TV game turned into a one-team show. VICI Aistes had the game won with a 23-point advantage at (50-19). The remaining 17 minutes were uneventful with the guests playing for pride by making the final scoreline look more respectable.
Aija Putnina who played in France for USO Mondeville and Arras during the last two seasons made an immediate impact on her introduction into the game. The teams were tied (2-2). In just over 60 seconds she hit two treys and a couple of free throws to set VICI Aistes on their way.
In the third EuroLeague group game, Lotos Gdynia once again made their opponents sweat. This time Galatasaray MP had to dig deep to win (77-71) at home. Galatasaray went into the final quarter leading (58-47). Yet with four minutes to playthanks to a three-ball by Jolene Anderson, their advantage had been reduced to 2 points (64-62).
Diana Taurasi seems to enjoy this type of situation and fired in a three-ball whereas Anderson countered with 2 more points. Yet Taurasi was not finished and hit a BIG three (70-64).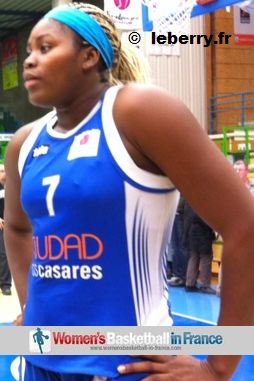 Lotus still had three minutes to upset the hosts with Anderson (21 points) scoring again. But the Epifaniya Prints (Epiphanny Prince) and Taurasi's combination saved the day.
Bourges Basket had the worst start possible (0-10). They were never in the game as they fell at home (50-77) to Ros Casares.
Although Bourges is almost back to full strength with Jennifer Digbeu and Nwal Endéné-Miyem (12 points) they had no answer for Ros Casares.
Shay Murphy scored 17 points while Sancho Lyttle added 16. Ann Wauters and Isabelle Yacoubou-Dehoui (in picture) added 10 each while Lauren Jackson in her first EuroLeague game scored 5 points.
Return to the index of the EuroLeague Women news page
EuroLeague Women Group B
Nadezhda Orenburg streamed their ELW live game live against Perfumerías Avenida on nadezhda-tv. The match has been archived and is available for viewing on demand.
Erika De Souza and Dewanna Bonner were the key offensive figures for Avenida with 24 and 17 points each in a tight match.
However Laura Antoja and Isabel Sanchez took care of the point guard duties while dishing out 6 and 3 assists each while former USVO favourite Allison Feaster-Strong scored all her 8 points during the first half. Avenida's finishing and stronger rebounding enabled them to hang to victory.
The hosts were led by Anastasiya Verameyenka who had a complete statistic line of 16 points, 7 rebounds, 2 assists, 4 blocks and 4 steals while Rebekkah Brunson led the scoring with 25 points.
After the heroics of last week CCC Polkowice was brought down to earth by a very efficient performance by UNIQA-Euroleasing Sopron (58-75).
The teams played cat and mouse for the first 17 minutes with EuroLeasing just holding on to the lead (31-29). 5 straight points by Tijana Krivacevic (16 points) sent the hosts on the way and enabled them to go into the locker room leading (38-33).
CCC failed to recover after the break and just managed 6 points in the third quarter, while the players of Norbert Székely put in 16 points that more or less secured the victory. A brief fight-back at the start of the final quarter saw the advantage drop to 9 points but EuroLeasing had no intention of letting this game go.
EuroLeasing's coach Székely said after the game: "We defeated a good team. It was an important success to reach the play-offs. The last three weeks have shown us that we can learn also from lost games. I'm happy that we were better at rebounds, too."
This EuroLeague game is available on the website of TV Sports in Poland.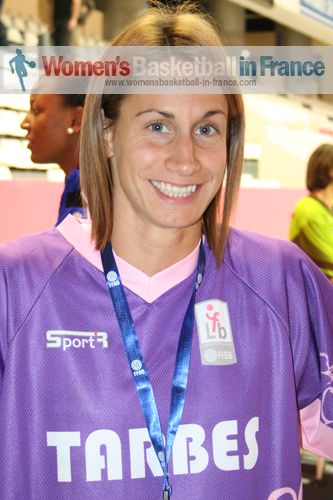 Tarbes' bad habit of slow starts has cost them in terms of points and energy in both domestic and European action this season. They allowed Fenerbahçe SK to build up a 9-point advantage during the first quarter (13-21). Despite making up the deficit and leading briefly during the second quarter they still trailed at the interval (32-34).
While Tarbes had solutions for Penny Taylor (14 points) and Nevriye Yilmaz (11 points), they did not know how to handle Angel McCoughtry (16 points) which turned the match in favour of the team from Turkey during the third quarter as the score went from (36-36) after 22 minutes to (61-46) at 30 minutes.
Tarbes were knocked out and had nothing to offer in the final quarter and ended up losing (56-78).
Paoline Salagnac (in picture) was the leading scorer for Tarbes with 16 points. However with 0 wins in the ELW, qualification for the second phase is already looking far beyond Tarbes for this season.
Return to the index of the EuroLeague Women news page
EuroLeague Women Group C
Lattes-Montpellier survived an avalanche of three-point shooting to overcome Gospic Croatia (96-82).
Gospic, playing at home, raced out to a (13-2) lead with less than three minutes played and finished the first quarter leading (33-17) with 21 points coming from 3-point land.
Montpellier battled away during the second quarter using their advantage inside to score most of their points in bringing down the deficit (48-54).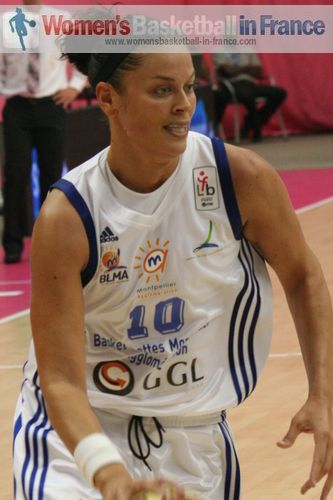 At the beginning of the third quarter Montpellier showed they could also hit three-pointers with Kristen Mann (in picture) and Edwige Lawson-Wade.
Stephany Skrba continued to be the beast under the basket as Montpellier finally drew level (58-58) with 26 minutes played.
A trey by Mann put the French club in front briefly. But the hosts were back on level terms with a three-ball by Jelena Ivezic.
The game went back and fourth with the teams starting the final quarter level (70-70).
Fatimatou Sacko scored the first points of the final quarter and Montpellier stayed in front from that point on till the end of the EuroLeague tie in which defense was not a factor.
Gospic went 15-of-30 from beyond the arc with Kalisha Keane leading the way with 22 points. For Montpellier who had a modest 6-of-14 from behind the arc, Skrba led the way with 24 points while Mann added 21.
In the other group game, Sparta&K Moscow Region had to wait until the second quarter to gain the upper hand against their hosts Good Angels Kosice. Leading (19-16) going into the second quarter they were able to get away for good with back to back score by Seimone Augustus for a (30-22) lead with six minutes left to play in thefirst half.
From then on Sparta&K paced themselves to victory with Augustus top scoring with 19 points. Good Angels' Danielle Mc Cray was theleading scorer with 20 points.
It is not often that every single player that enters the court scores at least 3 points. But it happened as Rivas Ecópolis beat Frisco Brno (112-70) with all 18 players scoring.
In the final game from EuroLeague Women Group B, Wisla Can-Pack overcame Cras Basket (64-58) with an all-round solid performance by Milka Bjelica who scored 16 points and picked up 12 rebounds.
For Cras Basket Kia Vaughn was on her own with 20 points and 17rebounds while French international Elodie Godin contributed 6 points in 10 minutes.
Return to the index of the EuroLeague Women news page
---
Look back at what happened in round 4
Visit our 2011-12 Ligue Féminine de Basketball page
Visit our EuroLeague Women index page
Visit WBBIF Blog for latest news
Return to the top of EuroLeague Women news page
Picture credits:


womensbasketball-in-france

Date created: 9 November 2011
---