EuroLeague Women
Bourges Basket lost their way in Gdynia
Galatasaray MP became the second visiting team to win a EuroLeague Women tie on the road in round 4 after knocking away hosts Uni Seat Györ (106-82). ZVVK USK Prague also won on the road in the surprise of the day.
Bourges Basket completed a miserable week for clubs from France with a road loss against Lotos Gdynia (67-71).
Bourges Basket once again demonstrated that they still have to work in order to progress as a team. Despite leading (55-47) going into the final quarter against Lotus Gdynia they ended up losing the game (67-71).
Bourges Basket's offense was unbalanced. As a result Cathy Joens and Styliani Kaltsidou were forced to shoot a lot from beyond arc, without much success. Kiesha Brown was steady but not spectacular while Marielle Amant and Nwal-Endéné Miyem did not look comfortable.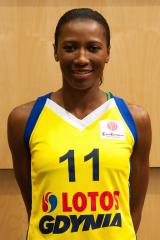 For Amant, she more or less disappeared from the game after Géraldine Robert (right) somehow stripped the ball away from her as she went for what was supposed to be a simple lay-up to conclude a fast break with 17 minutes played.
Valérie Garnier, the coach from Bourges Basket must have thought it was going to be her night. Although her team trailed (18-21) at the end of the first quarter they put an 11-0 run together during the second quarter. A perfect free throwing (13-from-13) enabled them to walk into the locker room leading (40-34).
Her side's advantage increased during the third quarter and everything appeared to be fine with a (55-47) advantage going into the final quarter.
However the main problem for Bourges Basket was Robert who - despite not having a great game - used her energy motivating her team-mates.
Unfortunately for Bourges, Robert came back to her best and turned the last ten minutes into a one-lady demolition act.
She started to score and hit her free throws but her most important act was to draw 2 fouls off Joens who then had to return to the bench.
Without Joens on the court Bourges Basket were less dangerous offensively and much weaker in defense.
Robert continued to be a menace and with her 9th point of the quarter she put her side into the lead (62-61) with four minutes to play.
Robert was not finished. Although not credited with the assist, her kick-out to Ivana Jalcová led to her team's first trey of the game with just over two minutes to play (65-61).
The combination Robert and Jalcová worked well: with 90 seconds to play Roberts got the assist for Jalcová hitting the three-pointer (68-61).
Robert's next action was in defense. However she was called for a foul on Kaltsidou who hit a three-pointer for Bourges. Kaltsidou then made it a 4-point play by hitting the resulting free throw.
Bourges had 120 seconds to make up their 3-point deficit. But two attempts from the land of many by Kaltsidou missed the target.
Robert and Jalcová then combined once again this time for a 2-point play that more or less secured victory.
The remaining 18 seconds were played at the free-throw line with the hosts hanging on for their first EuroLeague victory of the season while Robert was holding back her tears.
TV Sport showed the game live and a webcast is available on the Polish website: sport.tvp.pl
Lotos Gdynia: Ivan Jalcova 15, Géraldine, Robert 14, Justin Żurowska 12, Aneika Henry 12 (9 rebounds), Magdalena Ziętara 9, Jolene Anderson 4, Natalia Plumbi 2, Adrijana Knezevic 2, Ines Ajanovic 1, Magdalena Kaczmarska 0
Bourges Basket: Cathy Joens 17, Kiesha Brown 14, Styliani Kaltsidou 14, Nwal-Endéné Miyem 8, Marielle Amant 8, Ieva Kublina 6, Marjorie Carpréaux 0, Margaux Galliou-Loko 0
The rest of the EuroLeague Women news
Diana Taurasi scored 24 while Alba Torrens added 21 points more as Galatasaray MP stayed perfect in Euroleague Women Group A with a (106-82) victory on the road against Uni Seat Györ.
A 9-0 run at the end of the first quarter put the Turkish club in control as they edged the first quarter (24-14).
The rest of the game turned into a shoot-out with the visitors never in trouble.
ZVVZ USK Prague pulled off the surprise of the EuroLeague evening by winning in Valencia (67-59) against Ros Casares.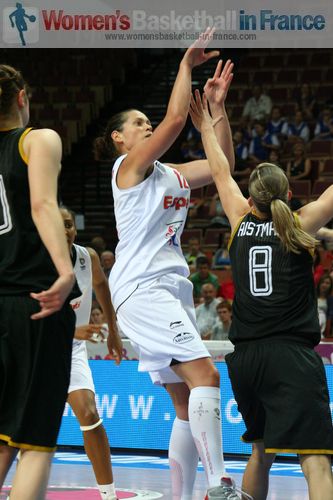 Spanish international Anna Montañana (in picture) now playing for ZVVZ USK scored 15 points and collected 9 rebounds against a club she played for in the past. Eva Vitecková was the match winner for the visitors with 20 points. Delisha Milton-Jones who had also played for Ros Casares finished with 12 points.
Sancho Lyttle scored 19 points while Ann Wauters had 18 points for the home side.
This result leaves Galatasaray MP as the only unbeaten team in Group A.
In the final game of the evening Good Angels Kosice led from start to finish in beating Cras Basket Taranto (61-56) with 22 points coming from Danielle McCray.
All the results from round 4
UMMC Ekaterinburg 85-49 VICI Aistes
Lotos Gdynia 71-67 Bourges Basket
Seat Unisze Györ 82-106 Galatasaray MP
Ros Casares 59-67 ZVVZ USK Prague

CCC Polkowice 68-65 Beretta-Famila
Perfumerías Avenida 78-70 Tarbes
Fenerbahçe SK 91-60 UNIQA-Euroleasing Sopron

Frisco Brno 70-65 Wisla Can-Pack
Sparta&K Moscow Region 86-68 Gospic Croatia
Lattes Montpellier 68-77 Rivas Ecópolis
Cras Basket 56-61 Good Angels Kosice

---
Lattes Montpellier, only host to lose on first day of round 4
Visit our 2011-12 Ligue Féminine de Basketball page
Visit our EuroLeague Women index page
Visit WBBIF Blog for latest news
Return to the top of EuroLeague Women news page
Picture credits:


womensbasketball-in-france
lotosgdynia.pl
Date created: 4 November 2011
---