EuroLeague Women
Montpellier is puzzled after home defeat
Lattes Montpellier was the only hosting team in the EuroLeague Women to fall on the opening day of round 4 with Rivas Ecópolis from Spain coming away with the victory.
However with four games yet to be played, other hosts may fail also.
In ELW Group B CCC Polkowice won their first ever match in Euroleague while the Russian giants of UMMC Ekaterinburg and Sparta&K Moscow Region blew away their opponents (on live web streams).
Last week Tarbes fell at home and Lattes Montpellier did likewise. All the coaches know that the key to qualification is based on picking up a maximum number of wins at home.
So Montpellier were questioning themselves about the reasons of losing.
In an interesting first quarter against Rivas Ecopolis with neither side able to stay on top for long, Montpellier's captain Gaëlle Skrela had a nightmare quarter while Edwige Lawson-Wade and Ana Lelas found their scoring touch after their zero shooting day from the field in their last outing.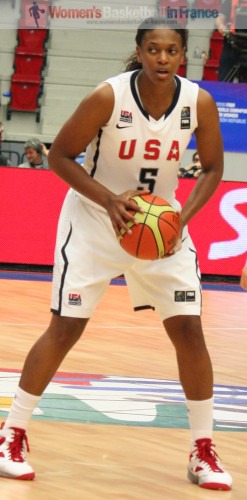 What was worrying for Montpellier in the first quarter was that Asjha Jones (right in picture) had not started scoring. Instead it was Essence Carson (10 points) Elisa Aguilar (16 points) and Ana Cruz (15 points) doing most of the damage.
With the very last action of the first quarter Vega Gimeno was left alone in the corner. Aguilar passed her the ball and she hit a trey for the guests to lead (22-20).
The second quarter remained tight for seven minutes. But Jones was beginning to throw her weight about and Montpellier were getting out-rebounded despite the teams being level (31-31).
Rivas Ecópolis went to work inside the paint with Jones (21 points and 11 rebounds) and Laura Nicolls (11 points). By half time the Spanish side led (43-33).
The third quarter was just up and down basketball which favoured the guests. However at the end of the quarter they forgot to guard Skrela who then finished the quarter with a three-ball (53-60).
Montpellier came close with Kristen Mann scoring (60-62) but failed to make up those 2 points.
Once Jones and Nicholls regained the advantage under the basket, Montpellier folded and suffered their second defeat in the their EuroLeague Women campaign (68-77).
Mann led the hosts with 17 points while Lawson-Wade scored 14 points and collected 8 assists. Stephany Skrba also scored 14 points while Lelas finished with 12 points.
In the other game from Group C, Frisco Sika Brno stunned Wisla Can-Pack (70-65) with Alena Hanusová and Farhiya Abdi doing most of the damage. The two youngsters combined for 33 points, 17 rebounds and 6 steals.
Wisla had 22 points from Erin Phillips and 16 rebounds by Milka Bjelic.
Despite the defeat Wisla remain top of Group C while Montpellier share second place with four teams.
---
Visit our 2011-12 Ligue Féminine de Basketball page
Visit our EuroLeague Women index page
Visit WBBIF Blog for latest news
Return to the top of EuroLeague Women news page
Picture credits:


womensbasketball-in-france

Date created: 3 November 2011
---