Ligue Féminine de Basketball
Remember to concentrate for 40 minutes
With just eight clubs qualifying for the Ligue Féminine de Basketball post season play-offs, nobody wants to be left out.
This was displayed this weekend with Aix-en-Provence, Saint Amand Hainaut Basket and Villeneuve d'Ascq saving themselves from possible defeats with fourth-quarter heroics.
The box scores , and the French summary can be found at the bottom of the page.
Vous trouvez en bas du page un sommaire en français sur la 6ème journée en ligue féminine de basketball.
Lattes Montpellier maintained their unbeaten record in the Ligue Féminine by beating Basket Landes (59-53).
For Montpellier Edwige Lawson-Wade went 0-from-11 from the field. She was joined on a zero shooting day by Croatian international Ana Lelas who was 0-from-8.
In fact Montpellier managed to hit the target just 19 times (30%) from the field. However they won this ligue game with solid defending and steady free throwing, 16-from-19.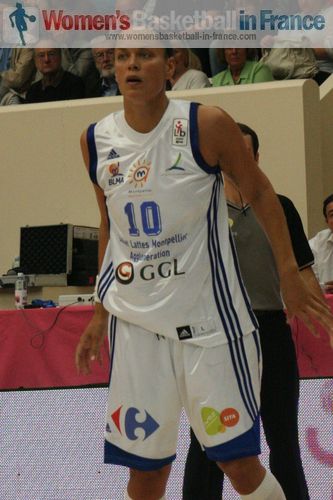 On the other hand Basket Landes took less shots but were more accurate. Yet they struggled to break the zone which resulted in a high number of turnovers. In addition they were forced to shoot from distance and hit just 1-from-17 from behind the arc.
Jennifer Humphrey, once inside the paint, was hard to stop hitting 6 of her 7 shots while leading the scoring for the guests from Landes with 14 points and 17 rebounds. Bineta Diouf-Diongue chipped in 13 points while Marion Laborde had 10 points.
The match winner for Montpellier was Kristen Mann (in picture) who hit a game high 23 points while Stephany Skrba was the only other player in double digits with 11 points.
---
Challes-les-Eaux are the only team currently in the top half of the Ligue Féminine standings that are not involved in any FIBA Europe transnational competition this season.
Charleville-Mézières were the visitors and had former Challes-les-Eaux player Magali Lacroix back in the line-up after missing last weekend's game due to injury.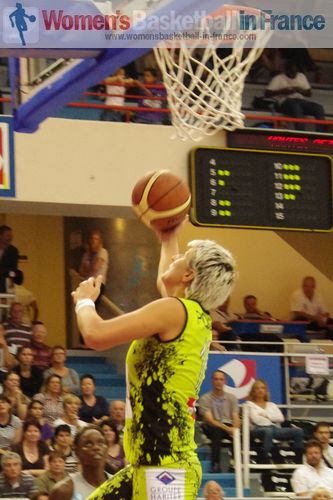 Once again the suspense did not last long. When the two teams were even for the first five minutes (8-8) Challes-les-Eaux pulled away for good by the end of the first quarter (15-10).
Charleville-Mézière's dismal shooting allowed Challes-les-Eaux to head to the locker room with a comfortable lead (32-19).
It was plain sailing for the hosts the rest of the way so that Aldo Corno allowed his youth players a chance to play a few minutes as they won their sixth straight game in the Ligue Féminine de Basketball (LFB) (60-40).
German international Romy Bär led the way with 17 points while Emijla Podrug (in picture) scored 12 points and pulled down 12 rebounds. Amel Bouderra was the only player in double digits for the guests with 12 points.
---
There is no crisis at Bourges Basket. Belgium international Marjorie Carpréaux is back in the Ligue Féminine de Basketball on a month's contract, covering for the absence of Céline Dumerc. She played 10 minutes, scored 2 points and had 1 assist as Bourges Basket beat Tarbes (74-65).
Bourges never trailed in this LFB match and went in front for good with just over 6 1/2 minutes played and then paced themselves to victory.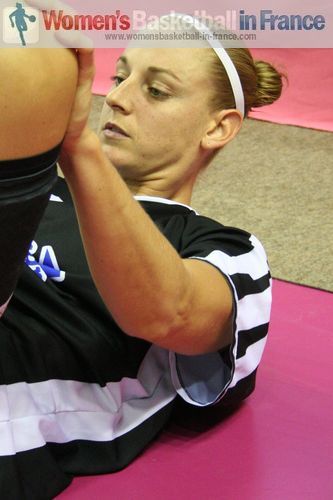 Cathy Joens (right) scored 25 points for Bourges. She connected with 5-from-6 attempts from the land of many. Joens single-handedly knocked Tarbes out in the final quarter with 11 of her team's 20 points. Her final-quarter tally included 2 big three-pointers.
Marielle Amant had by far her best game in a Bourges jersey with 12 points, 10 rebounds, 1 block and 3 steals. Kiesha Brown also finished with a double-digit score of 12 points while giving out 6 assists.
Although Tarbes have five former players from Bourges Basket in their Ligue Féminine championship roster, yet failed in taking advantage of their inside knowledge. They also never got into a rhythm, allowing their guests to dominate them in all sectors of the game.
Ana Cata-Chitiga was the team's top scorer with 15 points. Florence Lepron and Paoline Salagnac had 12 points each while Pauline Krawczyk added 10.
---
Cavigal Nice still looking for first win
in the Ligue Féminine de Basketball this season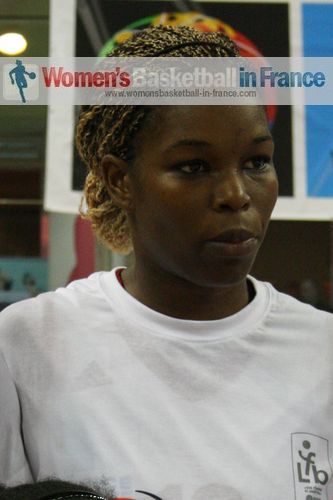 Cavigal Nice needing a win to get their season started matched their hosts Villeneuve d'Ascq in the first quarter (17-17) but fell behind (24-29) with 13 minutes played.
Fabienne Constant (left) then sparked Cavigal Nice into action with a run of 11 unanswered points to take command of the game (36-29) with four minutes remaining in the first half.
Villeneuve practically fell apart and found themselves trailing (33-44) at half time. Kathy Wambe's absence was felt by Villeneuve as they fell further behind going into the final quarter (52-65).
During the last quarter Villeneuve went on the rampage. First Anne Breitreiner hit 3 shots from beyond the arc. When she was finished Catherine Kraayeveld showed her shooting skills from beyond the arc.
However with a minute to play Emilie Gomis put her side in front with the fifth three-pointer of the quarter (79-77).
Breitreiner thought she had made the game safe for the hosts with 2 more points for a 4-point lead with 30 seconds left to play.
However a BIG three by Stéphanie Dubois kept the suspense going to the wire. Aminata Konate had the chance to put Cavigal Nice back in front but somehow missed the unmissable and then had to foul Olayinka Sanni to stop the clock.
There was less than a second to play but with Sanni hitting both free throws, Cavigal Nice's hopes of a first win in the Ligue Féminine had gone. Gomis had 22 points and 4 assists while Sanni put in 20 points. Constant had a game-high 23 points in defeat.
---
USO Mondeville had all the cards in their hand to win the match against Saint Amand. Yet they blew the advantage in the final quarter.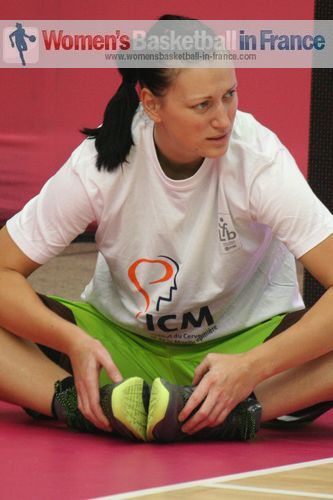 Mondeville led (53-50) with eight minutes to play and looked comfortable. But everything went wrong after Amanda Houts connected with a 24-second violation buzzer beater from the land of many (53-53).
Mondeville started to miss and became careless and then fell behind when Petra Stampalija (right) connected with a mid-distance jumper.
Mondeville did level the score briefly (57-57) from the free-throw line with four minutes to play.
Saint Amand set the victory with a fast break transition concluded by a three-pointer by Marina Solopova with three minutes to play.
The teams played up and down basketball for the remaining time with scoring coming mainly from the free-throw line. Stampalija's 18th point of the game with 47 seconds to play turned out to be the match winning score.
Mondeville had the chance to send the game into overtime but K. B. Sharp failed to control her speed before letting the ball fly and missed the target.
With this victory Saint Amand, having lost at home last week to Lyon, move out of the Ligue Féminine de Basketball relegation zone.
---
Some things never seem to change in the Ligue Féminine with Leslie Ardon from Lyon fouling out and Cindy Lima from Aix-en-Provence in foul problems.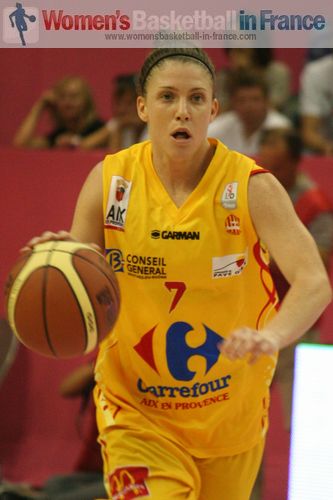 Lyon were leading (55-52) when Ardon fouled out of the game with just over six minutes to play. Things went from bad to worse for Lyon as they picked up a technical. They also lost Julie Legoupil for her 5th foul with just under two minutes to play while trailing by 2 points.
In the end Aix-en-Provence who trailed by 7 points coming into the final quarter ended up winning by 11 points (75-64).
Nathalie Hurst (in picture) led the scoring for Aix-en-Provence with 24 points while Sylvia Gruszynski followed up with 18 points and 5 assist.
It is not often that goal tendering gets called in women's basketball and very rare in the Ligue Féminine de Basketball. Lima who had a miserable day with 4 fouls in eight minutes was penalised for goal tendering in the third quarter. She was taken out of the game and never returned.
Return to the top of Ligue Féminine de Basketball page
Nice Cavigal échoue encore une fois en Ligue Féminine de Basketball
La seule formation sans victoire après 6 journées en championnat est Nice Cavigal.
Pourtant les filles de Olga Tarasenko pourraient croire en une victoire jusqu'au dernier quart sous l'impulsion de Fabienne Constant (23 pts). Elles ont un avantage (65-52) quand Villeneuve d'Ascq enfin revient avec en total, dans le dernier quart, 5 trois-points par Anne Breitreiner, Catherine Kraayeveld et Emilie Gomis (22 pts) pour gagner le match (83-80).
De l'autre côté du tableau Lattes-Montpellier reste en pole position dans la ligue avec une victoire (59-53) contre Basket Landes. Malgré une faible adresse, Montpellier domine le match avec une bonne défense et un presque sans faute aux lancers-francs.
Par contre Challes-les-Eaux, aussi invaincu en championnat, gagne leur rencontre contre Charleville-Mézières avec beaucoup plus de facilité.
Charleville, maladroite aux shoots, est limité qu'à 40 points contre leurs adversaires qui s'imposent très vite dans ce match en le remportant (60-40).
Romy Bär était la meilleure marqueuse avec 21 points pour Charleville contre Amel Bouderra des Flammes avec 12 points.
Et enfin Bourges Basket montre sa forme dans la ligue en s'imposant (74-65) face à Tarbes Gesperre en contrôlant le match dès le début avec une Cathy Joens adroite aux tirs extérieurs (25 pts).
Ana-Cata Chitiga n'a pas pu tourner ce match au faveur de TGB et s'incline avec toutefois 15 points.
Saint Amand Hainaut Basket empoche finalement sa deuxième victoire en ligue féminine après avoir été battu par Lyon BF la semaine dernière.
Mais le match reste serré contre Mondeville qui perd ses moyens en ratant des paniers faciles dans le quatrième quart en s'inclinant (60-62).
Le sang-froid de Petra Stampalija (18pts, 8rbds) dans le money-time est la clef de la victoire pour la formation de Corinne Benintendi.
Les Lyonnaises ont tout en main pour gagner le premier match de ligue féminine de basket à domicile contre Aix-en-Provence en dominant les trois premiers quarts et un écart de 7 points (51-44).
Mais les Provençales ne se laissent pas àbattre et foncent le clou en provoquant des fautes pour affaiblir leurs adversaires. Avec 5 fautes Leslie Ardon, Julie Legoupil et en fin de rencontre Audrey Sauret rejoignent le banc.
Pour empirer, même Pierre Bressant ajoute une faute technique à son équipe pour enfin s'incliner (64-75).
Return to the top of Ligue Féminine de Basketball page
Ligue Féminine box scores
Click on the Ligue Féminine de Basketball statistics for the game: Nantes-Rezé 88-82 Arras
The abbreviations used in the basketball news statistical tables are as follows:
MIN: Minutes played, PTS: Points, FG: Field Goals, 3PTS: 3-point Field Goals, FT: Free Throws, OR: Offensive Rebounds, DR: Defensive Rebounds, TR: Total Rebounds, STL: Steals, TO: Turnovers, AST: Assists, BS Blocks, PF: Personal fouls, FO: Fouled ON, ER: E Efficiency rating
Lattes Montpellier 59-53 Basket Landes
| Teams | QT1 | QT2 | QT3 | QT4 |
| --- | --- | --- | --- | --- |
| Lattes Montpellier | 16 (16) | 13 (29) | 16 (45) | 14 (59) |
| Basket Landes | 13 (13) | 15 (28) | 12 (40) | 13 (53) |
Montpellier
MIN

PTS
FG
%
3PTS
%
FT

%
OR
DR
TR
STL
TO

AST
BS
PF
FO
EV

5. Virginie Bremont
21:07
7
2/5
40
0/1
0
3/5
60
3
6
9
1
2
2
0
0
4
12
6. Mathilde Roche
01:42
0
0/0
0
0/0
0
0/0
0
2
1
3
0
0
0
0
0
0
3
8. Edwige Lawson-Wade *
34:04
4
0/11
0
0/5
0
4/4
100
0
1
1
2
2
4
1
2
2
-1
10. Kristen Mann *
33:39
23
8/16
50
4/5
80
3/4
75
0
3
3
1
1
0
0
0
3
17
11. Ana Lelas *
26:29
2
0/8
0
0/3
0
2/2
100
0
1
1
2
0
3
1
3
3
1
12. Gaëlle Skrela *
28:08
3
1/4
25
1/2
50
0/0
0
0
1
1
1
0
3
0
3
1
5
13. Sandra Dijon-Gérardin *
11:15
2
1/3
33.3
0/0
0
0/0
0
0
1
1
0
0
0
0
1
0
1
14. Stephany Skrba
28:34
11
4/7
57.1
0/0
0
3/3
100
5
3
8
3
1
0
1
2
5
19
15. Fatimatou Sacko
15:02
7
3/9
33.3
0/1
0
1/1
100
3
3
6
0
2
1
0
4
2
6
4. Léa Blatrie
Did Not Play - Ligue Féminine
9. Justine Barthelemy
Did Not Play - Ligue Féminine
Total
200
59
19/63
30.2
5/17
29.4
16/19
84.2
13
20
33
10
8
13
3
15
20
63
Basket Landes
MIN

PTS
FG
%
3PTS
%
FT

%
OR
DR
TR
STL
TO

AST
BS
PF
FO
EV

4. Alexia Lacaule
01:57
0
0/1
0
0/1
0
0/0
0
0
0
0
0
0
0
0
0
1
-1
5. Camille Aubert *
38:03
2
1/7
14.3
0/2
0
0/0
0
0
4
4
0
7
4
0
4
2
-3
7. Bineta Diouf-Diongue *
26:21
13
6/10
60
1/2
50
0/0
0
1
3
4
0
0
3
0
2
1
16
9. Julie Barennes
28:43
8
3/9
33.3
0/3
0
2/3
66.7
0
1
1
0
5
3
2
4
3
2
10. Amélie Pochet *
26:35
6
2/9
22.2
0/3
0
2/2
100
3
2
5
1
0
1
0
3
2
6
11. Julia Borde
01:07
0
0/1
0
0/1
0
0/0
0
0
0
0
0
0
0
0
0
0
-1
12. Marion Laborde *
37:14
10
4/10
40
0/4
0
2/2
100
0
5
5
1
0
1
0
3
2
11
14. Sarah Ousfar
00:11
0
0/0
0
0/0
0
0/0
0
0
0
0
0
0
0
0
0
0
0
15. Jennifer Humphrey *
39:49
14
6/7
85.7
0/0
0
2/2
100
5
12
17
3
4
3
1
4
4
33
6. Katarina Manic
Did Not Play - Ligue Féminine
Total
200
53
22/54
40.7
1/16
6.3
8/9
88.9
9
27
36
5
16
15
3
20
15
63
Challes-les-Eaux 60-40 Charleville-Mézières
| Teams | QT1 | QT2 | QT3 | QT4 |
| --- | --- | --- | --- | --- |
| Challes-les-Eaux | 15 (15) | 17 (32) | 12 (44) | 16 (60) |
| Charleville-Mézières | 10 (10) | 9 (19) | 10 (29) | 11 (40) |
| Challes-les-Eaux | MIN | PTS | FG | % | 3PTS | % | FT | % | OR | DR | TR | STL | TO | AST | BS | PF | FO | EV |
| --- | --- | --- | --- | --- | --- | --- | --- | --- | --- | --- | --- | --- | --- | --- | --- | --- | --- | --- |
| 4. Anaël Lardy * | 19:05 | 4 | 2/7 | 28.6 | 0/0 | 0 | 0/0 | 0 | 0 | 1 | 1 | 0 | 2 | 1 | 0 | 1 | 0 | -1 |
| 5. Romy Bar * | 36:25 | 17 | 7/12 | 58.3 | 3/4 | 75 | 0/0 | 0 | 0 | 4 | 4 | 0 | 3 | 1 | 0 | 3 | 2 | 14 |
| 6. Alexia Plagnard | 22:45 | 2 | 1/6 | 16.7 | 0/1 | 0 | 0/0 | 0 | 0 | 1 | 1 | 3 | 2 | 2 | 0 | 3 | 1 | 1 |
| 7. Margot Joret | 02:33 | 0 | 0/0 | 0 | 0/0 | 0 | 0/0 | 0 | 0 | 0 | 0 | 0 | 1 | 0 | 0 | 1 | 0 | -1 |
| 8. Mistie Mims * | 36:13 | 12 | 4/10 | 40 | 0/0 | 0 | 4/5 | 80 | 2 | 6 | 8 | 4 | 7 | 3 | 1 | 3 | 4 | 14 |
| 9. Mélanie Plust | 29:40 | 6 | 2/7 | 28.6 | 1/4 | 25 | 1/2 | 50 | 0 | 2 | 2 | 1 | 0 | 2 | 0 | 1 | 1 | 5 |
| 10. Sara Chevaugeon | 03:17 | 0 | 0/1 | 0 | 0/1 | 0 | 0/0 | 0 | 0 | 0 | 0 | 0 | 1 | 0 | 0 | 0 | 0 | -2 |
| 13. Manon Morel | 03:35 | 2 | 1/2 | 50 | 0/0 | 0 | 0/0 | 0 | 1 | 0 | 1 | 0 | 0 | 0 | 0 | 2 | 0 | 2 |
| 14. Danielle Page * | 16:55 | 5 | 2/5 | 40 | 0/2 | 0 | 1/1 | 100 | 1 | 5 | 6 | 0 | 0 | 0 | 2 | 2 | 2 | 10 |
| 15. Emilija Podrug * | 29:32 | 12 | 3/7 | 42.9 | 0/0 | 0 | 6/6 | 100 | 2 | 10 | 12 | 3 | 1 | 1 | 1 | 2 | 6 | 24 |
| Total | 200 | 60 | 22/57 | 38.6 | 4/12 | 33.3 | 12/14 | 85.7 | 6 | 29 | 35 | 11 | 17 | 10 | 4 | 18 | 16 | 66 |
Charleville-Mézières
MIN

PTS
FG
%
3PTS
%
FT

%
OR
DR
TR
STL
TO

AST
BS
PF
FO
EV

4. Amel Bouderra *
36:14
12
5/9
55.6
0/1
0
2/2
100
1
6
7
2
6
3
0
2
2
14
5. Anne-Sophie Pagnier
24:07
2
1/3
33.3
0/2
0
0/0
0
0
0
0
1
0
0
0
2
0
1
6. Zoi Dimitrakou *
24:15
2
1/11
9.1
0/1
0
0/0
0
1
2
3
0
2
0
1
1
2
-6
9. Ekaterina Dimitrova *
28:26
5
2/6
33.3
0/0
0
1/2
50
0
3
3
1
2
1
0
2
3
3
10. Magali Lacroix
15:54
0
0/4
0
0/0
0
0/2
0
0
2
2
0
0
0
0
2
1
-4
11. Djéné Diawara *
23:50
6
2/5
40
0/0
0
2/5
40
0
6
6
0
3
1
1
4
5
5
12. Yacine Séné *
24:00
7
3/6
50
1/3
33.3
0/0
0
0
0
0
0
3
0
0
0
0
1
15. Valeriya Berezhynska
23:14
6
1/6
16.7
0/1
0
4/4
100
2
8
10
1
3
1
0
3
5
10
8. Coralie Desprez
Did Not Play - Ligue Féminine
Total
200
40
15/50
30
1/8
12.5
9/15
60
4
27
31
5
19
6
2
16
18
24
Tarbes 65-74 Bourges Basket
| Teams | QT1 | QT2 | QT3 | QT4 |
| --- | --- | --- | --- | --- |
| Tarbes | 16 (16) | 16 (32) | 14 (46) | 19 (65) |
| Bourges | 20 (20) | 16 (36) | 18 (54) | 20 (74) |
Tarbes
MIN

PTS
FG
%
3PTS
%
FT

%
OR
DR
TR
STL
TO

AST
BS
PF
FO
EV

5. Paoline Salagnac *
34:30
12
5/9
55.6
2/3
66.7
0/0
0
0
1
1
1
2
3
0
4
0
11
6. Lauren Neaves
23:41
5
2/4
50
0/0
0
1/2
50
0
3
3
2
0
0
1
1
1
8
7. Maja Miljkovic
14:17
5
2/5
40
1/2
50
0/0
0
0
2
2
2
2
1
0
1
1
5
8. Pauline Krawczyk
24:26
10
4/7
57.1
2/4
50
0/0
0
0
5
5
2
0
0
0
1
2
14
10. Naura El Gargati *
25:46
4
1/3
33.3
0/0
0
2/2
100
3
3
6
0
1
0
0
3
3
7
11. Florence Lepron *
31:13
12
4/9
44.4
0/0
0
4/5
80
0
1
1
1
3
3
0
2
4
8
12. Ljubica Drljaca *
07:13
0
0/3
0
0/0
0
0/0
0
0
1
1
0
0
0
0
0
1
-2
13. Ana Cata-Chitiga *
24:03
15
6/9
66.7
1/1
100
2/3
66.7
0
2
2
0
3
0
0
3
3
10
14. Charlotte Preiss
03:09
0
0/1
0
0/0
0
0/0
0
0
0
0
1
0
0
0
0
1
0
15. Daria Mieloszynska
11:42
2
1/5
20
0/3
0
0/0
0
1
0
1
1
2
0
0
1
0
-2
4. Elodie Guillenteguy
Did Not Play - Ligue Féminine
9. Isis Arrondo
Did Not Play - Ligue Féminine
Total
200
65
25/55
45.5
6/13
46.2
9/12
75
4
18
22
10
13
7
1
16
16
59
| Bourges | MIN | PTS | FG | % | 3PTS | % | FT | % | OR | DR | TR | STL | TO | AST | BS | PF | FO | EV |
| --- | --- | --- | --- | --- | --- | --- | --- | --- | --- | --- | --- | --- | --- | --- | --- | --- | --- | --- |
| 5. Margaux Galliou-Loko | 07:49 | 2 | 1/2 | 50 | 0/0 | 0 | 0/0 | 0 | 1 | 0 | 1 | 0 | 0 | 0 | 0 | 1 | 0 | 2 |
| 6. Ieva Kublina | 19:40 | 4 | 2/7 | 28.6 | 0/2 | 0 | 0/0 | 0 | 1 | 2 | 3 | 1 | 0 | 1 | 0 | 4 | 1 | 4 |
| 7. Nwal-Endéné Miyem * | 26:52 | 6 | 2/9 | 22.2 | 0/0 | 0 | 2/2 | 100 | 4 | 2 | 6 | 0 | 1 | 1 | 0 | 3 | 1 | 5 |
| 8. Styliani Kaltsidou * | 32:11 | 9 | 3/7 | 42.9 | 2/3 | 66.7 | 1/1 | 100 | 2 | 4 | 6 | 1 | 3 | 2 | 1 | 2 | 1 | 12 |
| 11. Cathy Joens * | 37:32 | 25 | 9/16 | 56.3 | 4/5 | 80 | 3/4 | 75 | 1 | 5 | 6 | 1 | 3 | 0 | 0 | 1 | 6 | 21 |
| 12. Ieva KublinaMarielle Amant * | 27:39 | 12 | 5/7 | 71.4 | 0/0 | 0 | 2/2 | 100 | 3 | 7 | 10 | 3 | 2 | 0 | 1 | 3 | 4 | 22 |
| 15. Ieva KublinaKiesha Brown * | 32:24 | 12 | 4/11 | 36.4 | 0/2 | 0 | 4/4 | 100 | 0 | 3 | 3 | 3 | 1 | 6 | 0 | 1 | 3 | 16 |
| 22. Christelle Diallo | 05:49 | 2 | 1/1 | 100 | 0/0 | 0 | 0/0 | 0 | 0 | 0 | 0 | 0 | 1 | 1 | 0 | 1 | 0 | 2 |
| 23. Marjorie Carpréaux | 10:04 | 2 | 1/5 | 20 | 0/0 | 0 | 0/0 | 0 | 0 | 0 | 0 | 0 | 2 | 1 | 0 | 0 | 0 | -3 |
| Total | 200 | 74 | 28/65 | 43.1 | 6/12 | 50 | 12/13 | 92.3 | 12 | 23 | 35 | 9 | 13 | 12 | 2 | 16 | 16 | 81 |
Villeneuve d'Ascq 83-80 Cavigal Nice
| Teams | QT1 | QT2 | QT3 | QT4 |
| --- | --- | --- | --- | --- |
| Villeneuve d'Ascq | 17 (17) | 16 (33) | 19 (52) | 31 (83) |
| Nice | 17 (17) | 27 (44) | 21 (65) | 15 (80) |
| Villeneuve d'Ascq | MIN | PTS | FG | % | 3PTS | % | FT | % | OR | DR | TR | STL | TO | AST | BS | PF | FO | EV |
| --- | --- | --- | --- | --- | --- | --- | --- | --- | --- | --- | --- | --- | --- | --- | --- | --- | --- | --- |
| 5. Anne Breitreiner * | 30:49 | 15 | 5/12 | 41.7 | 4/9 | 44.4 | 1/2 | 50 | 0 | 1 | 1 | 0 | 0 | 2 | 1 | 1 | 0 | 11 |
| 6. Victoria Ricart | 00:23 | 0 | 0/0 | 0 | 0/0 | 0 | 0/0 | 0 | 0 | 0 | 0 | 0 | 0 | 0 | 0 | 0 | 0 | 0 |
| 7. Sabrine Bouzenna * | 13:13 | 0 | 0/2 | 0 | 0/1 | 0 | 0/0 | 0 | 1 | 1 | 2 | 1 | 0 | 1 | 0 | 2 | 0 | 2 |
| 8. Alice Nayo | 10:21 | 4 | 2/5 | 40 | 0/1 | 0 | 0/0 | 0 | 0 | 1 | 1 | 0 | 1 | 0 | 0 | 2 | 0 | 1 |
| 9. Laurie Datchy | 19:56 | 4 | 1/5 | 20 | 0/1 | 0 | 2/2 | 100 | 1 | 0 | 1 | 1 | 1 | 3 | 0 | 4 | 1 | 4 |
| 10. Lisa Faurez | 00:23 | 0 | 0/0 | 0 | 0/0 | 0 | 0/0 | 0 | 0 | 0 | 0 | 0 | 0 | 0 | 0 | 0 | 0 | 0 |
| 11. Emilie Gomis * | 39:16 | 22 | 7/21 | 33.3 | 3/7 | 42.9 | 5/6 | 83.3 | 0 | 5 | 5 | 0 | 2 | 4 | 0 | 0 | 7 | 14 |
| 13. Olayinka Sanni * | 34:56 | 20 | 7/11 | 63.6 | 0/0 | 0 | 6/9 | 66.7 | 4 | 3 | 7 | 1 | 4 | 3 | 0 | 4 | 9 | 20 |
| 14. Sabrina Palie | 16:00 | 2 | 1/1 | 100 | 0/0 | 0 | 0/0 | 0 | 0 | 1 | 1 | 0 | 1 | 3 | 0 | 3 | 0 | 5 |
| 15. Cathrine Kraayeveld * | 34:43 | 16 | 6/12 | 50 | 3/6 | 50 | 1/1 | 100 | 2 | 11 | 13 | 0 | 4 | 1 | 1 | 3 | 1 | 21 |
| Total | 200 | 83 | 29/69 | 42 | 10/25 | 40 | 15/20 | 75 | 8 | 23 | 31 | 3 | 13 | 17 | 2 | 19 | 18 | 78 |
Cavigal Nice
MIN

PTS
FG
%
3PTS
%
FT

%
OR
DR
TR
STL
TO

AST
BS
PF
FO
EV

5. Aminata Konate
23:09
5
2/7
28.6
0/2
0
1/2
50
0
3
3
2
0
6
0
4
2
10
6. Merike Anderson *
34:14
13
3/8
37.5
3/5
60
4/5
80
1
2
3
1
3
2
1
3
3
11
7. Barbara Cousin *
17:50
0
0/3
0
0/2
0
0/0
0
1
3
4
0
0
1
0
1
0
2
9. Krysten Boogaard
17:24
10
2/3
66.7
0/0
0
6/8
75
1
1
2
0
2
0
0
2
4
7
10. Stéphanie Dubois *
23:29
11
5/9
55.6
1/2
50
0/2
0
0
5
5
0
1
0
0
0
1
9
11. Elodie Decker
21:18
7
2/3
66.7
1/2
50
2/4
50
0
2
2
2
0
2
0
2
3
10
12. Fabienne Constant *
34:36
23
9/15
60
0/0
0
5/7
71.4
3
4
7
0
3
1
0
2
4
20
13. Guiday Mendy
00:23
0
0/0
0
0/0
0
0/0
0
0
0
0
0
0
0
0
0
0
0
15. Jeanne Senghor-Sy *
27:37
11
5/15
33.3
0/0
0
1/2
50
2
4
6
1
2
1
0
4
1
6
8. Kelsey Bolte
Did Not Play - Ligue Fémininetd>
Total
200
80
28/63
44.4
5/13
38.5
19/30
63.3
8
24
32
6
11
13
1
18
18
75
Saint Amand Hainaut Basket 62-60 USO Mondeville
| Teams | QT1 | QT2 | QT3 | QT4 |
| --- | --- | --- | --- | --- |
| Hainaut Basket | 20 (20) | 13 (33) | 15 (48) | 14 (62) |
| Mondeville | 18 (18) | 17 (35) | 16 (51) | 9 (60) |
Hainaut Basket
MIN

PTS
FG
%
3PTS
%
FT

%
OR
DR
TR
STL
TO

AST
BS
PF
FO
EV

4. Amisha Carter *
36:21
14
6/16
37.5
1/3
33.3
1/2
50
4
4
8
2
1
1
0
3
2
13
6. Carine Paul
04:35
0
0/1
0
0/0
0
0/0
0
0
0
0
1
0
1
0
0
0
1
8. Clémence Beikes *
28:09
4
1/5
20
0/1
0
2/2
100
1
4
5
0
2
7
0
1
1
10
9. Emilie Silbande
08:52
0
0/3
0
0/0
0
0/0
0
0
2
2
1
1
0
0
5
0
-1
10. Ashley Houts *
36:07
14
5/9
55.6
4/6
66.7
0/0
0
0
4
4
3
5
3
0
1
3
15
11. Marie-Frederique Ayissi
23:21
4
2/3
66.7
0/0
0
0/0
0
1
4
5
1
1
1
0
4
1
9
13. Marina Solopova *
25:59
8
3/7
42.9
2/6
33.3
0/1
0
0
1
1
0
1
0
0
0
3
3
14. Petra Stampalija *
36:36
18
8/11
72.7
0/1
0
2/6
33.3
2
6
8
0
4
2
0
3
8
17
5. Tracy Albicy
Did Not Play - Ligue Féminine
7. Claire Jacotot
Did Not Play - Ligue Féminine
Total
201
62
25/55
45.5
7/17
41.2
5/11
45.5
8
25
33
8
15
15
0
17
18
67
Mondeville
MIN

PTS
FG
%
3PTS
%
FT

%
OR
DR
TR
STL
TO

AST
BS
PF
FO
EV

4. Touty Gandega
13:26
6
3/7
42.9
0/1
0
0/0
0
0
0
0
1
0
0
0
3
2
3
7. Ingrid Tanqueray *
26:34
4
2/6
33.3
0/2
0
0/0
0
0
3
3
3
1
3
0
2
0
8
8. Kadidia Minte
16:59
4
2/2
100
0/0
0
0/1
0
1
3
4
2
1
0
1
2
2
9
10. Kristen Brooke Sharp *
40:00
10
5/12
41.7
0/1
0
0/0
0
1
3
4
2
2
3
0
1
2
10
11. Giedre Paugaite
21:49
6
2/5
40
0/0
0
2/6
33.3
2
4
6
1
0
0
1
4
5
7
12. Laëtitia Kamba *
32:35
12
5/12
41.7
0/0
0
2/3
66.7
1
3
4
1
1
0
0
3
3
8
14. Elge Sulciute *
30:09
11
4/6
66.7
2/3
66.7
1/2
50
0
4
4
1
5
2
0
2
2
10
15. Naignouma Coulibaly *
18:28
7
3/6
50
0/0
0
1/1
100
2
3
5
1
3
0
0
1
1
7
5. Bernadette Mbuyamba
Did Not Play - Ligue Féminine
Total
200
60
26/56
46.4
2/7
28.6
6/13
46.2
7
23
30
12
13
8
2
18
17
62
Lyon 64-75 Aix-en-Provence
| Teams | QT1 | QT2 | QT3 | QT4 |
| --- | --- | --- | --- | --- |
| Lyon | 12 (12) | 20 (32) | 19 (51) | 13 (64) |
| Aix-en-Provence | 17 (17) | 14 (31) | 13 (44) | 31 (75) |
Lyon
MIN

PTS
FG
%
3PTS
%
FT

%
OR
DR
TR
STL
TO

AST
BS
PF
FO
EV

5. Charline Servage
16:32
4
2/9
22.2
0/5
0
0/0
0
1
1
2
1
1
1
0
4
0
0
7. Julie Legoupil *
24:54
9
3/8
37.5
1/5
20
2/2
100
0
2
2
1
0
0
0
5
1
7
8. Marion Arfelis
00:50
0
0/0
0
0/0
0
0/0
0
0
0
0
0
0
0
0
0
0
0
9. Audrey Sauret-Gillespie *
37:52
10
5/9
55.6
0/1
0
0/0
0
0
3
3
0
5
4
0
5
3
8
10. Sarra Ouerghi
21:34
0
0/5
0
0/0
0
0/0
0
0
2
2
0
2
1
0
3
0
-4
11. Leslie Ardon *
26:14
14
5/14
35.7
2/5
40
2/2
100
2
2
4
4
1
0
1
5
2
13
12. Mame-Mary Sy-Diop *
19:00
11
5/7
71.4
0/1
0
1/1
100
2
3
5
0
0
1
1
3
2
16
14. Krystal Thomas
17:02
4
1/5
20
0/0
0
2/2
100
2
3
5
0
2
0
0
2
3
3
20. Leigh Aziz *
36:02
12
4/5
80
0/0
0
4/4
100
1
12
13
2
5
2
0
1
3
23
15. Marie Sanchez
Did Not Play - Ligue Féminine
Total
200
64
25/62
40.3
3/17
17.6
11/11
100
8
28
36
8
16
9
2
28
14
66
| Aix-en-Provence | MIN | PTS | FG | % | 3PTS | % | FT | % | OR | DR | TR | STL | TO | AST | BS | PF | FO | EV |
| --- | --- | --- | --- | --- | --- | --- | --- | --- | --- | --- | --- | --- | --- | --- | --- | --- | --- | --- |
| 4. Emmanuelle Gorjeu | 00:18 | 0 | 0/0 | 0 | 0/0 | 0 | 0/0 | 0 | 0 | 0 | 0 | 0 | 0 | 0 | 0 | 0 | 0 | 0 |
| 5. Claire Tomaszewski | 22:12 | 5 | 1/4 | 25 | 1/4 | 25 | 2/2 | 100 | 0 | 2 | 2 | 0 | 0 | 1 | 0 | 2 | 2 | 5 |
| 6. Tamara Abalde * | 16:34 | 6 | 2/10 | 20 | 0/2 | 0 | 2/6 | 33.3 | 0 | 5 | 5 | 0 | 1 | 1 | 0 | 3 | 6 | -1 |
| 7. Natalie Hurst * | 38:58 | 24 | 4/13 | 30.8 | 2/7 | 28.6 | 14/14 | 100 | 0 | 3 | 3 | 1 | 3 | 0 | 0 | 0 | 7 | 16 |
| 8. Kelly Corre | 05:23 | 0 | 0/1 | 0 | 0/0 | 0 | 0/0 | 0 | 0 | 0 | 0 | 0 | 0 | 0 | 0 | 1 | 0 | -1 |
| 10. Sylvie Gruszczynski * | 38:12 | 18 | 6/11 | 54.5 | 0/2 | 0 | 6/7 | 85.7 | 2 | 4 | 6 | 0 | 1 | 5 | 0 | 1 | 8 | 22 |
| 11. Cindy Lima | 08:51 | 0 | 0/3 | 0 | 0/0 | 0 | 0/0 | 0 | 0 | 1 | 1 | 0 | 2 | 0 | 1 | 4 | 0 | -3 |
| 12. Liene Jansone * | 36:24 | 9 | 4/6 | 66.7 | 1/2 | 50 | 0/0 | 0 | 4 | 4 | 8 | 1 | 4 | 1 | 0 | 1 | 0 | 13 |
| 15. Ndeye Ndiaye * | 33:08 | 13 | 5/12 | 41.7 | 0/1 | 0 | 3/6 | 50 | 1 | 4 | 5 | 2 | 1 | 0 | 0 | 2 | 5 | 9 |
| Total | 200 | 75 | 22/60 | 36.7 | 4/18 | 22.2 | 27/35 | 77.1 | 7 | 23 | 30 | 4 | 12 | 8 | 1 | 14 | 28 | 60 |
---
Ligue Féminine round 6: Lenae Williams fires in 34 points for Nantes-Rezé
Go to Ligue Féminine de Basket 2011-2012 page
Leave Ligue Féminine de Basket - Season 2011-2012 page and return to home page
Return to the top of Ligue Féminine de Basketball page
Ligue féminine picture credits:
womensbasketball-in-france.com

Date created: 30 October 2011

---