Ligue Féminine de Basketball
Lenae William set the hall on fire
Nantes-Rezé opened the sixth round of 2011-12 Ligue Féminine de Basketball with a hard fought victory against Arras (88-82). Lenae Williams had her best game of the season so far, scoring 34 points for Nantes and finished the match smiling.
In contrast Krissy Badé from Arras was furious taking her anger out on the officials.
The game was exciting from start to finish but was spoiled a little by the officiating which was not consistent calling fouls as both teams were in each others faces for long stretches in the game.
However when the teams got down to playing basketball, it was of a high level with all the best elements of women's basketball in France.
Nantes-Rezé applied a lot of high/low play so that Aminata Nar Diop and Doriane Tahane could score in the paint while Arras played direct fast break basketball.
Nantes-Rezé, playing at home, were able to impose their style early on in the first quarter with Nar Diop doing the damage inside while Lenae Williams (in picture) and Johanne Gomis hit big shots from beyond the arc for a (18-9) lead after six minutes.
Everything was going well for the hosts despite the efforts of Pauline Akonga-N'Simba from Arras as they led by as many as 12 points. However Nantes had to settle for a 10-point advantage after the first quarter (29-19).
The pace of the game went up a couple of gears in the second quarter with the pendulum swinging in favour of Arras.
Joyce Cousseins-Smith who played for Nantes-Reze last season brought Arras right back into the game after 13 minutes. She hit 2 shots from the land of many which sandwiched a three-pointer by Williams (29-32).
The game started to get rough as both sides matched each other all the way to the locker room with Nantes leading (46-44). For Arras Akonga-N'Simba was on 3 fouls.
Sarah Michel opened the scoring after the break with a three-ball. Williams hit 2 three-pointers and a total of 10 points during the third quarter while Caroline Aubert continued her assists festival as Nantes found themselves 9 points clear (68-59) going into the final quarter.
Nantes-Rezé who were tidy for the first 30 minutes with just 6 turnovers almost fell apart in the final quarter as they turned the ball over 5 times.
Yet Arras failed in reducing their deficit to single digits (70-80) during the first five minutes in the quarter.
Due to the guests' aggressiveness Nantes profited and went 8-from-12 from the charity stripes during the last five minutes although not scoring from open play to win the game (88-82).
Williams finished the game with 34 points while Nar Diop and Tahane had 12 points apiece. Gomis also added 12 points while Aubert had 9 assists and 4 points.
For Arras Akonga-N'Simba fouled out but still had 23 points while Cousseins-Smith added 22. Leilani Mitchell is slowly getting back into the team's system and had 13 points.
Return to the top of Ligue Féminine de Basketball page
Ligue Féminine de Basketball Statistics
Fiche technique:
Evolution du score: 29-19, 17-25 (46-44), 22-15 (68-59), 20-23 (88-82)
NANTES REZE 30/56 (53.6%) aux tirs, 22/37 (59.5%) à deux points, 8/19 (42.1%) à trois points, 20/29 (69%) aux lancers-francs, 20 rebonds (Michel 6), 16 passes décisives (Aubert 9), 3 interceptions, 2 contres, 29 fautes provoquées, 11 balles perdues, 22 fautes.
Les marqueurs: Andreyeva 2, AUBERT 4, GOMIS 11, Michel 9, NAR DIOP 12, Palusna 4, TAHANE 12, WILLIAMS 34, Boucand 0, Melois 0
ARRAS 29/59 (49.2%) aux tirs, 24/42 (57.1%) à deux points, 5/17 (29.4%) à trois points, 19/24 (79.2%) aux lancers-francs, 30 rebonds (Akonga-N'simbo 11), 10 passes décisives (Mitchell 3), 4 interceptions, 1 contres, 22 fautes provoquées, 14 balles perdues, 29 fautes.
Les marqueurs: AKONGA-N'SIMBO 23, Bade 5, Cousseins-Smith 21, GRISHAEVA 2, Lucet 4, MARGINEAN 10, MITCHELL 13, TCHANGOUE 4, Aulnette 0, Rol 0
Return to the top of Ligue Féminine de Basketball page
---
Nantes jubilie pour sa deuxième victoire cette saison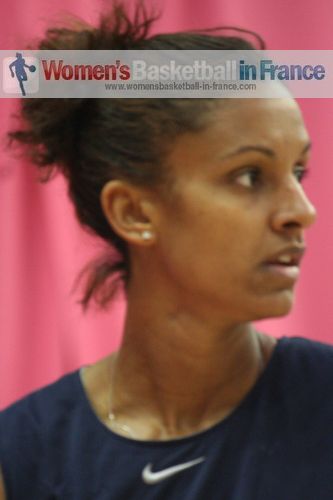 A domicile Nantes-Rezé s'impose face à Arras dans leur sixième match en ligue féminine cette saison (88-82).
Avec une Lenae Williams adroite aux trois-points (8 sur 12) et une bonne offensive des Déferlantes, Nantes joue les trois premiers quart-temps concentré et perd la balle que 6 fois par rapport au dernier quart avec 5 fois.
Pourtant Arras n'abandonne pas et arrive presque aux coudes à coudes, mais leur agressivité ne paye pas car Nantes profite avec 8 sur 12 aux lancer-francs pour gagner leur deuxième match en championnat.
---
Go to Ligue Féminine de Basket 2011-2012 page
Leave Ligue Féminine de Basket - Season 2011-2012 page and return to home page
Return to the top of Ligue Féminine de Basketball page
Ligue féminine picture credits:
womensbasketball-in-france.com

Date created: 29 October 2011

---