EuroLeague Women
Who is Tina Charles?
The sixth round of EuroLeague Women action did not go well for the clubs from France with just one victory. However the FIBATV game of the week between Ros Casares and UMMC Ekaterinburg was an excellent advertisement for this competition.
With the US college basketball season in full swing it was nice to have the ELW game of the week between two teams with plenty of players who have played NCAA basketball as well as players with WNBA experience.
For three quarters, the current WNBA players from UMMC Ekaterinburg: Candace Parker and Cappie Pondexter with the help of Yelena Leuchanka (12 points) dominated their hosts Ros Casares (49-38).
Ros Casares has an impressive roster with players such as Ann Wauters (17 points), Lauren Jackson and Sancho Lyttle (12 and 11 rebounds), Jana Veselá. But it was two of Casares' players not really known on the other side of the Atlantic that turned things round.
Laia Palau (in picture) does not smile a lot when playing. She started the Ros Casares 15-0 run with a shot from down-town. Lyttle and Wauters then found their scoring touch sharing 10 points during the burst as they took the lead (54-50).
Palau and Silvia Dominguez who both had 6 assists finished their guests with individual one on one actions to score important lay-ups as they finished the game with a 6-0 run to win (60-52).
Heard about Tina Charles yet?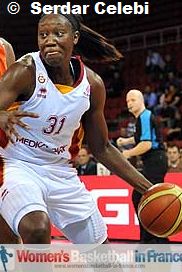 Bourges Basket played their best game of the season and were less than 10 seconds away from beating Galatasaray MP. Diana Taurasi was once again given the task of saving her team from defeat with about two seconds to play. Her shot missed but Tina Charles (in picture) beat Marielle Amant to the rebound.
Amant was called for the foul and Charles hit both free throws. Although Bourges had no time to get anything going Cathy Joens still fired off a shot on the buzzer.
Galatasaray won the EuroLeague Women match (66-65) with Charles scoring 25 points and pulling down 18 rebounds. Tauarsi scored 17 points. For Bourges Joens fired in 25 points.
The rest of the news from day one of round six in the EuroLeague Women competition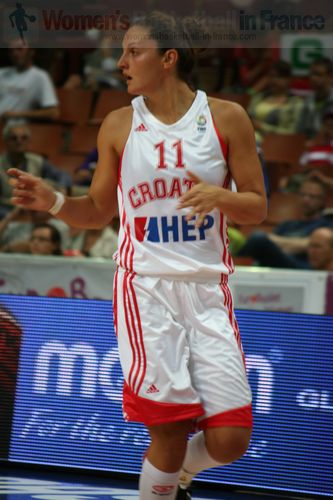 Lattes Montpellier were never in any difficulty against Good Angels Kosice and won (83-65). Ana Lelas (right) was on fire scoring 26 points while Gaëlle Skrela continued her good form from the weekend with 18 points and 5 steals.
Tarbes are still without a win in the EuroLeague although Paoline Salagnac continues to run and runs yet without the rest of the team able to follow. CCC Polkowice had 17 points from Evanthia Maltsi while locomotive Sharnee Zoll dished out 9 assists in the home team's victory (78-52).
Gospic Croatia needed just ten minutes to put away their hosts Frisco Brno (30-15) and then paced themselves to victory (80-61).
Fenerbahçe SK were once again slow out of the blocks. But once they got going there was little Nadezhda Orenburg could do to stop them. Ivana Matovic scored 20 points for the hosts in the (84-72) victory.
Rivas Ecópolis silenced the home fans from Wisla Can-Pack as they notched up their fourth straight victory (65-50). Essence Carson led the scoring with 16 points while Ajha Jones added 14 points while picking up 11 rebounds. Nicole Powell had 20 points in defeat.
---
Look back at what happened in round 5
Visit our 2011-12 Ligue Féminine de Basketball page
Visit our EuroLeague Women index page
Visit WBBIF Blog for latest news
Return to the top of EuroLeague Women news page
Picture credits:


womensbasketball-in-france
Serdar Celebi - FIBA Europe
Cipriano Fornas - FIBA Europe

Date created: 16 November 2011
---