Dijon-Gérardin rewinds the clock
Lawson-Wade and Dumerc smile
EuroLeague Women is back for a new year
The 2011-2012 EuroLeague Women season has started with the Russian clubs wining on the road and French veterans having fun.
It is too early to pick the favourites for this edition of ELW but the Russian club sides Sparta&K Moscow Region and UMMC Ekaterinburg already won on the road.
Bourges Basket and Lattes Montpellier also started well with important home victories.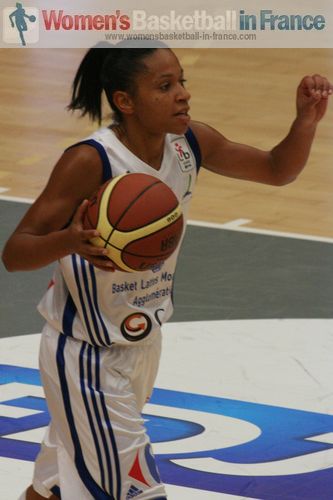 However Tarbes failed to make it a 100% night for French clubs losing away from home.
Wisla Can-Pack's fans sang all the way through their home victory while Gospic Croatia came up with the first surprise of the season.
Edwige Lawson-Wade (in picture) was the top scorer on the first day with 22 points.
Results from day 1:
Lotos Gdynia 57-68 UMMC Ekaterinburg
Bourges Basket 63-51 ZVVZ USK Prague

UNIQA-Euroleasing Sopron 77-58 Tarbes
Frisco Brno 70-87 Sparta&K Moscow Region

Wisla Can-Pack 52-45 Good Angels Kosice
Lattes Montpellier 82-65 Cras Basket
Rivas Ecópolis 69-74 Gospic Croatia

The remaining four games are scheduled for the second day of round 1.
Edwige Lawson-Wade and Sandra Dijon-Gérardin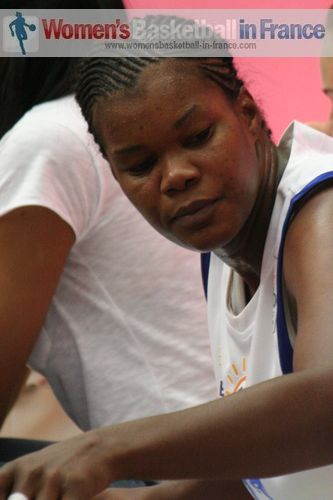 In 2001 Lawson Wade and Dijon-Gérardin (left) were team-mates on the French national team that became European Champions and for 20 minutes they rolled back the clock as Montpellier went into the locker room leading (49-35) against Cras Basket. Wade and Dijon-Gérardin did not miss a shot from open play with 13 points each at half time.
Cras Basket with French international Elodie Godin were not able to get back into the game allowing Montpellier to savour the victory (82-65). Lawson-Wade top scored with 22 points and 6 steals while dishing out 2 assists.
Dijon-Gérardin had 17 points while captain Gaëlle Skrela contributed 12 points and 5 assists. Stephany Skrba was the fourth player in double digits with 11 points on a 100% shooting day.
For Cras Basket Michelle Greco scored 20 points while Godin finished with 13 points.
Céline Dumerc was a lady on a mission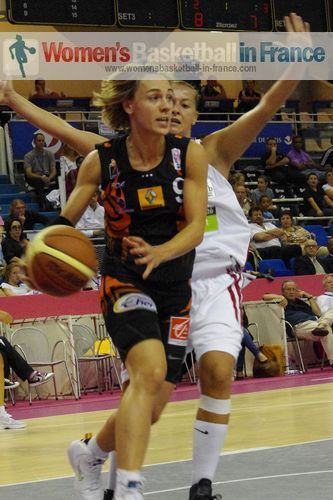 Céline Dumerc (right) scored the first 7 points for Bourges Basket and was involved in all the action as her team raced off to a (12-4) start. With Stella Kaltsidou playing her first game of the season Bourges Basket had enough fire power to cover for the absence of Cathy Joens.
ZVVK USK had to thank Delisha Milton-Jones that they only trailed (12-24) at the end of the first quarter.
Bourges' shooting percentage dropped during the second quarter. Despite having more of the ball they were unable to stretch their advantage going into the locker room (38-26).
ZVVK USK played much better during the second half of the game and with just over five minutes left to play they trailed by 5 points (47-52).
However Bourges stepped on the accelerator and went on a 9-0 run to put the game out of reach of their guests to win (63-51) with four players in double digits.
Dumerc led the way with 15 points and 5 assists while Kaltsidou added 12 points and came up with 2 blocks. Ieva Kublina compiled a double-double with 11 points and 11 rebounds while Nwal-Endéné Miyem added 10 points.
Milton-Jones was the best player for the guests and finished with 20 points and 10 rebounds while Anna Montañana added 10 points.
Tarbes was no match for UNIQA-Euroleasing Sopron
Tarbes failed to get into this game and trailed for good against UNIQA-Euroleasing Sopron with less than three minutes played and had lost the game by half time (22-42).
Euroleasing was led by 17 points and 10 rebounds by Sara Krnjic and cruised to victory (77-58). Zsófia Fegyverneky added 16 points, dished out 5 assists and picked up 3 rebounds.
Naura El Gargati was the top scorer for Tarbes with 18 points while Lubica Drljača added 12 points.
Elsewhere in the EuroLeague Women on day 1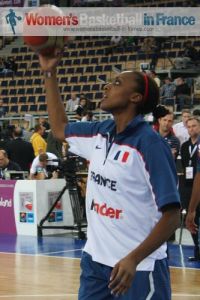 Sandrine Gruda (in picture) and Anete Jekabsone-Zogota with 8 and 9 points respectively during the first quarter put UMMC on their way with a 17-0 to lead (21-8) against their hosts Lotus Gdynia.
The contest appeared to be over with UMMC leading (43-22) at the half-time break.
Yet Lotus found their game in the second half and with Géraldine Robert leading the way. They reduced the deficit to single digits with under two minutes to play (54-61).
This was a close as they got in troubling the Russians.
Gruda, Jekabsone-Zogota and Deanna Nolan all finished with 14 points while Maria Stepanova compiled a double-double of 11 points and 14 rebounds.
Robert was the game leading scorer with 17 points. She also came up with 4 steals. Former Villeneuve player Jolene Anderson had a quiet shooting day with just 3 points.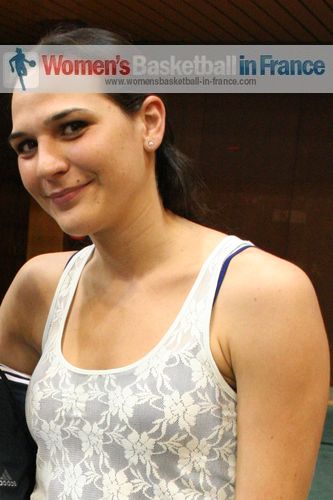 Sonja Petrovic (right) and Jelena Milovanovic pulled Sparta&K Moscow Region through in a tight game against Frisco Sika Brno (87-70) with 18 and 17 points apiece.
Evgenia Belyakova contributed 15 points while Jelena Skerovic dished out 7 assists in the victory.
For the first 23 minutes it was a titanic battle with the Russians holding the advantage (42-38). Milovanovic then went on the rampage scoring 8 points and was the catalyst in a 21-9 run to put the former champions on their way and end the challenge of Frisco Sika Brno.
The highlight of this game was the match-up with two of the best players from the 1992 generations. Swedish international Farhiya Abdi playing for Frisco Brno against Nika Baric for Sparta&K Moscow Region.
Abdi was on the losing team but was the top scorer for her side with 14 points. Alena Hanusová who ended her youth international career this summer was one of the players with 12 points for the hosts.
Baric's EuroLeague Women's début was was a key affair with 4 points and 2 assists.
15 points by Anke De Mondt helped Wisla Can-Pack to hold off the challenge of Good Angels Kosice (52-45).
In the first surprise of this season's EuroLeague Women Gospic Croatia beat Rivas Ecópolis (74-69).
Jelena Ivezic and Sandra Mandir playing for Gospic Croatia took their EuroBasket form to Rivas Ecópolis by sharing 24 points, 13 rebounds and 5 assists in their team's road victory.
---
Visit our 2011-12 Ligue Féminine de Basketball page
Visit our EuroLeague Women index page
Visit WBBIF Blog for latest news
Return to the top of EuroLeague Women news page
EuroLeague Women picture credits:


womensbasketball-in-france

Date created: 13 October 2011
---