EuroLeague Women Eighth-Final play-offs
It was down to business in the second game of the 2012 EuroLeague Women play-off series with direct elimination from Final Eight participation in case of defeat for the teams defeated in game one.
Nadezhda Orenburg held off Sparta&K Moscow Region at home (87-75) to tie the series. The match itself turned into a WNBA shoot-out with the USA born players dominating the scoring from both teams.
For the hosts Katie Douglas fired in 27 points while her team-mate Rebekkah Brunson helped herself to 24 points and 10 rebounds.
For Sparta&K Moscow Region Seimone Augustus (in picture) was again on fire with 28 points while Candice Dupree and Becky Hammon added 14 and 10 points each.
Sparta&K Moscow Region had a bad start to the game trailing (9-23) after 8 1/2 minutes but finished the first quarter with an 8-0 run that included three-pointers by Augustus and Hammon to trail (17-23).
The four times EuroLeague Women champions Sparta&K Moscow Region battled away all through the second quarter and went into the locker room leading (41-38).
The hosts got back on track after the break with back-to-back scores from Brunson and regained the advantage (42-41) through Russian international Elena Danilochkina.
In a pulsating quarter with several lead changes the hosts managed to open up a 9-point advantage (64-55) going into the final quarter and paced themselves to victory.
Bourges Basket appear to love danger and suspense as they allowed a second-quarter 13-point lead turn into a fourth-quarter 6-point deficit.
However a 16-2 run in the last eight minutes enabled Bourges Basket to beat Rivas Ecópolis (68-60).
Essence Carson (in picture) who only played as a medical replacement for Bourges two seasons ago (2009-2010) was given a warm reception by the Bourges supporters. Carson led the Spanish team with 21 points in defeat. Her team-mates Asjha Jones and Anna Cruz also finished in double digits with 13 and 10 points respectively.
Bourges Basket hardy missed a shot during the first 20 minutes, but lost their way in the third quarter. In the end solid free throwing and balanced scoring with just three players reaching double figures was enough.
Emméline Ndongue and Nwal-Endéné Miyem both finished with 13 points and 8 rebounds while Céline Dumerc scored 12 points and dished out 8 assists.
Both teams will meet again in the final match of the series with the victor going to the EuroLeague Women Final 8.
Five teams have qualified for the Final 8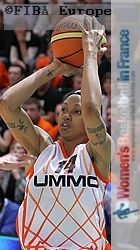 UMMC Ekaterinburg
required an opening 2-10 run from their hosts Good Angels Kosice to wake themselves up. UMMC somehow huffed and puffed their way through to lead (19-16) by the end of the first quarter.
The second quarter was a one-way affair with the Russians dominating and taking command of the series (43-29). The third quarter was not interesting due to very little scoring and the hosts failing to reduce their deficit.
The final quarter belonged to UMMC and Deanna Nolan (19 points, in picture) as they cruised to victory (75-59) and the series sweep. Sue Bird added 16 points while French international Sandrine Gruda and Candace Parker both had 10 points.
For Good Angel Kosice Erin Lawless and Danielle Mc Cray scored 15 points each.
Ros Casares made it look too easy as they blew their hosts CCC Polkowice apart in the first 20 minutes (44-19).
The Spanish side ended up cruising to victory (78-58) with Maya Moore(4-of-6 from behind the arc) leading the way with 20 points.
Ann Wauters and Sancho Lyttle both picked up 12 rebounds while scoring 17 and 15 points respectively while Laia Palau dished out 5 assists. For CCC Sharnee Zoll fired in 15 points and dished out 3 assists to end her ELW season.
Wisla Can-Pack's supporters decided to travel down to Prague to watch their team play against ZVVZ USK Prague.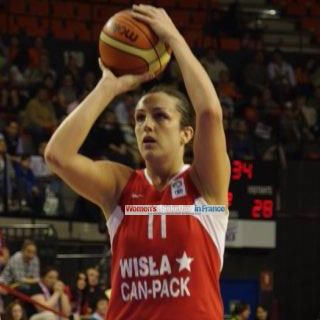 The fans were not disappointed as Ewelina Kobryn (in picture) exploded with 22 points and 8 rebounds to lead Wisla Can-Pack (74-60) to book their ticket for the Final 8.
Fenerbahçe SK had to thank Penny Taylor who went 11-of-12 from the floor in her 27-point and 7-assist performance as they beat Montpellier (80-72) to maintain their perfect record to end the series.
Montpellier played well and led at the interval (39-35). However a poor third quarter undid all their good work and allowed the Turkish side on a 25-11 run to take hold of the game for good.
Kristen Mann was the leading scorer for Montpellier with 13 points.
Beretta-Famila Schio beat Perfumerías Avenida (82-72) in overtime to ensure that EuroLeague Women will have a new champion 2012.
Laura Macchi was once again on form with 24 points for the Italians. But the player of the series for the winners was Janel Mc Carville who hit 21 points and picked up 11 rebounds.
For the defending champions Erika De Souza and Dewanna Bonner (17 rebounds) both scored 22 points.
The draw for the Final 8 was determined by the teams' final ranking position. At the moment Galatasaray MP and Fenerbahçe SK will meet each other in Group A while Ros Casares and Wisla Can-Pack will be playing in Group B.
The remaining places will be determined after the final matches.
EuroLeague Women round 2 results - second leg
Teams in bold have swept the best-of-three series 2-0 and have qualified for the Final 8.
Nadezhda Orenburg 87-75 Sparta&K Moscow Region
Good Angels Kosice 47-75 UMMC Ekaterinburg
ZVVZ USK Prague 60-74 Wisla Can-Pack
Lattes Montpellier 72-80 Fenerbahçe SK
CCC Polkowice 58-78 Ros Casares
Bourges Basket 68-60 Rivas Ecópolis
Beretta-Famila 82-72 Perfumerías Avenida

---
Visit our 2011-12 Ligue Féminine de Basketball page
Visit our EuroLeague Women index page
Visit WBBIF blog for latest news
Return to the top of page
EuroLeague Women picture credits:


womensbasketball-in-france
USA Basketball
Olivier Martin

Date created: 25 February 2012

---